Vol. 17 No. 51

Friday August 17, 2018

Here as 2018 continues," FlyingTypers takes a deeper look at new market entrants creating a buzz in the create rate/analytical marketplaces for air freight.
For curious industry folks, here is one example of a number of ways new entrants are disrupting the status quo.
A Bite Of New Reality
Suggesting that the air freight sector has been slow to embrace new technologies to improve supply chain efficiency and customer experience is unlikely to provoke dissent—although some may counter that describing the industry as 'slow' represents an unwarranted degree of flattery.
Take e-AWB, for example. The project has received the full backing of the industry's leading associations, but damningly only recently passed the 50 percent adoption mark globally, leaving the entire project years behind schedule and close to obsolescence.
Shippers and logistics procurement managers new to air freight are generally, and genuinely, surprised when they realize that a sector which charges a premium for speed often reacts with glacial haste when encouraged to modernize and innovate in ways that can tangibly reduce costs and speed shipments.
These sectorial failures and the fragmented nature of air cargo supply chains also explains why most analysts—not to mention investors in start-ups—see disruption of air cargo markets as inevitable, and expect the process to be highly profitable for those who succeed in securing a chunk of the pie from incumbents.
Disruption for forwarding and transport markets comes in many forms. Outside of new entrants with pockets deep enough to invest in chartering their own air capacity (Amazon, its Asian e-commerce rivals, and Flexport, an ambitious digital forwarder which has attracted major investors) most innovators entering air cargo markets are looking to carve out niches by using technology to streamline supply chains, reducing costs and improving processes vis-à-vis equivalent products available from more traditional service suppliers.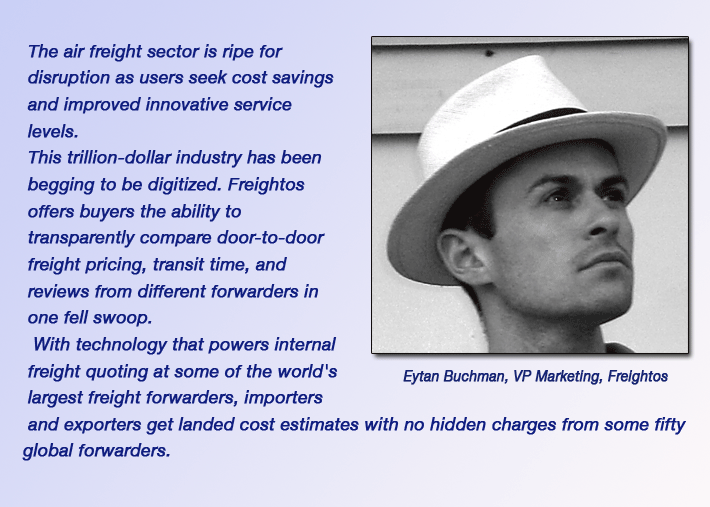 Freightos Drives Change

FlyingTypers spoke to two leading new entrants now offering marketplace services to understand how they plan to digitize the air freight business, as well as how they believe their products supplement the services already available to air cargo stakeholders.
Freightos has been around for a number of years and is now firmly established as an international online-freight marketplace that links cargo service providers direct to shippers. Eytan Buchman, VP for marketing, told FlyingTypers his company was able to offer instant, current, and transparent door-to-door air freight rates, enabling importers to select the shipping method that made most sense for their supply chain based on variables such as price, speed, and/or carbon footprint.

FIFI Goes Weekly 2018

"This information is made available on the Freightos Marketplace, which launched in July 2016," he explained.
"In early 2018 we launched weekly air freight rate updates in our Freightos International Freight Index (FIFI), a weekly update on changes and trends in freight rates, also available to any and all who request it.
"This information is intended to help shippers and forwarders alike understand the trends shaping global trade."


Target Audience New FAK

Freightos' customers target freight of all kinds and range from small-scale importers to freight forwarders including CEVA, Nippon, and Hellmann, as well as supply chain companies including Sysco Foods and Marks & Spencer.
"By offering the most current and accurate freight pricing—air, land, and sea—we are bringing transparency to freight pricing for the first time," claimed Buchman.


Got To Go Digital, Baby

He believes that the air freight sector is ripe for disruption as users seek cost savings and improved innovative service levels.
"This trillion-dollar industry has been begging to be digitized," he added. "Freightos offers buyers the ability to transparently compare door-to-door freight pricing, transit time, and reviews from different forwarders in one fell swoop.
"With technology that powers internal freight quoting at some of the world's largest freight forwarders, importers and exporters get landed cost estimates with no hidden charges from some fifty global forwarders.
"Shipment management also becomes far easier, with a one-stop shop for shipment management, complete with document management, in-platform messages with forwarders, payment processing, and round-the-clock support.
"It's freight shipping that's easier, more competitive, and capable of supporting modern day supply chains."


By The Thousands

Buchman claims "thousands" of companies are already active on the Freightos Marketplace, while "over 1,000" logistics providers, including "dozens of top 50 freight companies" now utilize the company's suite of freight rate management and quoting tools.


New Horizons

Freightos also has plans to further expand its air freight portfolio.
"Freightos WebCargo constantly pushes the envelope of technology to optimize air freight pricing and booking," he said. "We're currently working on some incredibly exciting technology in both the dynamic pricing space as well as live integrations across carriers, forwarders, and shippers.
"Stay tuned in 2018 to see exactly what we mean."


Xeneta-Xeneta Oh So Oslo

Another exciting new entrant into the air freight business is Xeneta, which like Freightos first made its mark in the ocean freight business.
The Oslo-based firm has been supplying real-time and on-demand ocean freight rate benchmarking and market intelligence via its proprietary platform since 2012, but in December the company announced plans to expand into the air freight business.


Ocean Morphs Into Air

In essence, the program replicates its ocean analytics model for air freight.
For shipping, Xeneta gathers the latest global shipping data from a community of over 700 leading businesses, covering more than 160,000 port-to-port pairings and over 35 million contracted rates.
This allows users to track trends and stay on top of market developments, thereby securing suitable rates for their assets.


Xeneta Rates Benchmarks

Xeneta for air freight is broadly similar.
It will provide customers with air freight rate benchmarks based on contracted rates on the spot and long-term markets. "Customers can use the data to prepare RFQs [Request For Quotation], monitor and/or report on market movements to make sure they have real-time visibility into the procurement of air freight," said Katherine Barrios, chief marketing officer.
"The intelligence customers gather from Xeneta can give them the upper hand when negotiating rates with their supplier as they get full transparency into the current state of market.
"The data provides intelligence on rates and transit time for various weight brackets based on origin-destination."



Why Xeneta?

"Xeneta for air is able to tell users which of their contracted rates are on average, above, or below average per origin-destination. They are not quoted rates, which gives an accurate representation of what the market/peers have contracted.
"This gives true transparency as it enables them to know which connections they can be getting better rates on—cost savings—and/or improve on transit times or both."
She also claimed the system enables stakeholders to identify which contract type they should be pursuing—spot or tender market—based on historical rate info and market intelligence trends identified by Xeneta.


See Rates Clearly Now

"Air transport is as volatile as the ocean freight market, where getting a clear and accurate representation of cargo rate movements is not readily available via a neutral data source," she added.
"Most stakeholders are transporting on both air and ocean, which makes their supply chain even more complex.
"Getting visibility and accurate market rate intelligence for both modes during procurement opens up for a world of efficiency and cost savings for sourcing teams."
SkyKing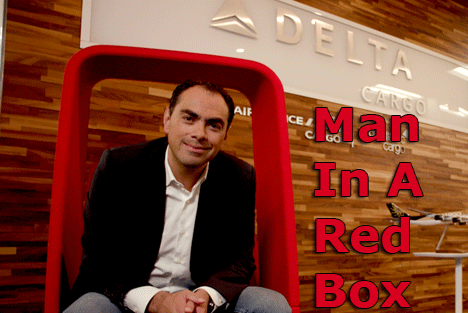 This fall Rafael Figueroa will lead a team of over 1,600 employees at Delta Cargo as Managing Director-Cargo Operations and Customer Experience.
With twelve years in the airline industry, Rafael most recently served as Vice President for Aeromexico Cargo, with prior roles as Vice President-Ground Handling for Aeromexico and as Chairman of the Board for SkyTeam Cargo Alliances.
"Rafael brings extensive knowledge of the cargo and ground handling industry and the Latin America market," said Shawn Cole, Delta Cargo-Vice President.
"We will also be able to deepen and strengthen the cargo joint cooperation agreement (JCA) between Delta and Aeromexico, as well as continue the momentum of providing industry leading operations and customer service," Cole added.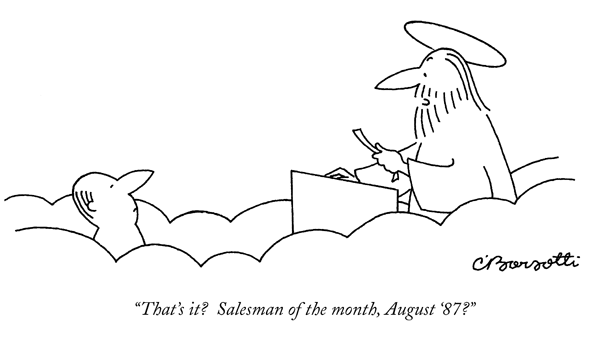 In view of the increasing opportunities and the new challenges before the air cargo industry across the globe, Air Freight Institute (AFI) of FIATA will provide an effective platform at FIATA World Congress (FWC) 2018 to elaborate on the subject during the 99th meeting.
Hosted by FFFAI and scheduled to take place from September 26-29, at Hotel Pullman, Aerocity, New Delhi, with the theme "The Future Starts Here," FWC-2018 will witness more than 1,200 delegates participating from 150-plus countries.

All Star Cast September 28

The AFI's session on air freight on September 28 is expected to be one of the most interesting and knowledgeable sessions in the history of FWC.
Significantly, veteran air cargo personality Snehal Parikh, Managing Director, Lemuir Group will be moderating the session. Panel speakers include Vandana Aggarwal, Economic Advisor, Ministry of Civil Aviation, Government of India; Kirsten De Bruijn, VC, Cargo Pricing and Interline-Revenue Operations, Emirates SkyCargo; Ashwin Bhat, Head Swiss WorldCargo; Andrea Gruber, Head Special Cargo, IATA; and Bill Gottlieb, Past President, FIATA.

Andrea On CEIV

In her presentation on "IATA CEIV Pharma" Andrea Gruber will provide the audience with information on the latest development in the transport framework of temperature sensitive healthcare and pharmaceutical products, how the industry is responding to the CEIV Pharma Certification program, the next key industry priorities, and future developments in the airfreight industry.

Disruptions & Opportunities

The panel discussion, "Disruptions & Opportunities" related to the global air cargo scenario will also focus on a Q&A from the house to make it truly beneficial for all.

Why AFI Matters

It is pertinent to mention that to further its mission, the Air Freight Institute (AFI) has developed an ongoing relationship with a number of stakeholders in the air transport industry, beginning with FIATA's own national forwarding association members, but inclusive of a wide spectrum of others ranging from non-governmental organizations, special interest groups, government bodies, regulators, carriers, shippers, consignors, customs groups, legal specialists, cargo risk underwriters, and technology providers.
"AFI's success is due, in large part, to its pro-active posture on issues which may impact on the international forwarding community, and its reputation within the global transport industry as the 'group to go to' for consultation and action on air cargo issues," a spokesman said.

Driver & Conciliator

"AFI has demonstrated a tradition of delivering reasoned and reasonable approaches and solutions to industry challenges and issues.
"AFI acts as both a driver and conciliator to find workable resolutions which benefit all parties in the logistics chain.
"The 99th AFI Meeting in Delhi will meet members and participants' requirements by covering the significant topics of AFI and keep them updated, and also recap progress."
For more info. click here.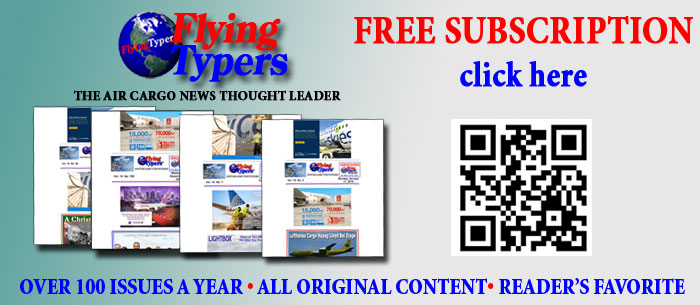 Here is a blast from the past. It originally aired in 1998, but it's still alive on YouTube, where it has been viewed more than 161,000 times.
International Airports is the title and the program runs about 45 minutes.
In 1989 we created a book for Airport Council International (ACI) titled Great Airports Worldwide, comprising 800 pages of the soup-to-nuts history of 137 of the world's airports.
The late Josh Hanig, a top notch TV producer, contacted us for a series he was producing for The History Channel called Modern Marvels.
Josh had read our book and said he wanted us to help him put together the show.
In terms of timeframe, all of this happened before programs like Pawn Stars put The History Channel solidly into the minds of hundreds of millions of people around the world.

Eastern Airlines Bar Wings It

The evening the show debuted on The History Channel, we were in The Spirit—a great airline watering hole in Miami created by some former Eastern Airlines employees, where aircraft seats served as tables.
The place was attached to a hotel that also provided low-cost quarters for people like us who were attending Air Cargo Americas.
I recall the innkeeper—who had an enormous satellite dish on the roof—did not subscribe to History Channel, but was willing to buy a trial subscription, so we ponied up 20 bucks, bought the house drinks, and settled in to watch "International Airports."
The show played and folks watched off and on and then went back to whatever was on their minds.
So we bought more rounds and the show played on.
It was a great night that we often recall fondly.

Ron Davies Was The Greatest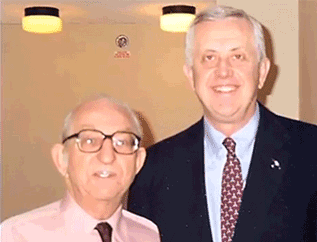 Modern Marvels ran for decades and helped keep the lights on for the History Channel.
For me, rewatching our episode carries some mixed feelings.
I am very glad to see my dear friend and colleague, the late R.E.G. Davies, once again.
We both worked together on this film.
Ron is/was the greatest aviation historian in the history of the world.
His 38 books for Smithsonian Press and his 50 years as the dean of aviation historians, including his tenure in The Lindbergh Chair at The National Air & Space Museum in Washington, D.C., places an indelible stamp on aviation history and can never be overlooked or forgotten.

The Common Thread

Looking at this film, you will notice airports old and new, but here the newest is over 20 years old.
Without a doubt, today in the age of mega-airports in America, Europe, Asia, the Middle East, and elsewhere, the art of airports has accelerated quite a distance.

The Higher Truth

But in the context of time, as this program looks back at airport beginnings, in 2018 this film delivers certain truths.
Today the destiny and sense of place of every great city in the world is inexorably connected to its airport.
So it's good to look back at where we came from.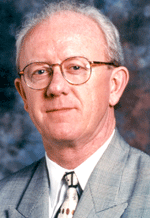 Air Cargo On Global TV

And yes there is a segment for air cargo, so if you stick it for awhile, look for the guy holding up a bag of goldfish against the light in a cargo facility at LAX.
Thanks to Jack Driscoll (right) who managed that great facility, air cargo is included here.
To my mind the industry was given a solid bump on global television decades ago and in that effort came further ideas about bringing air cargo to the masses.

ACN FlyingTypers Offices at MAT

Our "International Airport" segments were created inside Air Cargo News FlyingTypers offices in The Marine Air Terminal (MAT) at LaGuardia Airport.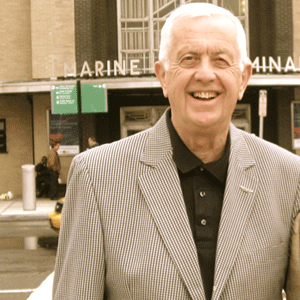 The Top DOT & FAA Award

MAT is the building that we saved in 1980 using the clout of our pioneering newspaper Air Cargo News, which began 43 years ago in 1975.
In 1986 we were given the highest award of the U.S. Department of Transportation (DOT) and The Federal Aviation Administration (FAA) heralding our "Outstanding Contributions to Public Service & Transportation " for saving the Marine Air Terminal and declaring the 1939 airport facility an historic landmark.

A Landmark Effort

As the first active American airport building in passenger use to be designated an historic landmark, MAT undoubtedly led the way for others that followed, including the iconic TWA facility at JFK, which has been saved and is being adapted into an airport hotel.
My biggest kick occurred when U.S. Secretary of Transportation Elizabeth Hanford Dole handed me the award, transcribed with a dedication acknowledging the Marine Air Terminal was saved forever by Air Cargo News.

Live & Learn

Hope that you can lean back as summer continues, whether on the job or on vacation, and watch the video.
We would appreciate your comments.
Thanks for the memories.
Geoffrey
Publisher-Geoffrey Arend • Managing Editor-Flossie Arend • Editor Emeritus-Richard Malkin
Film Editor-Ralph Arend • Special Assignments-Sabiha Arend, Emily Arend • Advertising Sales-Judy Miller

Send comments and news to geoffrey@aircargonews.com
Opinions and comments expressed herein do not necessarily reflect the views of the publisher but remain solely those of the author(s).


Air Cargo News FlyingTypers reserves the right to edit all submissions for length and content. All photos and written material submitted to this publication become the property of All Cargo Media.
All Cargo Media, Publishers of Air Cargo News Digital and FlyingTypers. Copyright ©2018 ACM, Inc. All Rights Reserved.
More@ www.aircargonews.com

100% Green