Lior Ron (above) is a 42-year old Israeli-born businessman that in 2016, along with Anthony Levandowski and some others co-founded Otto, a self-driving truck company.
Both Lior and Anthony went to work at Uber after Uber bought Otto in 2016.
But then Anthony was fired from Uber after a dustup, wherein the executive was accused of stealing Google's self-driving car trade secrets for use in Otto's technology.
Ron jumped from Uber, after Uber paid Google parent company Alphabet $245 million to settle the dispute.
Well in 2019, Ron is back at Uber Freight, now that Uber has finally closed the deal for Otto Trucking that is currently operating as part of the Uber firmament, but as a stand-alone entity.
In the USA, Uber Freight connects 48 states and reportedly generates more than $125 million in quarterly revenues.

Uberizing Logistics Keeps On Truckin'

"We fundamentally believe there's a new era of opportunity in logistics," Ron said.
"Technology streamlines things, connects things and that builds trust in physical networks.
"With the logistics market currently representing 12 percent of global GDP," Ron said, "there's an even greater need for solutions that bring value to trucking industry stakeholders besieged by rising costs, a 98 percent driver turnover rate and a litany of inefficiencies ranging from long delays at facilities to 'empty' miles in which trucks run with vacant trailers.
"Logistics is running in the wrong direction … and the entire ecosystem is struggling," Ron said.
At Transform 2019, the big AI conference held July 10-11 in San Francisco, Uber's Director of Data Science, Franziska Bell said, that she wants everyone who works at Uber to think like data scientists.
"Our vision is to provide data science expertise at the touch of a button," Fran Bell declared.
"As example, the forecasting platform we've developed is 'platformization at ease,'" she smiled.
"People just have to bring us a list of business metrics they want to track, or backend metrics, and then we automatically and dynamically set these thresholds for them, and also keep them updated," Fran Bell concluded.

Reimagining Trucking

According to Ron, "recent technological developments such as a mobile-enabled workforce, fully connected assets and an intelligent, self-learning network allow Uber Freight to match carriers and shippers to create logistics on demand.
"We want to connect the right truck at the right time with the right shipper at the right price, and make this entire process as streamlined as possible," Ron declares.

Autonomous Trucking

Ron says the viability of self-driving trucks. means that a driver could begin a trip at an origin facility and then transfer that load to a self-driving truck for ramp-to-ramp highway haul before another local driver receives the load and delivers it to the final destination.
"Those first and last miles remain critical," Ron said.
"This is going to be a long game to play and there's plenty of room for numerous players," Lior Ron concluded.

Phase Two Uber Freight Europe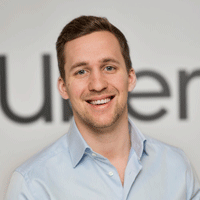 Finally, in Europe, Uber Freight Germany started up July 24, 2019 under Daniel Buczkowski, Uber Freight's head of European expansion to secure part of Europe's $500 billion trucking market.
Germany is the second EU country to receive service on the continent, after the Netherlands was announced March 20, 2019.
In Germany, Uber competes against local operators including, Sennder, a company based in Berlin.
Interestingly, Uber's attempts to operate its signature passenger services in Germany have been limited to eight cities after local taxi companies, politicians and the courts, blocked further advancement.