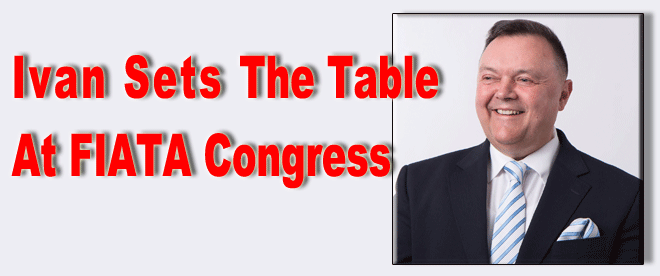 Above Cape Town, the epoch and very beautiful Table Mountain floats like a ribbon of a highway to heaven.
Likewise Ivan Petrov's presence last week in Cape Town elevated the FIATA 2019 World Congress.
He is decent, easygoing, cool, engaged and full of ideas.
Ivan defined the upside of networking by finding a place in time at his table for everyone.
Here Marco, who knows Ivan as well as anybody, shares the rest of the story.

Let me start this article from New York City. I am sure our FIATA Fellow Geoffrey Arend would approve of this choice.
We must go back to the times when the Soviet empire was coming to an end: as we all know the Eastern Block was coming to a relatively sudden crunch at the end of 1980's.
Precisely at that point in time Ivan Petrov, found himself in New York City, where he had been invited from his native Bulgaria, at that time still under USSR's influence, in order to acquire more experience in the art of running a private business.
His host was none other than the successful and enterprising Helmut Klestadt, who was the owner of Trans-World Shipping Corp., a thriving freight forwarding company.
In those crucial years Berta and Helmut Klestadt invited and "adopted" Ivan, whose experience had been almost exclusively in Despred, the Sofia-based national monopoly which covered both the forwarding business and the association duties in Bulgaria.
| | |
| --- | --- |
| | |

Young & Full Of Hope

Naturally Ivan made friends with Berta's son, Gary, who is still active in the business today, but no longer in his father's company as he was in those days.
This is how Gary Klestadt sums up his own experience in the forwarding business:
"I've had an unusually broad exposure to the brokerage and forwarding industry, virtually growing up in it.
"Starting in my teens and advancing through the ranks of Trans-World Shipping Corp., a mid-sized company owned by my family, I worked in every area of the business, traveled extensively, and succeeded my father as president in 1996, a position I held until our merger with Laufer Group International in June of 2008.
"Since early in my career, I've been an active participant in local, national, and international industry associations.
"Starting out on various committees, I've served on the boards of both the NY/NJ Foreign Freight Forwarders and Brokers Association and the National Customs Brokers and Freight Forwarders Association (NCBFAA).
"I was approached by FIATA (the international association of forwarders associations) to help solicit the NCBFAA's membership, and acted as a liaison between the two organizations for over ten years."

The Ivan Factor

With the heroin bubble and the beginning of the AIDS epidemic, 1980s NYC could be a hard place to live for some, but it was so full of life and expectation (is it not still so today?) that living in NYC was surely a life changing experience for many.
This is precisely what happened to Ivan, who spent his time in the States dutifully studying and acquiring business experiences that were not only unique for the times, but instrumental in his future development.
Upon his arrival back in Sofia, Ivan found a reality that he could not have anticipated, at least not in the dimension that those winds of change had impressed.

Big Changes

The transition from the Soviet regime in the Eastern Block was in a way abrupt and obligatory.
Ivan Petrov had opened his own business in 1991 (Trans-Express Ltd and Trans-Log Cargo) and went to the USA to make contacts and experience.
When he was back he was rapidly establishing a successful alternative to the state-owned Despred, from where he had been expelled on his return from America.
Perhaps some of my readers, in particular those who are a little older, can imagine what uncertainty and difficulties Ivan must have gone through in his long journey from communist Sofia to the international arena, represented by FIATA, where he had also been catapulted by his international experience.
He had in fact been Despred's man to liaise with FIATA to organise the 1989 FIATA Congress in Sofia, which Ivan turned into a double edge opportunity.
Ivan made precious acquaintances and friends, who turned out to be the springboard of his future success, but at the same time he had also shown sufficient talent and entrepreneurship to make him incompatible with the rigid mores of a state-owned company such as Despred.

The FIATA Leadership Connection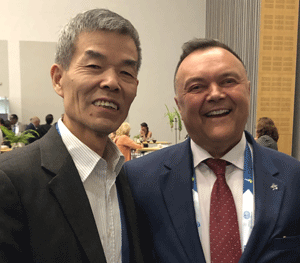 Thirty years on, Ivan Petrov is today one of the FIATA's three Senior Vice Presidents and, as such, one of the seven members of the exclusive FIATA Presidency.
Ivan, I should point out was situate at Cape Town last week, during the FIATA World Congress and is pictured here with past president Huxiang Zhao.
When I think about putting such information together I always have the impression that events do not happen by chance.
There is an amount of wonder in things that happen around us that always surprises me. It is quite wonderful that Ivan was put in contact with Mr. Klestadt through Despred and FIATA, went to New York for a while, and learned his way to develop a business that would modernize the Bulgarian logistics landscape.
The Bulgarian forwarding industry was in dire need of expertise in free trade and business management when the monopolistic culture of the Eastern Block was coming to its natural end.
In my view this is all quite awe-inspiring, but not unusual in FIATA, as my experience in the association later taught me.

First Contact

Ivan and I met in Vienna in 1997, when he appeared to me as a relatively young (six years younger than I, being born in 1958), enterprising and intriguing guy.
We were both entrepreneurs and both of us had asymmetrical eyes, as I happen to notice.
We discussed some business, but we did not find compatible ground, so that we could start off an impromptu business agreement.
For unknown reasons Ivan seemed to rely on me as an experienced person in the world of associations and FIATA (on the contrary I had almost no experience at all).
I was there and then in Vienna as a delegate sent by Fedespedi, whilst serving as president of the local association in Turin.
A Beautiful FIATA Friendship

That is how our friendship started.
It managed to continue uninterrupted through the many changes in my life, including when I moved to Trieste, attracted by Fedespedi's president Mr. Roberto Prioglio, and further when I moved to CLECAT in Brussels, and eventually to Zurich to become FIATA's DG. Before we realized it, we had been friends for twenty-five years.

Gentleman & A Scholar

What I found in Ivan was a gem that is seldom found in the predominantly male environment of freight forwarding business: a man whose knowledge was already quite extensive (he had already attained his PhD in logistics, having studied in his homeland Bulgaria, in Moscow, Vienna and the USA). He was a person who was very keen to learn and exchange thoughts without the least intention to impart any lessons, even when he clearly had a deeper knowledge and experience than his interlocutors.
He also had and still shows a strangely realistic sense of humor, which allows him to look at some of the unpleasant elements of life as elements of a puzzle, whose odd-sized parts are scattered here and there so that the picture never becomes boring and never losing hope that in the end everything will fit together nicely.

Trans-World Shipping Corp.

I once visited Ivan in Bulgaria when I lived in the Slovenian part of Italy, working for Mr. Prioglio.
Ivan and his wife Svetla were great hosts for me.
They had inquired about my tastes and made sure that the business came with some entertainment, in this case a jaunt to the Monastery of Rila, as Ivan knew that entertainment and culture go hand in hand for me.
Such a perfect host!
The site in Rila is wonderful indeed, both historically and for its architecture and painted vaults.
If you happen to visit Bulgaria or Northern Greece my advice is to devote one of your leisure days to visit this one thousand years old pearl; it will be good for your soul as well as for your body, as the local food nearby is quite wonderful, too.

Thinking Ivan

When I started thinking about this article I caught Ivan in London, where he had taken his family to celebrate his daughter Kalina's graduation—first class with honors, Bachelor of Science in Economics and Mathematics, Natural Sciences at the University of Durham.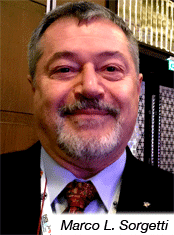 Family, photos, teachers, library . . . everything speaks of achievement, hard work and the joy that accomplishment brings to those who are ready to sacrifice and aim at higher objectives.
The joyful smiles and the gestures in the pictures inform us of the achieved satisfaction that Ivan's family breathes.
And it is not even the first time! Mina, Ivan's other daughter, made the grade at the University of Lancaster in Management, in a twin program with Milan's Bocconi, in 2018.
The Petrovs are a clearly happy couple, who managed to steer their vessel through the sea of the historical changes their country went through to land on shore with satisfaction, get married, have kids and manage a very successful freight forwarding business!
Kudos to these inspiring, extraordinary individuals!
Marco Sorgetti