Often these days we hear the words:
"We are OK, safe inside of our bubble."
I have often wondered how secure some of these perceived 'bubbles" are.
We are also reminded of our Son Geoffrey II about 20 years ago, the day he left Queens, New York and headed out to Hollywood where he starred as Flipper Boy in his first big production movie titled Bubble Boy.
Today I guess we all live in some kind of bubble and like the Bubble Boy in Geoffrey's movie, we all have to learn how to live, breathe, think and move around for some time longer inside it.

Webber Weaves A Tale

Mike Webber has contributed a diverse array of articles to FlyingTypers over the years. From data-rich state-of-the-industry overviews to features about the Beatles' arrivals at JFK and LAX that were shared in music (and Pan Am) forums where FlyingTypers doesn't typically land.
An Op-Ed he wrote for us in 2011 about egregious corporate welfare for a wealthy developer in St. Louis sparked a legislative debate in Missouri that killed the project. One of the airport industry's most respected cargo consultants and one of our favorite dinner companions at conferences, we decided to check in with Mr. Webber in his beloved Austin city limits.

FT: Since COVID-19 arrived, you left global airport planning firm Landrum & Brown (L&B) to restart your own independent consultancy, Webber Air Cargo. What have you seen in the air cargo industry?
MW: Before I left L&B, I had ongoing cargo-oriented projects at two major U.S. international airports. Rather than being downgraded like so many other airport projects, cargo projects grew in emphasis for both airports. The pandemic has negatively affected some cargo efforts but in less obvious ways. Projects have been delayed in some cases because airline representatives responsible for properties and facilities planning took early retirement and their replacements were less prepared to proceed.
Secondarily, available capital for tenant-specific improvements has been affected by general financial conditions, even as cargo has proven more resilient than the passenger side of the business. From my own perspective, cargo-related consulting opportunities are as abundant as ever. The evolution of Amazon is affecting networks and infrastructure more tangibly, precipitating attention to air cargo at airports for about the last five years.

FT: No complaints then?
MW: Oh, always! I mentioned institutional memory lost to furloughs and early retirements and that applies not only to airlines but also to cargo trade associations. Some of that talent may reappear in another form but undoubtedly some will go fishing permanently. I would have liked to have hugged and thanked some of those individuals but these weren't ordinary retirements.

Ram Off we were better with this Guy On

The influence of some people is irreplaceable. Ram Menen retired 7 years ago and as far as I'm concerned, the industry remains poorer for the loss of his intellect, imagination and integrity. He transcended a mere company and was an industry leader of a kind that I simply haven't seen since.
Some of the rank opportunism and fearmongering we see now in our industry is reminiscent of bad behavior we saw after 9/11 when consultants scurried around declaring themselves to suddenly be security experts who would protect civilization. As with the cargo security task forces that actually worked on strengthening the industry, the heavy lifting was done by considerate people who were serious about their mission and shied away from attention. Meanwhile, people wholly out of the loop were only too willing to offer their worthless opinions to anyone holding a camera and microphone.

Thinking Ahead

FT: What must our industry do?
MW: We plan airports and most infrastructure on 25 to 30-year planning horizons and that shouldn't change for distribution of a vaccine that might have a critical lifespan of about 18 months. The premium paid for air transport versus other modes and the relative value and perishability of air cargo commodities should guarantee that airports are not intended for long-term storage even in conventional times but especially not during a pandemic.
Fortunately, life sciences were already established demand-drivers before this pandemic, so some essential improvements in facilities and operations were already matriculating in less panicked times. These improvements should be expanded and wherever reasonable, expedited but with attention to long-term benefits. With the cargo security working groups, I don't recall great acrimony around costs of improvements but rather that any investments had to deliver what was necessary and not just what would provide the illusion of security. A similar mindset is required now for this challenge.
We need to extract some enduring lessons because COVID-20 or something comparable is probably already incubating somewhere. The multilateral institutions need to marshal lessons from industrialized nations that can be shared with developing countries where economies of scale, infrastructure and network deficits compromised the general welfare more than in countries where Amazon, FedEx and UPS reliably deliver groceries and other necessities to residential front-doors.
Many developing countries almost wholly rely on belly cargo capacity that dried up as passenger flights ceased or were reduced, causing residual impacts as seasonal perishable exports encountered reduced capacity. In such cases, governments need to recognize that air cargo capacity must be elevated to national security standing before the next pandemic.

When Associations Seem Dazed & Confused

FT: About that brain drain at the trade associations . . .
MW: Let's not forget that staff members who may not have received the benefit of Op-Eds and tributes in trade publications also served us well. I hope that Carmen Alvarez and Walesa Tejeda (CNS staff) know how much we appreciate them and unless they find something more rewarding, I hope they remain in our industry.
As to Glyn and Mike, I am confident that we'll see them again soon. In a period of unpredictability, general confidence is critical and those two individuals have the necessary recognition and experience for such a time. They also have demeanors that allow them to ask for help when necessary and to inspire support from those they ask. Whether they become my respected competitors in the consulting world or one may wind up leading another trade association, I will be glad to see them on the field.

TIACA Biennial Forum Seeks Relevance

FT: Speaking of another trade association, TIACA has an opening.
MW: In my decades in this industry, I'd never received such an outpouring – from clients, competitors, former colleagues and even journalists - who encouraged me to apply for an opening. It was an expression of respect that I'd not have imagined to have existed.

FT: Will you share whether you applied?
MW: I did but that was before they extended the application window at TIACA just long enough for some high-profile announcements from newly available contenders. TIACA has at least a couple of safe choices now and so I'm enthusiastically focused on reestablishing my own company again.
I do think that the changes at CNS and IATA could provide TIACA with an opening to become the kind of force it was intended to be but rarely has been. I managed cargo affairs on a consulting basis for ACI-NA during the critical period after 9/11 1 and then was an on-call cargo consultant to IATA for several years, so have an informed appreciation for what those organizations do. By comparison, TIACA often seemed like a biennial forum seeking relevance during the intervening periods.
I have ideas about how TIACA could leverage its resources but now I will just watch with great interest. A pandemic and vacancies at TIACA, IATA and CNS! What a remarkable confluence of events.

The Conference Experience

FT: Seeing you at conferences means we're probably going to eat at less obvious restaurants where the well-informed locals eat and will either listen to great music at some local venue you've identified or will listen to you complain about some awful cover band playing at the conference. You don't golf, so the lucky airport folks get to accompany you to listen to live music in offbeat clubs where somehow you already know the musicians personally.
MW: Yes, I have friends in this industry who I am glad to have join me on those excursions. I've never been one of these cynics who gladhands people because it'll be good for business. I have genuine friends in this industry and my friendship isn't transactional. If I ask people to go listen to music with me or go hand in hand to coffee shops and restaurants, it's because I genuinely enjoy their company and not business development.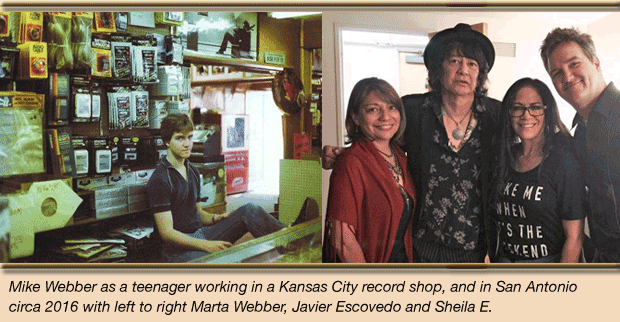 An Avocation Becomes A Vocation

FT: How are you using your pandemic-imposed quarantine?
MW: Oh, you'll love this! Earlier this year, I agreed to represent a brilliant legacy artist hailing from one of the most respected families in American music. I'm working with Javier Escovedo who in the 1970s founded The Zeros - one of the first and best Punk bands on the West Coast. Four Mexican-American teenagers from the San Diego suburb of Chula Vista. I'm working with friends from Kansas City on a documentary about The Zeros, as well as helping Javier with a proposed book about his own music-laden life and family. Javier's oldest two brothers, Pete and Coke Escovedo, played with early Santana, Malo, Azteca and the great Cal Tjader. His immediately older brother Alejandro Escovedo was his bandmate in Austin's much-missed True Believers and for the last three decades, a singer-songwriter of great renown. Javier's niece – Pete's daughter – is the extraordinary Sheila E who is a solo performer and possibly Prince's most respected collaborator. Javier has already released a couple of solo records and has another in development.
There's no point in releasing new material when musicians can't tour but it's a great time to make and refine what will be released when it's safe to hit the road again. Hopefully, next summer will be very busy for us with a documentary, a book and an album of new material.

FT: Working on a music documentary, collaborating on a book about an iconic musical family and representing a highly respected artist who is preparing a new release! Are you sure you still want to be an airport consultant?
MW: I've always been passionate about music specifically and the arts in general. I was as happy (but not as well-fed) earning minimum wage as a record store clerk in my teens as at any post in my life. But I do enjoy airport planning and cargo consulting or else I could not have spent decades doing it. Fortunately, the two worlds occasionally intersect, as when travel allows me to spend a few off-duty hours scouring used record stores and listening to local musicians at off-beat clubs in hotbeds of creativity like Lagos, Nigeria and Dakar, Senegal.Growing up in Kansas City, I didn't necessarily assume that one day I'd get to hang in coffee shops in Amman, Jordan listening to an oud ensemble. Occasionally, you and Sabiha even let me write music-related pieces in your cargo publication! In hindsight, I should have joined Rock-It Cargo nearly 40 years ago when I graduated from high school and could have combined my two worlds a lot sooner. At a minimum, I should at least write a feature about them for your publication.

Play Me 'til the end of Time
November To Remember Playlist

Mike turns into the kid who worked in record stores and shares some of the music he is listening to these days.
Look for Mike Webber's complete playlist in the next issue of FlyingTypers.