When it comes to air cargo, The International Air Transport Association (IATA) seems to be adapting a bunker mentality in 2020 as top management and other key personnel connected to air cargo are retiring in droves.
Glyn Hughes, IATA Head of Cargo departs IATA in January, and Mike White, President of IATA Cargo Network Services (CNS) will depart by year's end.
Add to that the diminishing number of support staff at IATA in Geneva, including maybe all the team at CNS in Miami. Some in air cargo may feel like those "Six Characters Looking for an Author" a la Luigi Pirandello; a family of industry people left incomplete by an author who can't finish the work for which we were conceived.

Scrambling To Get The Message Straight

As you read this, the previously announced CNS Partnership Conference for next year to be held in Miami April 25- April 27, 2021 is still on, but with COVID-19 an issue, don't hold your breath.
Long term we hear there are no plans to merge CNS Partnership Conference into IATA World Cargo Symposium.
But with Mike White and his staff gone after December 31, CNS, which is supposedly the middle ground between airline and forwarder, is left to disappear as a semi free-standing entity into IATA, an airline-driven trade organization.
Meantime IATA is scrambling to get its story straight and should be ready to clarify all of this some time before the end of the year.

The Airline Forwarder Rendezvous

CNS is a brilliant opportunity for transportation; a long sought and hard fought-for medium where for the past 30 plus years the voice of the forwarder can be heard face-to-face with the airlines.
Right now, as the challenges for the business today and tomorrow have never been greater, CNS should be a vital force in not only bringing people together, but also driving the best and brightest among us to think collectively toward the future.
CNS has an opportunity here, despite all the bad news swirling around in 2020, to do some good.

We Need CNS Networking

All of us in logistics have been cooped up for eight months and need each other to exchange thoughts and ideas.
While the traditional methodology to achieve the "partnership goals" and aspirations may be blunted for some time yet to come as we await deliverance from COVID-19, CNS, which has always been supported by the airline and forwarder community, needs to be there for us now.Ahead A Bleak Mid-Winter.

For Trade Shows

Expect under current circumstances that IATA World Cargo Symposium and CNS Partnership will not take place in 2021 alongside a slew of other cancelled or delayed events worldwide.
No doubt some new thinking is in order.
But with no CNS President and no IATA Head of Cargo after December 31 where does all of this leave us?
Perhaps CNS President Mike White, who we are told will be in place until December 31, and the CNS Board might organize a Zoom conference to update the industry as to what to expect next, while also allowing for a question and answer interface?

Where Have You Gone Tony Calabrese?

Can only wonder if CNS Pioneer Tony Calabrese, the man who built the brand serving as President for 15 years, is able to pick up the sword and get CNS going once again?
Anybody know where Tony is these days?

Brandon To The Rescue?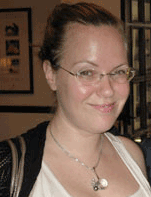 One very concerned individual in all of this is Airforwarder Association President Brandon Fried. In fact, we also spoke to Jenni Latham Frigger, (left) VP Sales & Marketing of EMO Trans Logistics who serves as a member of the AfA board and here is what they said.
"The Airforwarders Association," Brandon Fried declared, "considers all local, national, and global industry conferences as critically important to the air cargo industry.
"Each event has its specific value in providing more education, networking, and promotion of our industry. Some events offer more benefits than others, but all continue to evolve in the quality of content provided."

AfA Issues Open Call For Greater Cooperation Ahead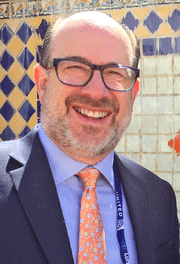 "The CNS Partnership Conference has been a noteworthy event since its inception, and Airforwarders Association members have participated in all of them.
"As customers of international airlines, the forwarder partnership and agenda is more important than ever in meeting shipper expectations and providing quality service.
"While we have no first-hand knowledge of IATA's plans for CNS and its Partnership Conference, we are ready and willing to work with them to ensure the best event to serve the vibrant and continually evolving industry which we represent," Brandon Fried said.

A New Step Every Day

"During this time of global challenge and change within IATA and CNS, the Airforwarders Association reminds all that adversity frequently opens new opportunities for those willing to embrace change.
"Let's work together to provide the best path forward for our members," Brandon Fried concluded.
We like Brandon as he builds a pathway to the future with a new step every day.
We also like what American Airline Cargo President Jessica Tyler said:
"IATA and CNS are critical to our industry and the role we play in the world, but guess what, these organizations are made up of incredibly talented people. If something happens that shakes up these entities or how they are organized or led, we – the talented people of this great industry - we WILL find a way. We always do.
"We is this industry and all the people in it and all the people in these governing bodies.
"We will figure it out.
"We is all of us."

Valuation Issue?

There is no shortage of opinions about CNS pulling way back in USA. Some industry people are busy trying to save their failing enterprises as COVID-19 isolates and divides us, and even think that maybe if they just work at their business, CNS might sort itself out.
"I worry," a forwarder source who asked to not be identified mused, "if they have it in their heart to take CNS down, and I scream that they are giant jerks, it will only make them want to do this more.
"The underlying issue at IATA is they they do not necessarily recognize our value."

Voice of the Forwarder

But what about the shipper? Where the rubber meets the road, here is the voice of someone moving cargo all over the world day after day, pandemic or otherwise.
Jenni Frigger-Latham is VP sales and marketing at Emo Trans, a company that been implementing customized global logistics solutions for over 50 years.
With 250 offices in 120 countries, EMO Trans has been an active partner at CNS.
Here indeed is a great example of a privately-held company with the robust infrastructure of a multi-national leader.
"The role of Indirect Air Carriers (IAC) and the shipper is mandated by the TSA. But that is not the only reason we are important.
"As long as we have the critical role in serving the first and last mile of the shipping process, binding together the supply chain as a whole, we feel it is imperative that we maintain as much infrastructure as possible, thinking not only of demand right now but also the days ahead when the current crises subsides," Jenni said.
"Afa Board Member Jenni continued:
"It is both sad and unsettling to see such important infrastructure go away, especially now during COVID-19," she added.
"EMO Trans and most forward-thinking business is now planning for what will happen when this is over and what will be the fastest way to ramp back up.
"We are eager to have the networking and ongoing communication that CNS, and when possible, its Annual Partnership Conference can provide."

The Platform

"CNS provides a place for all of us to go to network and learn important things, including greater cooperation working together to build the industry.
"Right now that experience in whatever form it takes, driven by CNS leadership, is more important than ever.
"The concerns that drove the formation of CNS more than 30 years ago remain top priorities in 2020," Jenni Frigger-Latham declared.
Geoffrey Arend