This June just past – at the height of the pandemic lockdown in India – there was a quiet celebration in the Chennai-based Blue Dart Aviation family (which is part of DHL eCommerce Solutions) celebrating its 24th anniversary on June 17.
Managing Director Tulsi Nowlakha Mirchandaney crossed a huge milestone.

Glorious 50 in Love with Aviation

"I celebrated my 50th year this June in the airline industry! It's been a host of deeply fulfilling experiences in various functions. It has often been challenging but I've learned a lot and enjoyed great camaraderie with industry colleagues," she said in an in-house interview."
Tulsi is half an engineer – she followed her two engineer brothers – but quit three years before graduating.
She then joined Japan Airlines in Kolkata and later moved to Mumbai. She was with Air France Cargo in Bangalore and even worked in Delhi and Chennai. The airline jobs were "intended to fund further studies". But she fell in love with aviation and that is where she is now. In between, she attained an MBA degree in International Aviation from Concordia University, Montreal.

Advocate for Women

An avid advocate of education for women, she still finds time to take a summer course during her annual holidays "because I find it rejuvenating. It's an important part of one's professional arsenal and makeup, and I would highly recommend it to every woman who wishes to challenge herself and explore her full potential.
"You could be pleasantly surprised," she said in the interview.

Keeps Looking Up

At Blue Dart, she ensured the phase-outs of the old fleet of B737-200 freighters and replaced them with B757-200s. She was part of the Blue Dart team that created aviation history in India in 1996 when India's first domestic cargo airline was set up. No wonder, she believes that "nothing has brought the importance of air cargo to the fore more acutely than the present Covid-19 pandemic . . . air cargo remains a strong, underplayed revenue contributor."

Tons of Essentials

Blue Dart has been at the forefront of transporting tonnes of essential cargo to keep the critical supply chain functioning and helping the nation to fight the coronavirus pandemic.
Domestic flights apart, Blue Dart's planes flew on the Kolkata-Guangzhou, China-Guwahati-Kolkata route, to bring critical PPE and COVID-19 related medical supplies. The carrier's freighters touched Dhaka on the Dhaka-Kolkata route even as they flew on the Delhi-Guangzhou, China-Delhi, and Kolkata-Guangzhou, China-Kolkata routes throughout the month of April 2020 and beyond.


Air Cargo & the World at Large

"Air cargo has often been the sole mode of transportation for relief material during any emergency response situation.
"The visibility of this vital role has been greatly enhanced because of the extensive grounding of passenger airlines during the COVID-19 pandemic. The pandemic unified elements of the aviation industry to respond to an unprecedented crisis, with the transportation of relief material on freighters and even seats.
"The proven reliability of air cargo certainly bodes well for the future of business.
"Air freight proved a true lifeline in these critical times.
"Blue Dart was a part of the Government of India's 'Lifeline Udan' initiative, and contributed its effort to the national endeavour in transporting essential goods and medical equipment. Blue Dart Aviation operated close to 2,800 flight cycles uplifting 40,000 tonnes of which 970 tonnes were international charters carrying urgent medical supplies and COVID-19 related relief material from Guangzhou, Shanghai, Hong Kong, Dhaka, Yangon and Hanoi during the pandemic.
"Among the materials we transported within India and overseas were medical and pharmaceutical supplies including ventilators, PPEs, testing kits, reagents, enzymes, respirators, surgical masks, goggles and gloves."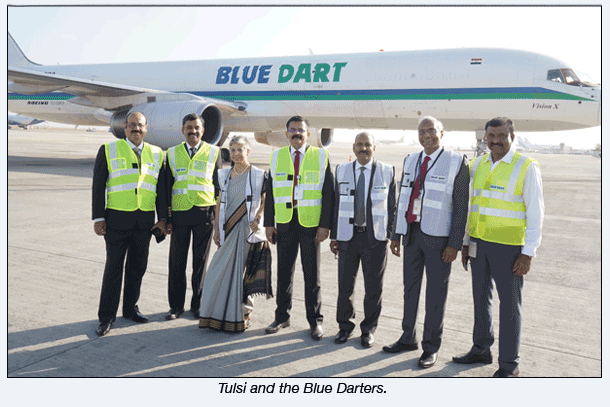 Getting Ready For Air Cargo's Close Up

"It is a show business term from the movies, but the air cargo industry is going to play an incredibly vital role in the transport of vaccines.
"So we have got to be ready for our close up.
"With the large number of clinical trials underway to create a potential vaccine candidate for COVID-19, an influx of business is seen and we expect this to only grow once we have a successful vaccine.
"Pharmaceutical and life science products require stringent handling and transport conditions to combat any risk of loss of potency or efficacy.
"Handling and transporting vaccines brings in another dimension to supply chain logistics – temperature controlled logistics (TCL).
"Having a well-oiled system for providing clients with a seamless TCL service for shipping vaccines, from first mile to last mile delivery would definitely help cope with the need for effective deliveries of the vaccine.
"However, the sheer volume of vaccines envisaged could pose a huge transportation challenge in meeting the urgent demand. A coordinated, well-planned delivery system would help save lives.
"The infrastructure and resources critical to the pharmaceutical supply chain will have to be even more adaptive, lean and agile in the foreseeable future."

Temperature Controlled Solutions

"At Blue Dart, we have developed a range of superior Temperature Controlled Solutions that provide our clients with extensive and reliable express distribution, dry ice supplies including free top-up replenishments, real-time shipment status information, regulatory clearance, validation services and project management.
"Not only that, our packaging also is constructed from recyclable, environmentally-friendly and cost-effective material.
"Blue Dart's Temperature Controlled Logistics offers solutions from packaging to transportation, from direct distribution of samples, to clinical trial services to ensure that our clients receive their critical shipments within a committed transit time."

Industry looking For Guidelines

"We are prepared to handle an increase in volumes of vaccines and are keen to continue working as the 'Trade Facilitator of India', a role that we have assumed with great fervour especially over the last few months.
"We are also awaiting the guidelines that The International Air Cargo Association (TIACA) and Pharma.Aero are developing for the air cargo industry to enable optimal transportation of the COVID-19 vaccine.
"Taking these guidelines into account, our Blue Darters will be trained and equipped to handle vaccine shipments optimally."


Artful Blue Darters

"Blue Dart Aviation readied its international operations in under a month during this pandemic.
"Gearing up for international operations meant mandatory avionics upgrades, including installation of advanced Flight Management Computers, multi-mode GPS receivers and ADS-B transponders.
"It's a tribute to our entire team who worked under the severe constraints of a complete lockdown to meet the compliance requirements for the international operations, and to finally execute the mission, entailing some prolonged periods away from family and home," Tulsi Mirchandaney declared.
Tirthankar Ghosh