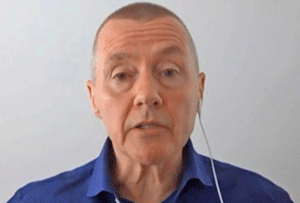 We continue to observe lockdown as Delta Variant & COVID-19 has made travel a non-entry for us at this time. We look forward to 2022, when we are assured that the world is safe and our ability to move more easily will be back.
As CNS gets underway this weekend in Florida, (August 29-31) featuring Willie Walsh, director General of IATA, on his first public mission with gravitas after his appointment, I would gladly ask him questions regarding the IATA approach.
Brandon Fried of the Air Forwarders Association will appear as moderator of the talk with Willie, and it will be interesting see whether Brandon will neutrally stick to his role as moderator or will let himself go and ask anything of substance.
I said to myself: why shouldn't we send some thoughts out there? So here are some questions that both personalities might reflect upon. We would be more than happy to continue this conversation and include replies here.
Questions for Willie Walsh & Brandon Fried

1. Starting with Air Cargo, is One Record the totem for which IATA decided to ditch its IATA FIATA program? Was the entire IATA FIATA negotiation just a straddle strategy?
2. Regarding their negotiating power with the airlines, many forwarders say they are worse off today than they were ten years ago, is this correct?
3. Why are U.S. forwarders different from the rest of the world, why have they not had any interest in joining forces in FIATA? If forwarders were united globally, could this have a different significance for IATA?
4. Airlines have suffered during the pandemic, and IATA was not very vocal, appearing to be at crossroads. Discussing health measures with authorities, in particular with the WHO, was not always as straightforward as IATA's mission statement boldly declares. What is missing in IATA for it to establish itself as the reference model in a global emergency?
5. With few exceptions, the balance of power in the market between traditional airlines, who are typical IATA members, and other operators has changed substantially in recent years and is still changing. Is this conversion reflecting the attitude of the traditional airlines or IATA's deficiencies?
6. For many years, airlines publicized their services with an aura of wealth, consumption, luxury and even a lack of consideration. Has the time come for operating with consciousness, with total respect of society and environment, or are we carelessly flying into the abyss? What are YOU, Willie doing to show the way?
7. How important is air cargo to IATA? What cargo issues will be discussed at the next IATA Board of Governors meeting?
8. What does CNS mean to IATA?
9. What is the importance of the Airforwarders Association to IATA?