Boston Logan International Airport air cargo stakeholders have some congestion challenges, but help is on the way as Massport, the airport operator have teamed up with Kale Information Solutions the wunderkind Airport Community System (ACS) that streamlines the entire export and import process for all airport cargo stakeholders.
"Get ready for the Massport Airport Congestion Pilot kick-off meeting Sept 13 from 10:00a-11:00a EST and on September 16 from 11:00a-12:00p EST).
"Stakeholders will be trained on the system by Kale Information Solutions," says Donna Mullins, Vice President, Kale Information Solutions USA.

Try It You Will Like It

"The pilot is free of cost to all participants," Donna said, "with the goal to get an in-depth understanding of how the system works and benefits each of the stakeholders, including ground handlers, freight forwarders, truckers, shippers, etc.
"After the training, the stakeholders will be able to use and provide feedback and gauge for themselves the benefits (or not) of the system. The system does not require the stakeholders to change any of their existing tools and technologies. At the end of the pilot, if all stakeholders agree that the system is beneficial and they want to use it, Massport says that it will then work on a strategy to move forward with it.

Here Is How It Works

Currently truck staging at the air cargo terminals is, at best, first come, first served with the handler having no advanced knowledge of what the truck is picking up or dropping off. This creates congestion at the airport, as trucks have to wait for the handler to find the cargo or proper equipment to load or unload the truck. The Kale ACS allows truckers to schedule a specific time to go to the terminal and gives the handler advanced notification of the shipment data. For example, in case of import cargo, the handler can advise the trucker if the cargo is not ready and the trucker can avoid an unnecessary trip to the terminal; and in case of export cargo, the GAH can view, in advance, the required documentation to accept the cargo.

Kale For HJIA Atlanta is Performance Superstar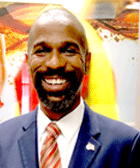 Elliott Paige, (right) Airport Director for Air Service Development at Hartsfield Jackson International Airport declared:
"Hartsfield-Jackson Atlanta International Airport was happy to collaborate with Kale Logistics Solutions, to implement the first Cargo Community System in North America.
"Atlanta launched the Airport's ACS on November 14, 2019, after several months of testing and piloting with several early adaptors related to trucking, freight forwarding, airlines and ground handling.
"Many more of our colleagues and partners are still joining ACS. HJIA continues to encourage all our on-airport cargo-related operators to sign on to ACS.
"We look forward to continuing partnering with Kale Logistics moving ahead," Elliott Paige concluded.

Nothing To Lose But The Wait

Join the Massport Kale Airport Congestion, Presentation September 13 & 16th Donna declared "You have nothing lose but the wait," Contact: Donna Mullins – donna.mullins@kalelogistics.com