Laurent Bernet, a genuinely lovely human being and a great pioneer of air cargo in France and beyond, died on July 7 in Paris; he had been battling cancer for the past decade.
"Laurent was a lovely man and a great colleague," said United Cargo President Jan Krems, "For sure we miss him."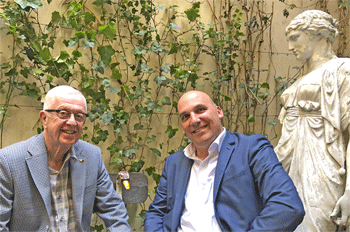 "Laurent was not a dreamer, he lived in the 'now'", said Jacques Leijssenaar, United Cargo Vice President Cargo Sales EMEIA, based in Amsterdam.
"He also lived and enjoyed his life to the max and when he talked about his family, he got that nice twinkle in his eyes.
"His positive attitude and shining personality will forever bring a smile to our faces.
"Most recently, Laurent served as Regional Manager Outside Sales EMEIA.
"As a people manager, Laurent always made taking care of his team members a priority. He did always challenge them, but with respect and encouragement, always protecting them and their decisions.
"This respect was mutual since he was always able to explain his point of view and he was never afraid to change his mind," Jacques Leijssenaar concluded.
. "The reason I love what I do is the people I connect with," Laurent told me one afternoon as we sank a bottle of wine in a small elegant garden in Paris.
"Moving from what's familiar to places yet to be discovered—that's what I appreciate about being in the airline business.
"Keep it simple" was a recurring theme as Laurent revealed his deep-seated love for the logistics industry.
"I love cargo, because this business is an ever-challenging game.
"The core of what we sell is customer service. I realize this isn't rocket science, but still, you always have to be your best," Laurent said.
"The fundamentals are having respect for and listening to your customer."
Laurent was a fixture at United Airlines Cargo for 27 years and had served as France Cargo Sales Manager.
But Laurent also had a balanced, well-rounded career working both sides of the Atlantic; first at Fritz, where he did an internship in 1992, before joining United Cargo.
It turns out that during his formative years in air cargo, Laurent served as a Cargo Account Executive at United's critical major global hub in Chicago, Illinois.
"I wanted to work for the airlines. In 1994, I had a meeting scheduled with the United Cargo Manager in CDG, but he had to cancel that appointment due to a strike.
"So I came to the U.S. and applied for a job with United's passenger service team.
"I took a test to prove I was fluent in French (smiles all around) and was accepted at an hourly rate of $7.25 when I joined the 'Friendly Skies' in December 1994."
The rest, as they say, is history.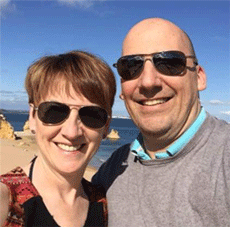 Laurent Bernet lived in Paris with his wife, Annare and two daughters, Fiona and Emily.
I asked him what his priorities in life were and his answer was quite clear and characteristically French:
"Love, family, good food, travel and job satisfaction," he smiled.
I loved that Laurent Bernet's outwardly spirited approach was genuine, coming from deep within.
Laurent was battling cancer and had survived a harrowing automobile accident in 1998.
But by any measure, Laurent had a life well lived.
As we departed he looked at me and smiled saying:
"Learn from other sources," Laurent said softly.
"Never forget that people make all the difference.
"Keep your word, and never promise what you can't deliver.
"But sometimes you have to say no, and that is difficult.
"Whether you say no or yes, in the end the secret is trust," Laurent Bernet said.
Rest in peace, wonderful and dear Laurent.
Geoffrey and Sabiha