Centerstage in Dublin at IATA's World Cargo Symposium, QR Head of Cargo Guillaume Halleux delivered a sobering message of the threat that exists in shipping lithium batteries, concluding that something must be done before something really awful occurs airborne.
"Regulators must address the risk of lithium batteries on aircraft before hundreds of people die," Guillaume said.
"It's pure luck that incidents with lithium batteries have not occurred during a flight.
"We have no visibility over the cargo given to us. I am very concerned it will take a crash – and the loss of 300 people – for this to change.
"Then the regulators will say 'you knew, and you did nothing,'" Mr. Halleux concluded.
We have heard this before. No, check that . . . As an industry we have all heard this before. Our take is that this subject has been in regular discussion for more than 15 years.
Who can forget that UPS B747 on September 3, 2010 turning and exploding out of the sky in Dubai?
But thinking about this desperately serious situation when it comes right down to brass tacks, IATA should have been leading the way.
Kudos to Guillaume for shaking things up, but it is past time for all the airlines to get off their duff to get on board and demand change.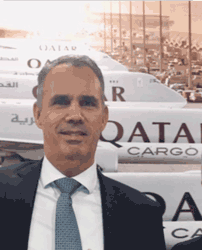 Elsewhere in Europe R-BAG Hungária Kft. now represents Qatar Airways Cargo in eight Central Eastern European (CEE) countries: Bulgaria, Croatia, Czech Republic, Hungary, Romania, Serbia, Slovakia, and Slovenia.
"Over the past 20 years, the Budapest, Hungary-based GSSA has established itself as a highly specialized air cargo expert in CEE, and manages locally registered limited companies in each country," Rob Veltman, (left) Qatar Airways VP Cargo Europe said, adding:
"I look forward to R-BAG's fresh, positive approach and commitment to pushing Qatar Airways Cargo's business and footprint to the next level."
Finally QR Cargo we learn in a "who would have thunk it move based on recent history," inked a cargo ground handling pact with SAL Saudi Logistics Services at Saudi Arabia's main airports, including Riyadh, Jeddah, Dammam, and Medina.
Nice to see things get back to business . . .
SSA