You might think with the on again, off again of COVID variations still cropping up in the world, as example Hong Kong appears to be up to its ears in the COVID variant that terrorized the U.S. earlier this year right now, despite a few start ups, most purveyors of cargo industry trade shows should be cutting the companies that signed up for shows some slack until at least 2023, when if the creek don't rise and prayers for no more variations of the pandemic cropping up, are answered.
That would be the timeline, as safest to inch back into life as we once knew it.
But when it comes to industry trade groups and especially industry publications there is no respite and also for some trade shows like Air Cargo Americas Show & Supply Chain Americas Conference upcoming in Miami March 8-10.
We are not doctors, but what we hear and have been told, is that if nothing else happens things will be fairly well open by mid-March in New York, but as you might also note things are not going well right now as mentioned at the top in Hong Kong one of the three most important money markets in the world amongst other things.
Indeed, COVID has declined worldwide but this week alone Germany, Netherlands, South Korea, Brazil, Argentina, Mexico, Turkey, France, Japan and a dozen other countries are setting records for infections.
Should you go to Miami?
Try and remember history as an important lesson.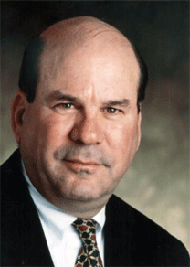 It was The World Trade Center venue just off the main runways of MIA that hosted an Air Cargo Americas in 2009 attended by then Head of TSA Ed Kelly (pictured) who died shortly thereafter of Legionnaires Disease. (Why Did Ed Kelly Die?).
We are not suggesting anything more than, that people in the face of a deadly global pandemic cannot ignore warnings and that a tragedy like Ed Kelly should not be forgotten.
When you think about it, getting back to regular rhythm meaning the natural every other year schedule of Air Cargo Americas could mean the next one would be held in 2023.
At the very least, FlyingTypers thinks that the Air Cargo Americas show organizer and every other air cargo trade show held this year should consider canvassing attendees with a simple questionnaire, asking people of any health issues occurring post attendance that can then be accessed by attendees.
A good protocol to follow in the current environment.
GDA