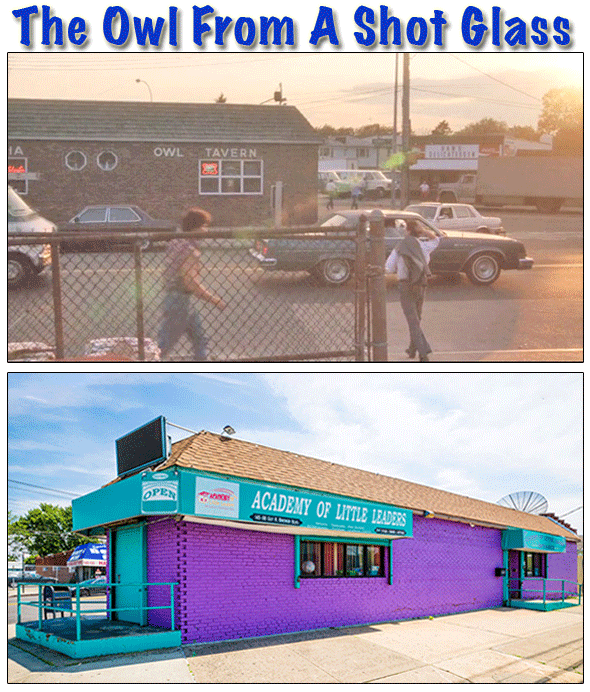 Once upon a time, before it became some kind of chic to dine al-fresco from a food truck, long the norm in cargo areas btw, people who worked in high profile passenger terminals could only look down their collective noses at the dining selections offered to people in cargo.
For years food has been served up with varying degrees of success in the airport cargo area.
Food trucks park near cargo hangars, or you can call for carry away pick up, and of course the growing trend especially during and post COVID has extended into occasional inventive fancy deliveries.
One restaurant near JFK International Airport on Woodhaven Bouvelard named London Lennie's, will deliver you a dozen shucked (Blue Point) Oysters with condiments and those small oyster crackers arranged on a bed of seaweed and crushed ice. Come to think of it, better get a couple dozen and some of their incredible chowder and homemade coleslaw.
Get some Gavel Kolsch from Cologne too, if it's sold nearby and you're off the clock.
Which brings me to the most notorious, but also the best Italian sandwich in the history of JFK Cargo.
The place was called The Owl, and it was located just outside the airport on the corner of Farmers & Guy R. Brewer Boulevard, and what fun it was.
The Owl, a local air cargo haunt operated by Joe "Owl" Mancusi was reportedly an occasional gathering point for the gang that planned and later held up Lufthansa Cargo and were immortalized in a book and the movie, "Goodfellas".
But for the straight working stiffs, the wise guys and the day time cuisine crowd, the veal parmigiana hero sandwich served at The Owl was absolutely out of this world.
Make no mistake, at times the price of admission was you had to zone out the "Bada-Bing," tough guy-topless joint reality that The Owl was in the cold light of day.
But somehow the place did clean up the entertainment for the lunchtime crowd that drifted in and out from all those mixed-use, off airport residence and cargo office operations both on airport and off the field that brought the crowds to The Owl and the popular Hans Deli across the street for years.
Highpoint for The Owl was 1987 when a scene from the movie Wall Street was shot there.
Now The Owl is long gone.
Somebody said that they saw Joe The Owl down in Florida but that was five years ago.
But great joints like supple stories don't die, they just fade away.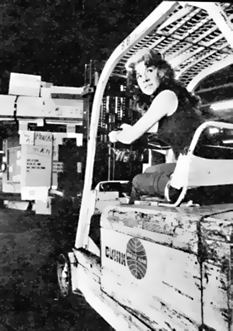 Who Loved The Owl

Dolores Hofman, now retired from a lifetime of service to aviation as Program Manager Queens Air Services Development Office in New York is also a real lady pioneer in air cargo like no other.
Dolores shunned an office job and asserted herself to work at Pan Am Clipper Cargo at JFK on the warehouse floor operating a forklift truck in the late 1960s, when the only other women on that level of the air cargo building were staring down half dressed or not dressed at all from calendars on the walls of break rooms and the loading docks.
Dolores recalled:
"Ahhhh, yes, "The Owl," one of the few places that this ex-Cargo Service Agent (when I drove that forklift, unloaded those trucks & worked shifts) could go for a nice lunch break . . . OMG what stories to tell!"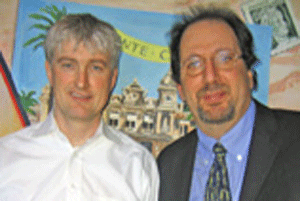 The former KLM Cargo JFK Operations Guru Barry Medwed, today a top air cargo consultant, "Call Barry", pictured here (right) with Mattijs ten Brink (left) who lead KLM Cargo, dunked into The Owl:
"I remember the first time I went to the The Owl in 1979.
"Co-workers took me for lunch.
"When working the midnight shift, we knew The Owl would be open for 3am lunch," Barry recalled.

Home of The $5 Meeting

"I joined The New York Air Cargo Sales Club in 1966 as a rookie cargo sales rep with Braniff," Eldon Brown said.
"The NYACSC President was Bob Havenstein of National Airlines Cargo.
"Our monthly meetings were held at the Playboy Club on E. 59th Street. The meetings tariff was $10.
"We had a private meeting room and two bunnies were assigned to our meeting.
What did the $10 buy?
"Two drinks, a steak dinner, coffee and desert, plus Playboy usually threw in a door prize or two.
"Of course, back then you could get two drinks and a steak at The Owl for under $5, but the waitresses didn't wear bunny tails . . ."
Eldon had a great air cargo career serving in JAL Cargo top USA management for 15 years. After that Eldon outdid himself with more than a quarter of a century at Northwest Cargo.
Today Eldon is alive and well, and writing books.
"The Owl, it was an experience!"
"Everybody went there for lunch on the Midnight Shift," writes Henry Lumm.
Alan Wood recalls:
"i worked at Circle Airfreight, for years cashed many of my paychecks at the bar, to many good times.
"Had a fight with Jimmy Breslin there . . . all good . . .
"The Owl was also known as "The Supper Market".
"Hans Deli was across the street, and one of my worst business decisions was, when Hans offered me a deal on his deli and I said no.
"How dumb!"
Alan is the only former habituae of "The Owl" we know of, who operates a nifty oasis where you can get a drink, something to eat, see a live theater show nearby and maybe even carry this story further.
Located in downtown Titusville, Florida, "OhVino" is where Alan Wood and partner James hold court in their small restaurant with soft lighting and peaceful soothing ambience near The Titusville Playhouse there.
Huge wine selection and small snack plates, hamburgers. Great pizza with a delicious crispy crust and plenty of topping. Regular wine tastings.
Theater is in 57th season, currently mounting a stage presentation of "Kinky Boots".
Wonderful.

And Today . . .

Today the lunch bunch has departed The Owl for the last time and the X-rated TV screens have bumped and ground their way to black.
But down is not out.
In the same building that housed The Owl appeared fairy tale pictures, pink balloons and boxes of chalk and crayons.
Today, the space that greeted a brilliant cast of characters who were creating the air cargo industry has become The Academy of Little Leaders" a gentle sanctuary for the laughter of little children starting life in a fantasy pre-school day care center.
The wise old Owl giving up some tricks.
"And just like that, my lunch today just seems unbearably boring," smiled Mike Webber.
Geoffrey