We spent more than two years sans handshaking, wondering what trade show future could be and where all that energy had gone.
But then we caught up with Glyn Hughes in New Orleans: that's him seated second from left, awaiting his turn to speak. I'm thinking it's nice to have him back where he belongs. But then I realize we are damn lucky he never went away.
There he was in living color, right there, up on the platform, alongside, part of and leading the way as organized air cargo went live once again in New Orleans at AirCargo 2022 a couple of weeks ago. It was as though a malicious spell had been broken.
From the look on his face, Glyn, who retired from an illustrious career as Head of IATA Cargo and then stayed inactive for about as long as it took him to repack his suitcase, was very glad to be back.
I have tried to calculate how many trade show panels this man sat on or organized and led. The words "grains of sands on every beach" come to mind, adding that number up you get dizzy. Memories started flowing, as if I were the Ulysses of air cargo.
I recall attending the very first meeting of TIACA in London, at the fabled "In & Out Club", where we did it up royal near Queen's Park and the room locks worked on skeleton keys. Dick Jackson lived in the room next to mine and every night we sat up and drank brown whiskey and read copies of old issues of Vanity Fair from the library. Maybe it was Brown Wilder and Dick Jackson and me watching the roast lamb roll by on a cart, after the Queen's Guard dropped by the Courtyard at the behest of Chris Foyle and played the Beat Retreat and we all felt pretty special when that happened.


And it poured down rain, as a little mouse ran through the proper ladies' sitting room just off the 'men's only" bar called Geoffrey's, as TIACA was picked off the ash heap of a now uninterested Automotive Engineers' Group by people named Foyle and Arendal and Spohrer and Wilder and Nijankin, Whalen and a dozen more.
The essence of TIACA has always been the excellence of its personalities, and we knew them all.
We were the first paid up media members. Several decades ago, when Bob Arendal got Cargolux to sponsor the first ACF in Luxembourg we quickly decided to best serve you, the reader, by becoming a non-member disinterested observer, and keeping all our options open by holding our cards close, telling it like it is. That's the other story: why we are here.
The preliminary here is, because we believe that, like no other time since TIACA was brought back 30 years ago, right now something must be done to get this TIACA of 2022 off the critical list created by COVID and back on its feet. TIACA is in the best possible hands right now: if anybody can save it, that is Glyn Hughes.Glyn knows more about organized air cargo than anybody we can think of.
That he was sitting in Switzerland with a golden parachute gazing at the Jungfrau minus a care in the world, able to do just about what he pleased and, now has taken on a herculean effort here to save TIACA kicks this guy up several notches on the all-time list of great people of air cargo ever. We sure hope he makes it.
In 2022 the world has changed as everything that communicates is hand-held. Also self-serving seems to rule as never before.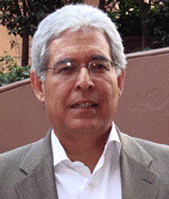 What a generation ago was tough business, but for sure felt much more idealistic, at least in these quarters. But if seasoned and thoroughly professional Glyn Hughes can get it across to the great unwashed that the strength of TIACA is in its diversity, he will have saved the last great hope for organized air cargo. Everything depends on Glyn.
For the first time since Daniel Fernandez (right) picked up the baton from the first TIACA DG, the late Garth Davies, TIACA has a running chance, as the world emerges from the depths of lockdown and uncertainty, to what could be a new deal as an organization. To win the gamble everybody has got to be in it.
We are in for some exciting times ahead. Good luck Glyn in 2022!

FT: Your takeaway from the recent sustainability panel at AirCargo 2022.
GH: It was a pleasure to join such an illustrious panel so expertly moderated by Jenni Frigger. There were many aspects of sustainability covered, from environmental responsibility to social implications, people considerations and the need for the industry to remain prosperous as investment is a critical aspect of the sustainability journey for any organization. We also explored the complexity of the issue and the need for action now. Small things add up and build momentum for greater change. We need to play our collective part in reducing waste and CO2 emissions whilst continuing to support global society as we seek to create equal opportunities for all and to facilitate enhanced global economic prosperity by providing efficient and effective global network connectivity.

FT: Moving ahead, emotional decisions in business versus Process Mining, or is there room for both and if so in what measure?
GH: A great question as this goes to the heart of what we all must do in both our private and business lives. It's not about shaming others, but rather what each of us can do. Business efficiency is likely to support improved environmental impacts, but often requires time and investment to achieve. One thing which we can all agree on is that the time to act is now and with an increasing number of shippers starting to include sustainability questions in tender documents, business success requires alignment of emotional and business decisions. It's also becoming increasingly important for the next generation workforce, who are more drawn to organizations which place sustainability high on their agenda.

FT: What do you want to improve in 2022 at TIACA?
GH: The TIACA board has endorsed a number of great new programs, planned for 2022, which will result in us being able to provide more support to the global air cargo industry in achieving its sustainability goals. We shall soon be publishing the results of our second Sustainability Survey and we hope to enhance the Sustainability Roadmap document we published late last year, which highlighted a number of actions the industry can take in eight key areas of activity. We also hope to enhance our member and industry outreach, ensuring that the high profile role played by air cargo these past several years continues to be high on the agenda of those who can influence future investment as well as those who set industry regulations. We will also look to enhance our relationships with key partners as collaboration is the key to success. The louder the voice the more it's heard.

FT: What if you kept things the same and didn't do anything?
GH: Then we should have just switched off the lights and gone home. Standing still is actually moving backwards. The world is changing and the industry needs to reflect the world it serves and associations need to reflect the evolving needs of their members and their customers. I am very pleased to say that the TIACA board recognizes this and has a clear vision for how we can continue to evolve and progress forward.

FT: What did you want air cargo, airlines, forwarders, other cargo resources and even truckers to know about TIACA today?
GH: A great question. Basically I would say that in this world of complex supply chains, ever increasing challenges and obstacles we need to unite to address the needs of today and plan for those of tomorrow. Collaboration is key across all industry sectors and this is the unique aspect that TIACA offers. Our membership is comprised of each stakeholder group involved in the air cargo industry, each with different issues and opportunities but all sharing a common objective to create a safe, secure, efficient and effective industry which provides high quality solutions and supports the global business community and society. We would encourage all stakeholders to have a look at TIACA today, we want to hear from you all and add your voice to our programs.