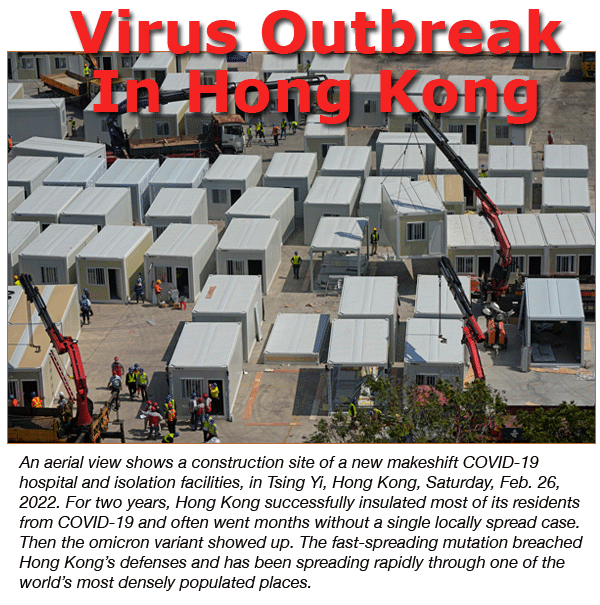 The year of the Tiger has also ushered in the fifth wave of COVID in Hong Kong.
Having worked long and hard at maintaining zero COVID it was perhaps inevitable that at some stage or other it would creep in and once through the door would take hold very quickly in spite of the best efforts to contain it.
Just today nearly 5,000 new confirmed cases are reported and another 7,000 of what they call preliminary positive, and the experts tell us that these numbers will double every 2 to 3 days.
Although Hong Kong has a vaccination rate of well over 80% there is one section of the population, the over 80s, who have been very reluctant but who are now coming out in their droves for the vaccine so this is kind of a race against the virus if the City is to protect the more vulnerable.
Beyond just the medical statistics the bigger question is the effect on Hong Kong as a global financial center.
Hong Kong has labored under one of the most restrictive quarantine measures in the world.
HK always likes to stand out but this is one trophy the city might rather not have.


Not only was there a mandatory hotel quarantine of three weeks on arrival in Hong Kong, now reduced to 2 weeks, but also for the last couple of months a complete ban on flights from eight countries including the UK, the U.S. and Australia has been maintained.
Furthermore, flights from any country that turns up to have had several detected during testing on arrival is then banned from flights from the originating airport for two weeks.
This as February ends, is leading a lot of airlines to simply give up on flights to Hong Kong as it's too difficult to play stop, start stop, start.
And of course it goes without saying that Cathay Pacific is carrying the biggest burden, for much of last year the cargo side of things was booming but unfortunately after some breaches of quarantine arrangements for flightcrew by cargo crews, and with Omicron raging around the world, the government imposed some fairly dramatic quarantine requirements on cargo crew, (who had been subject to a lower quarantine requirement) which is now having a very significant effect with virtually no flights by Cathay Pacific to Europe as far as I understand. How long this will be maintained is anybody's guess but there is undoubtedly a massive impact.
Stepping away from the airline industry there is of course no shortage of negative press reports highlighting the business challenges faced by various sectors in Hong Kong, including of course the tourism industry and more recently the food and beverage industry with a 6 pm closing of all restaurants and bars.
And it is not difficult to find people who are planning to up stakes and leave Hong Kong claiming they've had enough, and to be fair I can't blame them, for anybody trying to bring up children it's been a nightmare of almost 2 years of some form of homeschooling not to mention of course the inability to easily travel to friends and relatives around the world. But on the other hand it's also not difficult to find people who remain very optimistic about the future of Hong Kong and who see this is just another of those challenges to be overcome and are in fact taking to heart the Chinese saying that in every crisis there lies an opportunity. I would have to say I am extremely thankful to neither be bringing up children nor running a business, and I have every sympathy for those who are struggling to get by but I think it would be extraordinarily shortsighted to write off Hong Kong at this stage of the game as all the fundamentals that make this place so successful remain unchanged. There are a great many positives for Hong Kong, we have extraordinarily large financial reserves and live at the centre of Asia when it comes to logistics and communications something which nobody can take away.
And coming back to the airport I see enormous expansion projects taking place, the third runway is close to being fully operational I believe new terminals are under construction, and a massive Alibaba fulfilment centre is under construction in the cargo area, and of course behind all this is the integration of Hong Kong into the Greater Bay Area which incorporates about 70 million people with the GDP roughly the same as Canada.
What's not to like about that?
Bob Rogers