"The past is never dead. It's not even past." Requiem for a Nun, 1951 by William Faulkner
A native of New Albany, Mississippi, William Faulkner's words written more than seventy years ago have retained all their relevance after decades of being quoted by academics and statesmen – in consolation, reconciliation, desperation, and exasperation.
My mother was born and raised in a Mississippi Delta town (Cleveland) about 115 miles south of Memphis on Highway 61. I spent summers there in the 1960s and early 1970s. My grandfather owned a scrap metal yard on Main Street. My aunt and uncle owned a hunting goods store next to the highway. When I say "y'all", it's muscle memory and not affectation. I am wary of people who dislike grits. I started my aviation career in the early 1990s working for the airport authority in Jackson, so my experience in Mississippi was formative personally and professionally.
---

Until 1963, Jackson's principal airport was Hawkins Field, which has the distinction of being the destination for Delta Air Lines' first commercial flight in 1929. Hawkins Field also served as the Royal Netherlands Military Flying School for the Dutch government-in-exile during WWII. It still serves general aviation but on 600 acres in an urban setting, Hawkins was insufficient for the coming "Jet Age".
Groundbreaking for a new land-rich airport occurred in August 1959. Jackson's then-mayor, Allen Thompson thanked "taxpayers who are going to pay for it".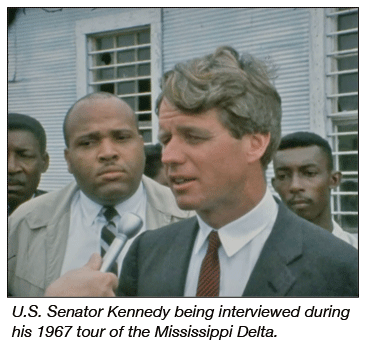 Indeed, they would but not before U.S. Attorney General Robert F. Kennedy successfully tied federal funds to prohibitions against segregated bathrooms, dining areas and other public facilities. Local governments actually claimed segregated facilities would be improvements over Hawkins Field where no "colored" restrooms existed at all.
The Kennedy Administration used the Interstate Commerce Commission to integrate bus and rail stations, as well as airports. "During 1962, we surveyed 165 airports in 14 states and found 15 airports in six of those states which were still segregated. All of these desegregated during the year, 13 voluntarily and two after the Department brought legal action. At present, then, there are no segregated airport facilities in the nation. There is only one city in the nation, Jackson, Mississippi, in which systematic segregation at interstate rail and bus facilities – as exemplified by signs directing the use of separate facilities – is still attempted. Even in this case we have taken legal action, now on appeal."
The new airport opened on July 1, 1963. For decades, it was known as Allen C. Thompson Field honoring a segregationist mayor who usually preferred closing public facilities to integrating them. A member of the fervently racist White Citizens Council, Thompson purchased an International Harvester Loadstar 1600 (dubbed "Thompson's Tank") outfitted with armor, metal bars, grating, searchlights, sirens and mounted machine guns.
"Thompson's Tank" had its first use at the local HBCU (Historically Black Colleges & Universities) Jackson State University in February 1964. It would appear again at Jackson State in May 1970 when Jackson police and Mississippi Highway Patrol fired 460 rounds into a dormitory under the pretense of observing a sniper on the dorm's upper floors. An FBI investigation found no evidence to support that ruse for murdering two college students and injuring twelve more. It took local law enforcement more than fifty years to finally apologize. "Thompson's Tank" was borrowed by Memphis Police to provide safe transport for James Earl Ray, following his assassination of Martin Luther King, Jr.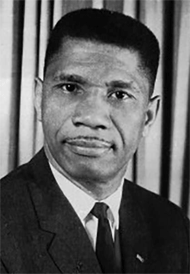 Medgar Wiley Evers was a decorated U.S. Army combat veteran of WWII and a graduate from HBCU Alcorn State University. Evers was the NAACP's first field secretary in Mississippi and organized a boycott of downtown Jackson businesses, demanding more equitable treatment for Black employees and customers. "Radical" demands included use of identical common courtesy titles (Mrs., Miss, and Mr.) for Black peers as used for White peers, as well as first-come, first-served service.
Just after midnight on June 12, 1963, Medgar Evers was murdered in the driveway of his family home. The murderer was Mayor Thompson's fellow White Citizens Council extremist Byron De La Beckwith who openly bragged about the murder and yet two all-White, male juries failed to convict. Mississippi's racist governor, Ross Barnett (for whom the reservoir outside Jackson is still named) appeared in court to shake the murderer's hand. De La Beckwith escaped justice until 1994 when new evidence allowed prosecutors to retry the case with a jury amenable to justice.
Medgar Evers was buried with full military honors at Arlington National Cemetery. Evers' widow, Myrlie Evers-Williams, has led a noble life of service to causes once championed by her late husband. Evers-Williams later served as chairwoman of the NAACP and delivered the invocation at the second presidential inauguration of Barack Obama.
As "White flight" filled the suburbs, Jackson's demographics changed. In 1997, Harvey Johnson Jr. was elected as Jackson's first African American mayor. On January 22, 2005, the airport's name was changed to Jackson-Evers International Airport and then in October 2011, to Jackson-Medgar Wiley Evers International Airport – honoring a man assassinated less than a month before the airport opened in 1963. "The past is never dead", indeed, but the present allows for improvement.
Mississippi's current governor and state legislature are attempting to wrest airport governance from the Black-majority city but are content to leave the state's other airports in White-majority cities to local control. Many Black Mississippians still can recall being prohibited from using public restrooms in Mississippi. The governor and many legislators were raised by people who sustained segregation and ensured the freedom of murderers who'd killed Black citizens. Apparently, having Black governance of the Capital City airport is just more than they can endure. At least for now, there is a Civil Rights collection displayed at the airport's Medgar Evers Pavilion. I strongly recommend visiting that collection now before Mississippi's leadership buries the evidence again.
---
From 1993 to 1997, I started my airport career as the Director of Marketing & Economic Development for the Jackson Municipal Airport Authority - governed by a Board of Commissioners appointed by the Mayor of Jackson and confirmed by its City Council.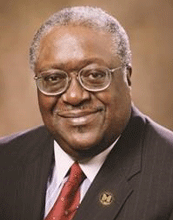 Among the Commissioners for whom I worked were Booker Taliaferro ("B.T.") Jones - a native of Chulahoma, Mississippi. B.T. enlisted in the U.S. Navy in 1961, serving as a navigator on aircraft carriers USS Oriskany and USS Kitty Hawk in the South China Sea during the Vietnam War. After his honorable discharge, B.T. received a degree in sociology from Indiana State University. B.T was President and CEO of MINACT, Inc. – a national job training firm which became one of the largest Job Corps contractors in America. The company received many awards, but none would mean more to B.T. than preparing so many Americans to make a living. B.T. passed away on July 27, 2019.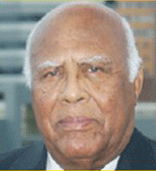 Born in 1927, Cornelius ("C") Turner (right) was one of twelve children born on a farm in Edwards, Mississippi. Still legally a minor during WWII, Cornelius joined the Merchant Marine to sail on Liberty cargo ships. In 1963, Mr. Turner established Major Associates Inc., becoming one of the first Black contractors in Mississippi to be bonded. In the early 60s, Mr. Turner shared an office with Medgar Evers and was close friends with Vernon Dahmer – president of the Forrest County Chapter of the NAACP.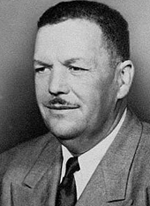 Dahmer (left) suffered fatal injuries protecting his family when the Ku Klux Klan attacked his family home with gasoline bombs and shotguns. Dahmer's four sons were away on military duty. The ringleader of Dahmer's murder would not be convicted for twenty-five years.
Cornelius Turner passed away at the age of 91, on June 7, 2019, having been married to his beloved Marian for more than seventy years. Marian passed away in April 2021 at the age of 96.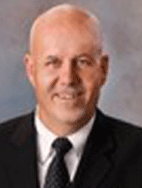 It took years of hindsight for me to fully appreciate the airport's Dutch-born executive director – Dirk B. Vanderleest (right) – who hired me for my first job in airport marketing. Dirk's unfailingly even disposition was critically necessary for an organization in a transformative place and time. I learned a lot about airports working for Dirk but even more about managing people. He is now the Aviation Director for the City of Concord (NC) at Concord-Padgett Regional Airport. Thank you, Dirk.

---
Working at airports provides opportunities to meet local and national celebrities. During my time there, Jackson was unusually interesting, as three Hollywood films – "Ghosts of Mississippi", "A Time to Kill" and "The Chamber" – filmed locally and used JAN for airport scenes. "Ghosts of Mississippi" depicted historical events (the murder of Medgar Evers and trial of his murderer), but all credibly addressed Mississippi's racial strife with the other two films based on novels by Mississippian John Grisham.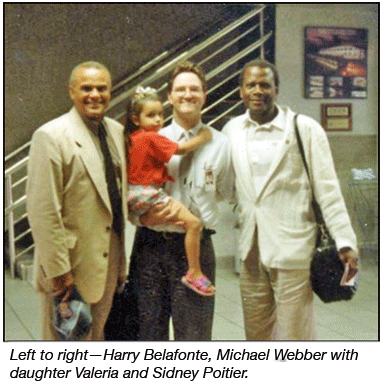 Close proximity to HBCUs provided frequent opportunities to meet legendary athletes like Walter Payton whose brother coached the golf team at Payton's alma mater, Jackson State. I occasionally guest-lectured at JSU and hired an intern from there.
On another occasion, I met Harry Belafonte and Sidney Poitier who were marking the 30th anniversary of Freedom Summer (first called the "Mississippi Summer Project") for which they had raised and delivered critical funds to Mississippi in 1964, even as the KKK prowled around. In June 1994, we also received the families of James Chaney, Andrew Goodman and Michael Schwerner – three martyrs abducted by police and murdered by the KKK in June 1964 in Philadelphia, MS.
None of this is ancient history. I am grateful to have worked for men like B.T. Jones and Cornelius Turner. These extraordinary men were born into a society that prohibited them from even using public airport restrooms, but they became airport commissioners, in recognition of their professional achievements. I mourn their passing but their impacts will outlive the unworthy politicians now desperately trying to reverse the achievements of the Civil Rights movement.
Additional U.S. airports named for Civil Rights leaders include: Georgia's Hartsfield-Jackson Atlanta International Airport which in 2003 amended the name to honor former Mayor Maynard Jackson; Alabama's Birmingham-Shuttlesworth International Airport named for Fred Shuttlesworth who was instrumental in founding the Southern Christian Leadership Conference and planning the Birmingham Campaign in 1963; and Baltimore/Washington International Thurgood Marshall Airport. UPS has its global hub at Louisville Muhammad Ali International Airport. The main terminal here in Austin, TX is named for the great Barbara Jordan whose statue overlooks the baggage carousels.

---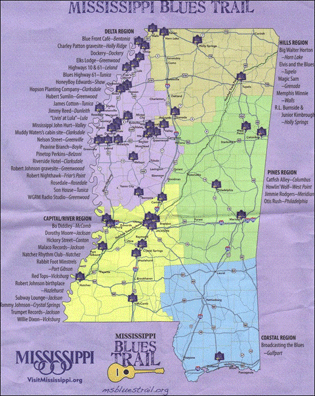 Mississippi Soundtrack:
Here's a cross-section of Soul, Blues, Gospel, Country and Rock that provides more than enough evidence that Mississippi has no peers in its impact on the bedrock of American music:
"I'll Take You There" (The Staple Singers, Winona and Drew, MS)
"How Blue Can You Get" (BB King, Indianola, Mississippi)
"Hoochie Coochie Man" (Muddy Waters, Clarksdale, Mississippi but may have been Rolling Fork, MS)
"Love In Vain" (Robert Johnson, Hazlehurst, MS)
"Mule Skinner Blues" (Jimmie Rodgers, Meridian, MS)
"All I Have To Offer You Is Me" (Charley Pride, Sledge, MS)
"It's Only Make Believe" (Conway Twitty, Friars Point, MS)
"Bo Diddley" (Bo Diddley, McComb, MS)
"Jailhouse Rock" (Elvis Presley, Tupelo, MS)
"Your Good Girl's Gonna Go Bad" (Tammy Wynette, Tremont, MS)
"The Lord's Prayer" (Leontyne Price, Laurel, MS)
"Misty Blue" (Dorothy Moore, Jackson, MS)
"When I Rose This Morning" (The Mississippi Mass Choir, Jackson, MS)

Michael Webber