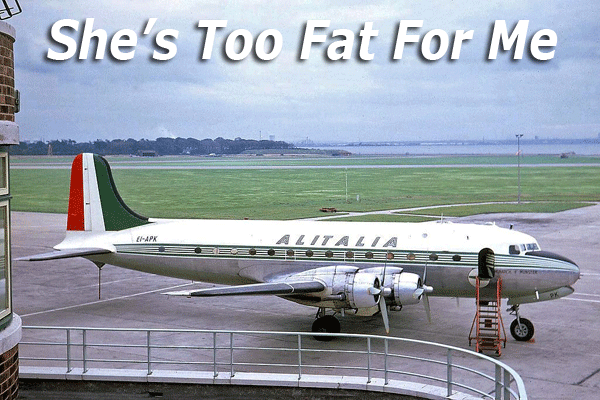 Today Airbus A-380 is by considered by some to be too big an aircraft.
How about an airplane that was thought to be too big in 1938?
The first prototype DC-4 flew on June 7, 1938.
Developed by Douglas for United Airlines, the airplane was basically an enlarged, more robust four-engine version of the DC-3 and could carry 42 people.
But the airplane designated DC-4E was withdrawn because it was thought to be too large with too much capacity for that time.
The first DC-4 A flew February 14, 1942 and the rest is history. Alitalia, United Airlines, Delta Air Lines, Pan American, KLM, SAS, Iberia, Swissair, Air France, TWA, Buffalo Airways, National Airlines, and Western Airlines were all key operators of the aircraft.
Today in 2022, Buffalo Airways, an all- cargo carrier based in Yellowknife is supplying remote villages in Northern Canada via DC-4 aircraft.
Happy 80th birthday, dear Douglas DC-4
Here EI-APK of Aer Turas is parked at Liverpool, October 5, 1967.
Aer Turas operated the aircraft for Alitalia Cargo.
This DC-4 was painted in full Alitalia regalia until (what else) AZ high flying DC-9-33F's arrived.
Sweet.