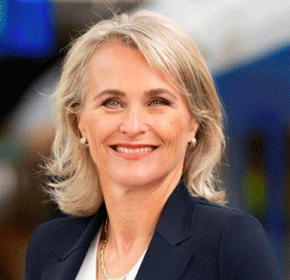 The oldest airline in the world is changing the guard, come July 1, 2022. KLM Royal Dutch Airlines will have Marjan Rintel as CEO! Happy to report she is the first woman to ever hold the position at the company.
The way it works, Air France-KLM's Board of Directors approved the KLM Supervisory Board's proposal to appoint Marjan Rintel CEO, replacing Pieter Elbers.
Marjan Rintel has been working on the railroad, serving currently as CEO of Nederlandse Spoorwegen, the leading passenger railway operator in the Netherlands. Before joining NS in 2014, she held various managerial, operational and commercial positions at KLM and Air France-KLM, such as Hub Operations at KLM and Senior Vice President Strategic Marketing at Air France.
Thanks to our old friend Cyril Joseph, who reminds us of our wonderful years with Henry Kluck, for this news. Many happy memories of KLM. These two gentlemen are forever BLUE!