Overcoming challenges – the Coronavirus pandemic, rising costs and supply chain woes notwithstanding – the Indian aviation sector seems to be ready for a booming take-off. While most carriers faced huge losses, with the announcements of two new airlines coming soon, Akasa Air and a resurrected Jet Airways, there is optimism from the ground up. Along with the steady rise in passenger traffic, air cargo is making rapid strides.
Over the last couple of months, the two south Indian airports at Hyderabad and Bengaluru have upped their game and made huge progress on the cargo front. Bengaluru, for example, has witnessed a record growth in cargo volumes in FY 2022, despite the challenges raised by the multiple Covid waves. Bengaluru achieved a significant record by gaining 13 percent of India's air cargo market share and 45 percent of the south India's air cargo market share. This had made the airport the only major one in the country to show growth over pre-pandemic levels.
The airport processed an all-time high tonnage for a fiscal year of 411,513 Metric Tons (MT) of cargo, recording a growth of 26 percent as against 326,643 MT in FY 2021. International cargo recorded a 31 percent growth, 271,988 MT processed, as compared to 207,518 MT in FY 2021. Domestic cargo grew at 17%, with 139,525 MT versus 119,125 MT in FY 2021. Perishable cargo has been one of the major growth drivers for the airport. In fact, it has become the top Indian airport for handling perishables — around 31 percent of India's total perishable shipments.
Next door, GMR Hyderabad Air Cargo (GHAC) has not lagged behind. Recently, it announced the inauguration of a new facility to handle international courier and express cargo consignments. As Hyderabad emerges as a major hub for cargo and logistics, the airport identified the need for a dedicated international courier handling facility that is approved and notified by Customs authorities to handle such shipments.
The new facility has opened up a whole new segment for Hyderabad's air cargo trade. It will enable international courier shipments from/to Hyderabad to be handled locally rather than being processed through designated facilities in other metro cities.
For its part, the government too has moved in to assist the air cargo sector.
India launched the Krishi Udan Scheme on international and national routes (the scheme facilitates movement of agri-produce by air with full waiver of landing, parking, terminal navigational landing charges, and route navigation facility charges for Indian freighters at selected Airports of Airports Authority of India).
The idea is to assist farmers to transport agricultural products. The scheme has been focusing on 25 airports of the North-Eastern Region while another 28 airports also controlled by the Airports Authority of India have been included.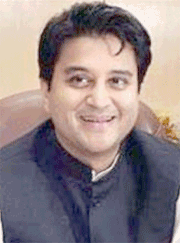 So that has seen growth: 1,08,479 Metric Tons perishable cargo (International + Domestic) was handled in Financial Year 2021-22 (til February 2022) in comparison to 84, 042 Metric Tons handled in Financial Year 2020-21 at AAI airports.
Even as airports ramp up for cargo, Indian carriers face the massive challenge of, perhaps, the highest ATF prices. Indian Civil Aviation Minister Jyotiraditya Scindia declared that he hoped that "the spikes or hikes that we have seen are transient in nature because there are events that have unfolded across the world and which have led to these hikes and a great amount of volatility on oil as well as Aviation Transport Fuel (ATF) .
"Once things normalize, then we will see ATF coming off its peak. I certainly hope for that but in the interim, we have to do whatever we can do best to make sure that the bleeding of the airlines stops," the Minister said.
Tirthankar Ghosh