Joe McBryan is a modern-day air cargo pioneer of aviation and air cargo.
For over a half century he has pulled himself and Buffalo Airways up by the bootstraps, first by flying supplies to little hard to reach villages in Northern Canada and also as an aerial firefighter, and maybe more importantly by lovingly keeping the art and ability of some 50- and even 80-year old aircraft not only together but also air worthy.
Joe, from what we can see of him on TV is the real man. You aren't going to find out stuff about him later. It is all there right now. Crusty, crabby, demanding, but also with the softest side you might imagine.
He reminds me of my friend, the late Ralph O'Neill , a WW I ace who sold fighters for Boeing, married Bill Boeing's Secretary Jane Galbraith and then quit and founded NYRBA, the airline that pioneered the first international mail and passengers schedules down the east coast of South America. Ralph flew the first Consolidated Commodores (PBY Catalina), an open cockpit aircraft with a comfortable interior outfitted for passengers. Pan Am, a pipsqueak airline with political connections stole NYRBA from Ralph in 1930.
I thought of Ralph, when a few years back, the regulators in Canada for one reason or another forbade Joe McBryan to fly passengers on one of his wonderful DC-3s via a regular schedule from Yellowknife to Hay River.
The puddle jump at a couple thousand feet was a daily ritual used by commuters, business people and tourists; it turned a six hour drive into a 121 mile air journey, a blast from the past.
Here would come Joe in his flying cap and flight bag followed by the passengers and the ritual would be repeated every day.
The airplane that maybe had just delivered food supplies to some tiny village up north and then QC with seats would spring to life again with a throaty growl and it would be off to the races.
Have you ever flown in a DC-3? As compared to a jet, of the roll down the runway feels like it takes forever.
The experience up top is punctuated with a welcome aloft to a world where peering out of any one of the aircraft's 14 cabin windows reveals a world in slow-motion, going on as usual, but where you can actually see things beneath.
You can see cars, even pick out their colors. You can tell it's Sunday because those same cars are parked around the churches.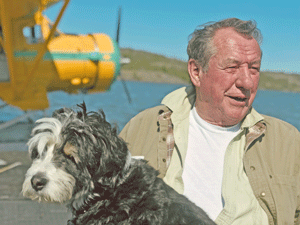 The Buffalo Airways passenger experiences were captured in the TV show Ice Pilots.
One episode should not be missed:
Here is Joe in the left seat flying along and back in the cabin is a young cabin attendant who, an hour before passenger flight time was humping and running loading cargo, but is now dressed up and amongst the sheep, serving mints or something.
In the front of the cabin a giant great dane along for the ride to Hay River cannot wait and has just taken a big dump and everybody in the cabin is holding their nose.
The young lad has the thankless job of clean up and half way through that process with everybody watching and groaning, one person just laughs and before you know it all the 12 or 20 passengers are laughing out loud, including Joe, who reaches over and cracks the cockpit side window to get some fresh air.
When was the last time something extraordinary like that happened aloft?
A planeload of displeased passengers, no, people deciding they were having just too much fun to allow some dog shit to get in the way. A moment where you realize it's only life and what you are experiencing is rare and treasured indeed!
So chalk up attitude adjustment as part of the Joe McBryan Buffalo Airways DC-3 flight experience.
So why can't Joe be allowed in some manner or form to fly his happy band between Yellowknife and Hay River?

Is it the aircraft? Don't be ridiculous—Buffalo Air has so many DC-3 parts that Mikey, Joe's son and his team rebuilt an almost entirely destroyed DC-3 and had it airworthy for the D-Day 75th Anniversary a few years ago.
"Plane Savers" was and remains a series of over a 100 hand-made YouTube video episodes of the step by step restoration of what will now be an immortal aircraft for people to experience in a museum somewhere. The airplane had flown in 1944 above Normandie, who knows, maybe even above our Cardine family home in Bernay, dispatching troops, and then post WW II served cargo for a second life until being left on the scrap heap of time to decay and rot, alone and forgotten.
But the Family McBryan came to town and over a period of a year with volunteers and Buffalo staff and meals from Tim Hortons and elsewhere in Yellowknife, , raised the majestic DC-3 up after decade of inactivity like a phoenix and returned it to life up in the sky where she belongs.
That is the stuff of a legendary adventure, so pardon me for playing it to the hilt.
YouTube should have given an Emmy to this epic Plane Savers series for its genuine original and home-made concept, passion, heart and quality.
It's high flying and even pioneering reality television for sure, certainly better than some of the stuff passing for reality TV these days.
What Mikey McBryan did with Plane Savers was one up Ice Pilots' professional multi-year series of programs about Buffalo Airways.
Whether you are baptized in this stuff or not, it is completely irresistible!
When that airplane rolled down the runway and actually rotated up into the air, it was absolutely thrilling, head to toe.
It felt like The Yankees winning the World Series.
But no more scheduled DC-3 flights?
I suspect Buffalo Joe got caught up in something that most in aviation experience in one form or another with regulators.
But at any level, enough is enough.
At some point government in Canada needs to take a long look in the mirror.
It's like Canada not allowing the seemingly hundreds of cargo-worthy, ex-military Lockheed Hercules aircraft to be pressed into service there.
Go figure.
But kindly step back and take a deep breath for a moment.
Aside from keeping an airworthy fleet of more of the legendary aircraft of the past than anybody before or since, in a world of sameness in 2022, is a genuine original, Joe McBryan, who also gets the nod as among the most fabulous aviation people Canada or for that matter North America has ever produced.
He is with us now and deserves every recognition, including the ability to share what he knows to be one of the simple pleasures of life, which he has made safe and possible for others to enjoy, over and over again.
Taking a ride in a Buffalo Airways DC-3.
GDA