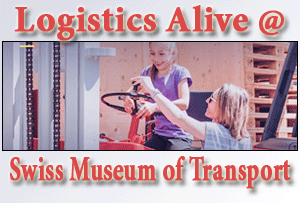 One of the great museum experiences, if you can get to it, or to put on your bucket list is The Swiss Museum of Transport in Lucerne, Switzerland.
All kinds of inventive and clever exhibits.
This one punches way above its weight.
Upcoming this month April 24-26 is The Verkehrshaus "Weekend of Logistics" and it is also, and maybe especially for kids.
Everybody knows if you order something, you trigger something. Today as goods and commodities circulate globally, more and more the world knows logistics is the action word. But what do everyday people know about what is behind the word "logistics" and what professions are associated with it?
Logistics Days at the Swiss Museum of Transport brings logistics at hand to everyday people and, as we suggested at the top to the kids.
Take a truck for a spin yourself and stack a pallet from one place to another.
The Logistics Days offer exciting experiences and interactions.
Imagine the action in a place other than the first class lounge at an airport as the center of attention.
The Logistics Days run at people's imagination and will take place from April 21-24 at the Swiss Museum of Transport.
For more click here.