Tutti Frutti! . . . At Fruit Logistica Berlin last week, old friends and colleagues—Nils Haupt, (l) former top Lufthansa Cargo Public Relations, now top of the world at Hapag-Lloyd AG in Hamburg, and Achim Martinka, Vice President Germany Lufthansa Cargo talk it over the way old friends do. The great Fruit Logistica at Berlin ExpoCenter City and CityCube Berlin gave every indication of life back to normal.
---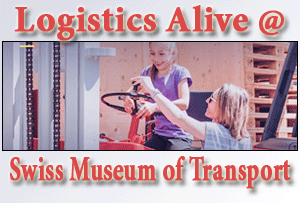 One of the great museum experiences, if you can get to it, or to put on your bucket list is The Swiss Museum of Transport in Lucerne, Switzerland.
All kinds of inventive and clever exhibits.
This one punches way above its weight.
Upcoming this month April 24-26 is The Verkehrshaus "Weekend of Logistics" and it is also, and maybe especially for kids.
Everybody knows if you order something, you trigger something. Today as goods and commodities circulate globally, more and more the world knows logistics is the action word. But what do everyday people know about what is behind the word "logistics" and what professions are associated with it?
Logistics Days at the Swiss Museum of Transport brings logistics at hand to everyday people and, as we suggested at the top to the kids.
Take a truck for a spin yourself and stack a pallet from one place to another.
The Logistics Days offer exciting experiences and interactions.
Imagine the action in a place other than the first class lounge at an airport as the center of attention.
The Logistics Days run at people's imagination and will take place from April 21-24 at the Swiss Museum of Transport.
For more click here.
Thukral From
Rags To Riches
Many of the world's top garment retailers like H&M and MANGO have downed shutters in Russia during the brutal invasion of Ukraine. No wonder India garment exporters are a worried lot. As example, the Noida Cluster is a major exporter of readymade garment products. Exports to Russia and the EU countries include t-shirts, pullovers, jerseys, women, men and kid's apparel, socks, hosiery items, etc. Noida has around 3,500 readymade production-cum-export units in operation and garments with an annual turnover of nearly USD$40,00,000 (Rs 30,000 crore) are exported. Of that 45 percent each go to the USA and the EU countries and the remaining 10 percent are sent to Russia, Ukraine and the CIS states.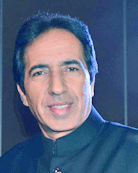 Lalit Thukral, President, Noida Apparel Export Cluster (the Noida Apparel Export cluster near Delhi has more than 140 members and a reach of up to 300 exporters) pointed out: "We are a bit worried regarding payments that have got stuck due to the Russia-Ukraine war. Exporters have been unable to contact buyers in the EU countries and Russia. In fact," said Thukral, "buyers are not responding and they may cancel the orders."
Simply put, the current Russia-Ukraine conflict has given a jolt to Indian readymade garments exporters.
"To begin with, the payments in dollars of readymade garments already exported to Russia and EU countries are stuck. In fact, the bank cannot exchange Russian Rubles into Dollars for the exported items. Agreements signed between Indian garment exporters and buyers/ importers have now become invalid because of the sanctions on Russia.
"Garments were routed to Russia through Spain before the Ukraine crisis," said Thukral. After the global brands suspended operations, fresh orders have come down by 25 percent, he said.
Buyers in EU countries have asked Indian exporters to hold shipments because of the airspace restrictions on Russia. "There is little or no possibility to come out of this problem in the near future. As a result, we have had to dump huge quantities of consignments and block our money," Lalit Thukral said.