After all, he never really left not at least in the heart and imagination of the world that adopted the Maharajah caricature as the icon and brand of Air India.
Once upon a time the Maharajah of Air India and the Meatball of Pan Am were airline brands as recognized as Coca Cola was.
The Maharajah was even pictured in Air India Cargo freighter advertising, suggesting service and size back in the 1980s.
Lately there has been a lot in the news, celebrating a return of Air India, that began business 90 years ago in 1932, to Tata ownership.
Air India was nationalized in 1953.
At the start of World War II there were three major airlines of India, Pioneer JRD Tata's Tata Air Lines, India National Airways and Air Services of India.
Postwar the number of airlines remained about the same until October 1946 when a new government opened the skies for new airlines and more than 100 applications were received to fly almost everywhere in India.
Finally in 1953, the Air Corporations Act became law, wherein eight former independent airlines were established and became "lines" of the Indian Airline Corporation (IAC), following the example of BOAC and BEA Airways in the UK.
Air India split up into a domestic route network airline and Air India International, which alone had the foresight to order Lockheed Constellations way ahead of anybody else in 1948. In the new scheme Air India International was spun off and divested from TATA to become the dominant carrier on international routes to and from India all over the world before any other India flag carrier between 1953 and 1960.
Fast forward to 2021 and through many changes and consolidations and leaderships the net result from Air India to India, especially to Prime Minister Narendra Modi is that AI had been costing taxpayers an average of nearly USD$3 million a day for the past decade or more.
So the deal was struck and Air India returned to Tata Group as waves of nostalgia washed over the travel and aviation community.
Reports are that a 100-day plan has been chalked out to ensure that Air India flies higher this time around.
For the moment, however, there is a lid still on what will actually happen and few to no one is talking during these early days at Air India.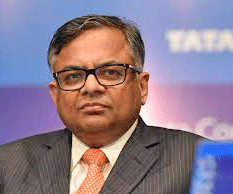 There was a bit of deflation when within a fortnight of the Tata takeover announcement former Turkish Airlines chief Ilker Ayci nixed a deal to head up Air India. Speculation of Ayci's links to Turkish President Recep Tayyip Erdogan, are mentioned as one mitigating factor
So now in April 2022 operating day-to day-leadership affairs fall to Natarajan Chandrasekaran, TATA Group Chairman (right).
Chandra, as he is popularly known has mapped forward his plan. But with all the money, hubris and history, will that be enough?
GDA