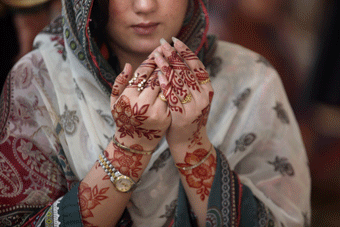 A Muslim woman with her hands painted with traditional henna prays during an Eid al-Fitr prayer, marking the end of the fasting month of Ramzan, at the historical Badshahi Mosque in Lahore, Pakistan, Tuesday, May 3, 2022.
Meantime Pakistan's once proud class of the region flag airline PIA, that among other firsts leased fledgling Emirates Airlines its first two aircraft in 1985, a B737 and an Airbus A300 that put EK into business in October of that year says it now has a plan for restructuring that sees break even in 2023 and a return to profitability in 2024.
Following a recent audit, the International Civil Aviation Organization (ICAO) removed its Serious Safety Concern (SSC) about the airline's pilot licenses. This is an important step in the current ban on the carrier flying to the EU, UK, and U.S. being lifted.
PIA said its new A320 simulator demonstrates that the airline takes safety and training seriously.
Pakistan's Minister of Finance and Revenue, Shaukat Tarin, said that PIA "needs to be a world-class airline and that the government believes in reviving the struggling carrier."
The plan in large part focuses on the Pakistan diaspora in several countries, with improved services and growth from a current fleet of 29 aircraft to 49 by 2026, at which point PIA will field 16 widebodies, 27 narrowbodies, and 6 turboprop aircraft.
The airline said it will use the additional aircraft to expand on routes to the UK, Saudi Arabia, UAE, and the rest of the Gulf region.
Ahead PIA will phase in services to Baku, Hong Kong, Istanbul, Kuwait, Tehran, Urumqi, and Singapore.
But reality doesn't come easy. A first-ever direct flight, set to begin April 22, a weekly service that would cut travel time dramatically between Lahore-Sydney, was scrubbed at the last minute by Australia to "reassess the prevailing security and review the security apparatus and procedures adopted at Pakistani airports."
PIA was founded in 1946 as Orient Airways, and was later nationalized to form the Pakistan International Airlines Corporation following the country's independence. It has since grown to have a fleet of 29 aircraft operating flights to 56 destinations across the Middle East, Europe, Asia, and North America.
The airline's primary hub is at Karachi's Jinnah International Airport, with secondary hubs at Allama Iqbal International Airport in Lahore and Islamabad International Airport.
SSA