The 54th edition of the Paris Air Show, held at Le Bourget Field June 19-25, was the first gathering of this fabled annual event since it was grounded four years ago due to the Covid Pandemic. The confab for 2023 took off complete with all the expected publicity blitz from the usual suspects, and their YouTube cheering sections.
Airbus and Boeing order books, always the big story here, closed at on or near record numbers, but what dominated this comeback year of 2023 were orders from Tata Group's Air India Limited and LCC IndiGo (InterGlobe Aviation Ltd), both serving India, now the world's fasting growing market.
Air India finalized a previously announced order for 470 planes from Airbus and Boeing.
Not to be outdone, rival IndiGo ordered 500 Airbus narrow body jets.
At Le Bourget The European Space Agency (ESA) Pavilion hosted institutional and trade visitors on the first four days, then for a grand finale on the last three days threw open the doors for everybody including space and aviation enthusiasts, students and families with their children.
Where there is a gathering, "sustainability" as an audience driver these days is not lost in the shuffle, as ESA unveiled its Zero Debris Charter, a starting point for an ambitious push encouraging European commercial and institutional actors to adopt more sustainable space debris practices.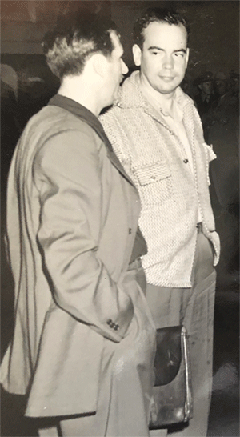 For us, every International Paris Air Show is a recollection of our days with friend and colleague Ansel Edward McLaurine Talbert.
As Aviation Editor of The New York Herald Tribune, Talbert's interviews with legends Jimmy Doolittle, Charles Lindbergh, Howard Hughes and Billy Mitchell helped call attention to the importance of military aircraft.
The International Paris Air Show, since its inception in 1909 is a special occasion to meet up with all the key players in the aerospace industry, tell your story and present your innovations to the world and form technological and industrial partnerships.
We also recall how Ed Talbert, who worked for General Doolittle in the UK on Operation Ultra during WW II, loved the Paris Air Show and attended dozens of those events post war serving another half century and was amongst the most important and honored aviation journalists in the world.
In the picture above Ed Talbert (R) circa 1948 with Richard Malkin (L) at deadline, covering the Berlin Airlift at Tempelhof Field Berlin. Two all time greatest aviation journalists, who we were honored to have working at our publication, are remembered fondly.
GDA