"We join a very small group of companies (in modern times) that can say they've flown DC-3s and 737s," Mikey McBryan General Manager Buffalo Airways told Yellowknife Northwest Territories-based radio station Cabin Radio as a Buffalo Airways Boeing 737, the first jet aircraft in the NWT airline's 50-year history successfully completed a long-awaited 80 minute test flight last week in Europe.
Hay River-based Buffalo acquired the 737-300SF last year, saying the purchase was necessary because existing freight connections into the NWT cannot keep up with next-day demand. Freight carried by Buffalo mostly arrives in the Northwest Territories by truck. Cargo is then loaded onto the airline's DC-3 and C-46 aircraft, some of them approaching 80 years old, for onward travel to the territory's smaller communities. In 2022, Buffalo said its 737 would replace much of the airline's reliance on trucks to get freight into its network. The likes of DC-3s will still be used to cover the final journeys into smaller NWT communities, not least because the 737 is not equipped to handle gravel airstrips, Cabin Radio said.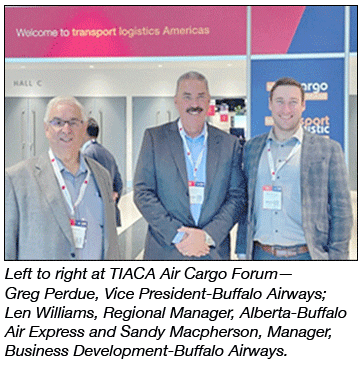 The aircraft has been undergoing refurbishment work and checks in Bournemouth, England since last year's purchase.
In terms of the B737 in service, Mikey said:
"Now things will happen quick," he smiled.
It is thought a hook up for enhanced services and partnerships in addition to their regular runs are part of the plan moving ahead.
Last year a team (pictured here) from Buffalo Air Cargo appeared at The International Air Cargo Association TIACA ACF Miami getting ready for the Buffalo B737F launch.
Looks like the epoch tale has no limit or equal for this company adventure often viewed on the Ice Pilots series on TV's Weather Channel.
Meantime as usual Buffalo Airways guiding spirit Joe McBryan took off in an all -cargo DC-3 for another milk run into tiny communities in Canada as the jubilant Boeing soared up into a limitless summer sky.
Nice going and keep 'em flying Buffalo Cargo!