Training young forwarders: women and men with a mission at FIATA HQ.
Going sideways at FIATA meetings gives endless opportunities: your friends from all over the world are there and each one of them has a story to tell. Bigger or smaller there is an interesting initiative behind each and every participant. This is one of the few places where you are leaving to return home when you would actually want to stay longer and spend more time with them. That is how I left Geneva earlier this spring: when I was actually hoping I should stay longer, I was already in France on my way home.
The FIATA Secretariat is now focused on the regional meetings that are taking more and more prominence in this part of FIATA's records. This year it was Vietnam in July (Region Asia Pacific) and Uganda in the early days of August (Region Africa Middle East). The next big thing will be the FIATA World Congress. Many Members are already planning their journeys to Brussels, as this will be the very place to be in the autumn, precisely starting on October 3rd 2023, the FIATA World Congress will be the epitome of freight forwarding and logistics later this year.
As I said in the previous articles on the 2023 HQ, the meeting was good from all points of view, and at a personal level it was right to catch up with my Brussels-based friends and reminisce the time I lived in the Belgian capital. Forward Belgium WEB welcomed the HQ participants in Geneva with Belgian chocolates (what else?) and a very rich programme of initiatives for the upcoming congress. As I said more than once, Brussels gave me a superb combination of quality of life, business accomplishment and opportunities to explore and expand my career with new opportunities.
The nearly ten years spent in Brussels were surely loaded with work, but satisfaction came with it in abundance. I made many new friends and acquaintances and many of them are still very good contacts today. Nicolette van der Jagt, who took over from me in 2011 as DG of CLECAT is probably the most notable example. We have remained in constant contact even twelve years after my departure from Brussels. Nicolette was also present at the FIATA HQ: an opportune time to catch up and discuss issues affecting our sector. "Securing qualified staff in Brussels to build and protect the freight forwarding business, for today and to future proof it" was on Nicolette's list. "With Brussels being at the forefront of decision making, as it is the home of the European Union, there are many young high qualified public policy persons willing to work for trade associations. However, today this ambitious workforce is also eager to build their careers and the trend is that they stay in jobs for a couple of years. Hence, the challenge remains to keep the teams and to attract and to educate new people fit for public policy work and with a drive for trade and EU transport legislation."
This was the essence of Nicolette's comments and I surely concur. In my view associations such as CLECAT or FIATA are unsurprisingly the starting point of a successful career for many a younger professional. They are normally highly motivated, internationally minded, multilingual and ambitious. I think we are lucky that they spend a few years with us and then climb the ladder of success. Staff retention is becoming almost a universal issue today, but there are situations that seem to be built for purpose in bringing young talent to full bloom: our associations seem to be just perfect . . . This is another aspect of associations' usefulness that often goes unnoticed. We must recognize the excellence that comes from our associations more often and more readily than we are accustomed to do. I must say the point made by Nicolette nicely fits with other issues concerning training and human resources that have occupied my conversations in recent times.
Earlier this year I promised Geoffrey I would share some thoughts about my experience as a trainer. FIATA is and remains my reference, with a position of excellence in logistics training in particular. As you read below in this article, FIATA runs an extensive training programme in the four corners of the world. I would say that the FIATA personalities that I met when I was younger were then my principal mentors and indeed contributed to my education in logistics and vocational training. Between 1992 and 2002 I had learnt so much from them that I was able to write a guide for Italian forwarders on my own. It was published by one of the main business editors, il Sole 24 Ore, and it was the base of my training activity in the following years.
Mindful of these past experiences, this winter I found myself teaching students in their late teens specializing in Logistics here in Turin. I must say the level of the students was high and their interest keen, but the fact that Italian youths have become more and more refractory to learning English will probably confine them to a rather small and local environment, with difficulty to improve their status in the progress of time. Italians have never been particularly gifted in foreign languages, but in recent years the situation has possibly worsened. There are very good exceptions, but sadly this is not sufficient to make younger Italians fully competitive in the global market.
Specific training, such as in logistics, is crucially important, in particular because the available workforce, which is only in principle as abundant as it ever was, in reality is becoming scarcer. Younger folks seem to be less anxious to embrace our sector for their future career. We all know how difficult it is to find drivers for the endless trucks lines in the continent . . . But even in clerical jobs we see that resources are insufficient. For example, the two companies helping my courses with their materials and demos were really keen to examine my students as candidates for positions in their organizations even before they completed their studies!
From some points of view all this is an insufficient subject for an article on the FlyingTypers, but perhaps we can get something interesting for the reader from my efforts, if we combine this with the wider view on this subject that comes from the very person who has catapulted the word training into a different dimension in FIATA.
There is an interesting tale behind each and every participant in FIATA meetings, and sometimes the smaller ones are more interesting to tell, because they keep the fascination of discovery, which is less perceptible for personalities that shine in their own light. In this case though we have a higher calibre personality to talk with, despite his unpretentious approach to success.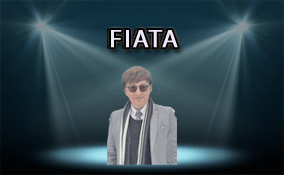 Staff retention was just the starting point. The connection with securing the knowledge and the engagement of the staff has been at the center of the activity of Thomas Sim, who is Senior Vice President of FIATA and boasts a CV that could easily fit the Guinness World Records. In a nutshell Thomas Sim embodies vocational as well as lifelong training and learning in logistics at its best. Thomas has been on the frontline of the many and diverse FIATA initiatives in these environs and has contributed to maintaining one of the most comprehensive logistics training programmes in the world.
From his CV you learn that Thomas has been "active in FIATA since 2000, elected Chairman of FIATA Advisory Body Vocational Training (ABVT) and consequently member of the Extended Board of FIATA; Thomas has been overseeing FIATA Associations' training programs assisting to setup and qualifying the standards of international freight forwarding, warehouse/distribution management and transport log training materials/curriculums, international trade, without forgetting the final accomplishment: the FIATA Validation of the national training programs. This was rolled out since 2002 in over 80 countries, as the lead Master-Trainer of the FIATA Foundation Vocational Training, Thomas leads the train-the-trainers' (TOT) programmes across the four vast FIATA regions (Asia-Pacific, Africa-Middle East, Americas, Europe) and has been a senior steering group member of the FIATA-TT Club's Young International Freight Forwarder of the Year (YIFFY) Award. Elected as Senior Vice-President of FIATA in 2019, Dr. Thomas Kiang Lee Sim serves in the Presidency of FIATA in Switzerland, charting strategic growth and the reset programme for the federation."


Thomas and I had worked hand in hand in my Zurich years and it was easy for us to find common ground for some meaningful exchange of views. At the recent HQ in Geneva, we focussed on one of the latest initiatives that Thomas spearheaded, i.e. the relaunch of the 'Train the Trainer' (TOT) programme in Addis Ababa (Ethiopia) which ended on March 7th, after running two entire weeks with evident success, as the pictures provided by Thomas Sim tell us. This is the 4th TOT Programme which Thomas launched in Ethiopia over the decade.
Many Senior FIATA delegates in the past, and even today, attended Thomas Sim's TOT programs, including FIATA's President Ivan Petrov, many Vice Presidents and Chairpersons of FIATA. So we are talking of FIATA Training at its highest level. As FIATA itself describes these initiatives: "education is central to the development of the freight forwarding industry and to the improvement of the lives of freight forwarders and logistics professionals. Education is important in promoting sustained, inclusive, and equitable economic growth and sustainable development. Increased efforts towards accessibility, quality, and affordability of education in our industry are part of the FIATA Presidency's priorities. At FIATA, training and education activities take place under the umbrella of the FIATA Logistics Institute (FLI). FLI equips the industry workforces with the necessary skills and competences through initiatives such as the FIATA Diplomas, the ICAO-FIATA Dangerous Goods by Air Training Programme, and the Young Logistics Professionals Award."
To my direct question, Thomas Sim replied: "Just so you know: lifelong learning is always my personal philosophy, after completing my Bachelor in the 80s and my first Master (LSCM) in the 90s, and my 2nd Master (Education) just four years ago, I am currently on a doctoral research programme. With God's will and guidance, I hope to be able to continue to contribute more to professionalizing the industry, engage stakeholders in optimizing supply chain performances at national, regional and global platforms, using advance data analytics, A.I. and application in real world cases for our industry."
I noted that Thomas continues to assist developing countries to leverage on tech advancement in building their human capital to support the ever growing international trade amongst nations. To this point Thomas replied with a smile that was deeply rooted in his serendipity: "Well, Marco, I have just turned 60, but I can still do my part in our sector." I contended that nobody would actually think he was past 60 years of age and then my still very active friend concluded our talk with a remarkable observation: "I have my own short definition of supply chain: SCM is the lubricant in the engine of economic growths. If you want the engine to continue functioning the younger generation must be well-educated in logistics, SCM and international trade all around the world". This suggestive conclusion fits marvellously with FIATA high level vision 'Logistics without borders for a digital and sustainable world', which completes the objectives enshrined in the FIATA statutes.
Thomas is surely a specially gifted human being, and his connection with training and his noteworthy achievements come natural in his personality. With such well-maintained engines on the scene, training in forwarding and logistics seems to rest on solid ground, in particular in the hands of FIATA, which is able to combine the continuous expansion of training courses in each individual country with the development of ad-hoc training for emerging countries, as spearheaded by the glorious FIATA Foundation.
Marco Sorgetti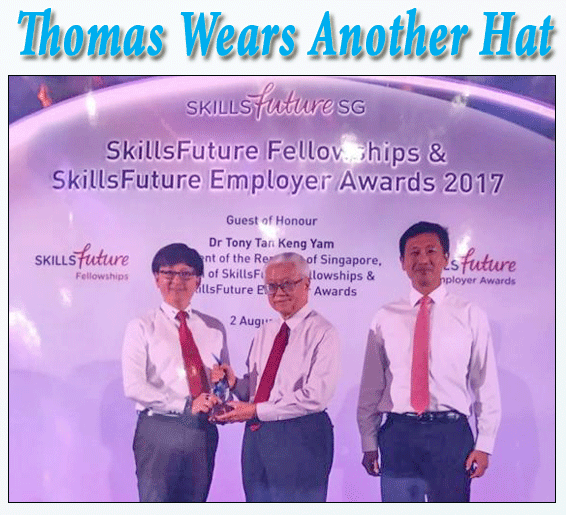 In his professional capacity, Thomas is the CEO of The Topocean Group in Singapore, an integrated international LSP with corporate head-office in Los Angeles, USA since 1994 handling warehousing & distribution, multimodal transport, cross-border requirements and trade compliance, overseeing Topocean Group's ASEAN offices, and responsible for Agency developments for the group. He joined the Singapore Logistics Association (SLA) in 2000 and elected as the Dy Chairman of the SLA (2004-2018). In addition, he also chairs its Human Capital Development Committee and appointed as the Academic Director of the Logistics Academy (TLA), also as TLA's Lecturer and Course Convenor, he also lectures regularly at the Singapore Management University (SMU) PCP and BDTP industry training programmes. Also, appointed external examiner of the Singapore University of Social Sciences (SUSS), and Chairperson, Education & Training and master-trainer for the ASEAN Federation of Forwarders Associations (AFFA) from 2004 to 2016.
To build inclusiveness and professionalism in the logistics industry in Singapore, Thomas led the faculty of TLA in developing a specially curated training curricula and launching logistics and supply chain training programmes for ex-offenders and delivers regular lectures at the Singapore Changi Prison Services complex, under the Yellow Ribbon Singapore (YRSG) initiative that seeks to benefit over 500 inmates from this programme annually. This is aimed at helping to nurture a pipeline of potential logistics specialists, and to allow the logistics community to play our part to re-integrate ex-offenders into our society. It enables inmates to undergo industry-specific training, develop the requisite skills, and join the industry after their release. Ex-offenders can then continue to deepen their skills for long-term career development and mobility.
Thomas Sim is humbled with the award of the National 'SkillsFuture Fellowships Awards 2017' from the President of Singapore, Dr Tony Tan Keng Yam, and the Singapore's Minister for Education, Mr. Ong Yi Kung. 'SkillsFuture Fellowships Awards' is a tripartite initiative, the highest national award that recognizes Singapore Citizens who have acquired deep skills through significant work experiences in industries and job functions, champions of lifelong learning and deeply committed to contributing to the skills development of others – 'Celebrating Mastery, Inspiring Passions'. Also, awarded the "Global Educational Award 2017" for the numerous Training-the-Trainers (TOT) programmes in Africa for more than 20 Years (1996-2017) bestowed upon him from the Chairperson of the African Union (AU), Mr. Maculay Kalu and the Secretary-General, Dr Beatrice Njenga.
In his FIATA roles Thomas Sim also launched FIATA TOT programmes in many locations around the world, as organized by the FIATA Foundation, as well as those initiated by FIATA Association members – i.e. projects in Ulaanbaatar (Mongolia), Casablanca (Morocco), Damascus (Syria), Dar es Salam (Tanzania), Dubai (UAE), Manama (Bahrain), Nairobi (Kenya), Cairo & Alexandra (Egypt), Johannesburg and Durban (South Africa), Walvis Bay (Namibia), Santiago (Chile), Mexico, Panama, Harare (Zimbabwe), Accra (Ghana), Kampala (Uganda) and on repeated occasions in the Shanghai & Dalian (People's Republic of China) and in Chinese Taipei, Mumbai (India), Kuala Lumpur (Malaysia), Tallinn (Estonia), Odessa (Ukraine), Jakarta (Indonesia), Phnom Penn (Cambodia), Hanoi & Ho Chi Minh City (Vietnam), Yangon (Myanmar), Lagos & Abuja (Nigeria), San Salvador (El Salvador), Colombo (Sri Lanka), Dushanbe (Tajikistan) and Astana (Kazakhstan) – and many others over the last two decades. Thomas will not mind me saying that he is the Globetrotter of training in transport and logistics!