Foreword
On April 11, 2005, in Istanbul, Richard Malkin—along with Ram Menen—was inducted into TIACA's Hall of Fame. Following his acceptance address before an audience of worldwide air cargo executives, the presenter at the ceremony handed Dick two boxes of Cracker Jacks. The incident mystified the audience. But Dick, instantly recognizing the meaning of the act, broke into laughter.
What was the silent message behind the Cracker Jacks? We asked Dick to take the wraps off the story, which, until now, was privy to only a small group of close friends. True Confessions is the result.
—Geoffrey Arend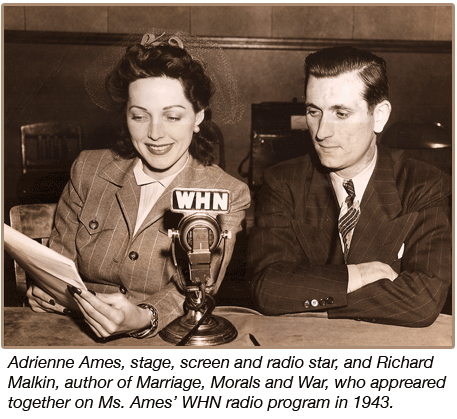 To give you a clear idea of the time I am talking about, it was 1943 and the war was at its bloody height. I worked as a reporter for a daily newspaper, covering general news and local politics, wrote an occasional human interest story, and shared in the handling of the war news poured out by teletype. My territory was along the western side of the Hudson River, from the New York–New Jersey border north to West Point. I was completely happy with my job—well, almost completely happy. There was one bothersome issue: a salary afflicted with anemia.
I had begun to think seriously of changing my job when I was caught up short by a brief ad in The New York Times Help Wanted column. The ad was made to order for my requirements. It read: "Editor monthly magazine, evenings only, write details." I sat down and ground out a cautiously amplified letter of application.
Two weeks passed, and I had given up hope of a response when I received a brief letter requesting me to call. I was supplied a name and phone number.
I called the name, presumably the publisher's secretary, and a luncheon appointment with Mr. John Budd was arranged for the following Thursday evening at a restaurant in lower Manhattan.

Before starting out, my wife kissed me on both cheeks and presented me with a shiny new penny as a good luck charm. Then she turned to our five-year-old son, Barry, (right) and asked him what he was giving Daddy for good luck. He was obviously unprepared for this and spent a while mentally going through his treasures. He solved his problem by removing from his T-shirt a tin airplane and pinned it on the lapel of my jacket. The plane had U.S. Air Force markings. It had come out of a box of Cracker Jacks. As I bent to kiss my son, I told myself not to forget to remove the toy before meeting Mr. Budd.
I liked Mr. Budd from the outset. I judged him to be in the upper middle age, at ease with an unlit cigar in his mouth. He was open, friendly, and produced broad evidence of his origin through a healthy Brooklyn accent partially covered by slurred R's. He stated candidly that he had interviewed two other candidates for the job, and I was the third and last.
As he spoke, I was jolted by the sudden stinging realization that I had forgotten to remove that silly Cracker Jacks souvenir from my lapel. My instant thought was: What kind of a screwball am I interviewing? dominated his thinking. However, Mr. Budd gave no sign of having noticed my momentary anguish and produced a digest-sized magazine with an airplane on its front cover. A single line of type identified it as the world's first air cargo magazine. The publisher removed his cigar and, as nearly as I can recall, the ensuing talk went something like this:
"I'll tell you straight out that I'm not an aviation fan," he said. "My background in publishing involves surface transport, export, import. But I've been hooked by what the Air Force is doing carrying all kinds of freight over the Atlantic, over the Pacific, that I'm convinced there will be a commercial air cargo industry after this war ends. Just think of it—only the other day I heard of a narrow-gauge locomotive flown over the Hump to India. So I've invested a few dollars in a magazine that will be on tap when this goddamn war ends."
"I'm a journalist, a writer," I said. "My only experience with air is a gift sent to a relative by air express."
"Let me be candid so that we don't have difficulties afterward. At this point I want to keep my investment as small as possible. For starters, I want you evenings only. There will be press releases and other pieces of information to deal with. Harvey Rogers will be around to help you if you need some questions answered."
"The wage I agreed to accept is not exactly astronomical. How many hours do you expect me to put in each evening?"
"I'll leave that up to you. Basically, I want the press releases rewritten in fresh language. You will probably see the texts of speeches from various sources—aviation, trade associations, Chamber of Commerce, you name it. Some of these speeches can be edited with cleverly linked reference to a postwar era of distribution by air. Work hours per evening? Decide that for yourself. If you feel comfortable with the pace of your work, you may wish to skip an evening or two. All I demand is that you meet our deadline on time."
"I must confess that it seems so strange to someone who has never visited an airport."
"Face up to it. If you want to invest in your own future here, you might want to visit the airport on the evening you decide not to show up here, or maybe on your weekend."
I nodded, unsure that I agreed with that kind of arrangement. Mr. Budd could read my thoughts.
"I'm not a wealthy man," he said. "I've invested money in what I believe will happen pretty soon. Your investment is skill and honest effort. Most of all, I want the man I hire to edit my magazine to believe as I believe."
For the next fifteen or twenty minutes Mr. Budd discussed the war and a rousing air cargo prediction by Donald Douglas. After which he invited me to join him for dinner. I had a sudden feeling that my chances for winning the job had brightened with the invitation. Over dinner he provided a sharply clear description of the work of the freight forwarders and custom brokers about which my knowledge was zero. I plied him with many questions in order to prove my interest. At the end of the meal I thanked him, and he said I would be notified of his decision in a day or two..
The following forenoon my wife received a phone call from Mr. Budd's secretary, informing her that I had been selected for the job and to report to Harvey Rogers Monday evening.
A new world had been opened for me, but look at it that way: a career in air cargo, even if it turned out to be gilt-edged, was allied to my innermost feelings. My yearning was elsewhere. I vowed to myself that I would stay on the job, give it my all-American try, then split once I was on firmer financial footing. I would not allow the circumstance of my undernourished bank balance to deter me. Which brought back memory of Disraeli pounded into me in British history class. Man, he said, was not the creature of circumstances. It was the other way around: circumstances are man's creatures.
Mr. Budd's decision to place editorial management of a budding air cargo publication was, I felt, tantamount to the blind leading the lame. How, in heaven's name, could I possibly master my boss' requirements? Yet it happened.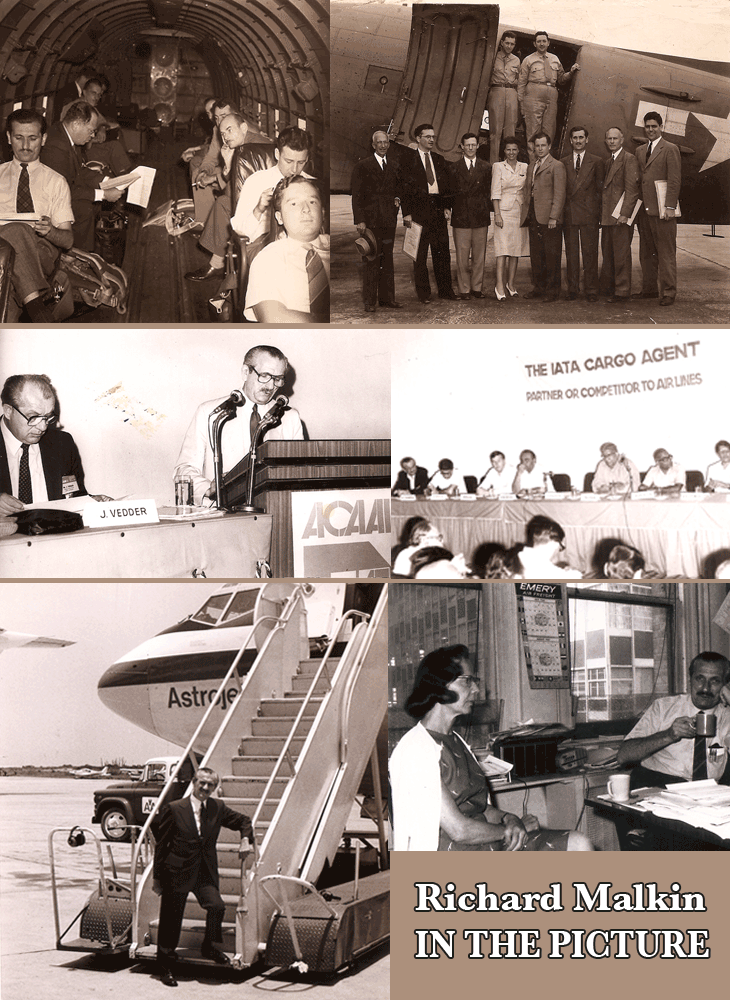 Bit by urgent bit, the essential pieces came together and fell into reasonable place. The airlines' press releases—primarily those from American, United, TWA, Eastern, and Pan American—told me little or nothing about shipping by air, but over time I became passably familiar with the traffic and operations sides of the business. In Harvey, I found a sympathetic ear. He went out of his way to arrange a meeting with a neighbor, a travel sales representative at Eastern, who had started his airline career with a brief stint in cargo. The man hated it from Day One, referred to the carrier's small cargo department as a "dumping ground," but he offered personal details on dealing with shipper customers. I fared better on my occasional airport visits where I discovered a more buoyant spirit among the cargo representatives, although they conceded that their area of responsibility was popularly called "Siberia" by the glamorous travel sellers.
The news that Douglas, Boeing, and Lockheed were planning to build high-capacity, high-performance all-cargo aircraft prompted me to dream up a set of questions, which were sent to the cargo executives of major domestic and international airlines. The response was so gratifying that I was encouraged to produce a different series of questions for traffic and physical distribution heads at the nation's top corporations. The result was equally successful.
By mail I developed a useful relationship with the military, resulting in a number of attractive byline stories. There were those infrequent evenings when Mr. Budd worked late, and this gave us the opportunity to talk. Almost in an offhand way, he painted an arresting picture of the international marketplace ten years hence. I doubted its validity, but it planted the seeds for an editorial under Mr. Budd's byline (which both surprised and pleased him).
About nine months into the evening job, my relations with the airlines (such as they were) underwent sudden dramatic change. Up to then, I had been totally on the receiving end of unsolicited publicity. An invisible line was crossed when TWA's cargo manager offered to contribute an article discussing the relationship of air transport speed to inventory. It was mutually understood that the proposal did not involve payment since it came under the heading of public relations. I accepted the suggestion with professional formality and hidden glee.
Importantly, the offer unlocked a mental gate that swung open. With the cooperation of airline public relations, why not propose a cargo-related topic or issue in fair exchange for a highlited image? The airlines—and eventually the aircraft and cargo equipment manufacturers and trade associations—became God-given cooperators. I was careful to insist that the primary thrust of each submission must be to enhance the reader's knowledge and understanding of current business conditions, sales, traffic, and operations problems or marketing case histories. It was a temporary expedient, I knew, but it helped when I sorely needed it. I felt easier about my evening job and its unusual restrictions.
These were the bits and pieces that somehow came together and enabled me to develop, step by step, a steadily improved product. This was not the sole effect. Over the months to the war's end, and beyond, the evidence of the Air Force's dazzling cargo-lift performance and the upsurge of "GI airlines" with war-surplus C-47s, and the mass reaction of the certificated airlines to possibilities in the freight business, gradually drew me away from my focused neutrality. Without, at first, awareness of the change, I morphed into a sort of believer—that is, I was willing to accept that Mr. Budd might have a point.
Shortly after the Hiroshima horror and the subsequent Japanese surrender, Mr. Budd called me at home on a Saturday, a few minutes after breakfast. Could I meet him for brunch the next day? I had other tentative plans, but I detected a note of urgency in his voice. Yes, I said, I could make it if it didn't take too long.
We met at a Brooklyn restaurant an hour before noon, ordered sandwiches, and Mr. Budd lost no time in getting down to business.
"I've decided to expand the magazine to standard size starting with the new year," he said. "A minimum of forty pages per issue. It will be a daytime operation—office, editorial assistant, ad rep, the usual."
He plucked a cigar out of his shirt pocket, but he refrained from putting a match to it. As he spoke enthusiastically—perhaps even excitedly—about his vivid expectations, the cigar swung through the air like a conductor's baton guiding the coda of a Rossini overture. I needed a couple of minutes to absorb the true meaning of what he was saying.
"Does this mean that my job here is coming to an end?" I asked bluntly.
"It means that I want you to work for me full time. It means that I'm asking you to quit you newspaper job and we'll work our a fair salary." He did not press for an immediate decision. "Think about it. Talk it over with your wife. But I need your decision no later than next week. Meet me next Sunday—same place, same time."
Although I was fond of my newspaper work, I recognized that my future there was limited. It was not difficult making the change.
On Sunday, facing each other across a table in the restaurant, coffee cup halfway to his lips, Mr. Budd stared hard at me.
"Well?"
"I'm your man," I said.
He put his cup down, extended his hand, and said simply, "Congratulations."
We ordered meals, ate them mostly in silence, and then Mr. Budd leaned back in his seat, and produced a cigar which he rolled in one hand without attempting to light it. He spoke slowly, contemplatively:
"There were three I interviewed for the job, and I chose you."
"Yes, obviously."
"There wasn't a heck of a lot of difference among you, though they may have had a little more experience."
"I guessed that."
"However, I settled on you. I took the chance that you had positive ideas about aviation. Do you know why?"
"I haven't the faintest idea," I confessed.
"It was that airplane on your jacket that did it."