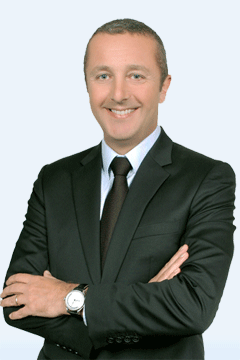 "The market might be less than a year ago—but it's not bad," insists Guillaume Halleux, Qatar Airways Chief Officer Cargo
"Don't let people tell you that we are in a recession again—we are not!"
Guillaume is approaching his third anniversary atop Qatar Airways Cargo this June.
"I have worked internally to make sure that cargo is a strong contributor to the airline's bottom line by making sure everyone understands our business and its objectives and possibilities.
"We have a first-rate team at work for Qatar Airways Cargo. We have planned an extension of our air cargo handling capabilities at Doha, deepened our agreements and partnerships, and are working on introducing new products."

All About People

"In this business, priority one is always people.
"The ambition toward greatness in every aspect of the air cargo business resides with people.
"It is up to us to make sure we don't ever lose the sense of what makes us so special, which is flexibility, agility, and the human touch," Guillaume said.
"We are moved by people, first and foremost!" Guillaume Halleux reiterates, putting a slammer (exclamation) on his thoughts.


250 And Counting

Last month Qatar Airways celebrated the entry of its 250 aircraft, an Airbus A350-900. That arrival came hard on the heels of news that the carrier now serves an array of exciting new destinations, including Gothenburg, Sweden; Mombasa, Kenya; and Da Nang, Vietnam.
But hold on to your hats because even more is in the works.

Previews of Coming Attractions

Qatar Airways adds a number of new cities to its extensive route network later this year, including Lisbon, Portugal; Malta; Rabat, Morocco; Izmir, Turkey; Langkawi, Malaysia; Davao, Philippines; and Mogadishu, Somalia.

Flexing Real Air Cargo Muscle

"Today Qatar Airways Cargo serves more than 60 freighter destinations worldwide via its world-class Doha hub and also delivers freight to more than 160 key business and leisure destinations globally on more than 250 aircraft," Guillaume declared, adding:
"For the record, the Qatar Airways Cargo fleet includes two Boeing 747-8 freighters, fifteen Boeing 777 freighters, and eight Airbus A330 freighters, and they are all quite busy."

QR Cargo Revenue Stream

Keeping all of this humming is what it's about in Doha, but that is not everything.
The airline's cargo division is the second largest revenue stream for the company.
As an industry leader, Qatar Airways and its group of companies have taken a decidedly (and maybe in the global mix of things) somewhat unexpected effort to lead the charge towards environmental sustainability and corporate social responsibility.
Qatar Airways is one of the leaders in new-generation fuel research and gives back to the communities in which it serves.
Guillaume Halleux puts it on the line:
"Qatar Airways Cargo will be the world's number one air cargo provider in value, scale, reliability, and customer preference.
"We strive to be a vital link in the global economy, delivering to the world for a better future.
"Qatar Airways Cargo is committed to adhere to the division's Quality Management System in delivering our services throughout our operations.
"To do so, it is our prime objective to ensure 100 percent compliance with safety and security regulations.
"We exercise due diligence in upholding our operational, commercial, and quality policies and procedures, and implement continual improvements to deliver excellent service to our business partners."

Easy Reader

Without a doubt among the most up front of carriers, Qatar Airways puts it all on their website in living color
"Implementing this Quality Policy is our commitment to our ISO 9001:2015 Quality System to achieve the following strategic goals:
• to become the "Employer of Choice" for our staff
• to create a clear Customer Preference for Qatar Airways Cargo
• to establish operational excellence in delivering our promise to our clients; and
• to develop sustainable profitability throughout the organization.
"Our Quality Management System at Qatar Airways Cargo is not a choice, but a must in achieving Qatar Airways Cargo's goal," Guillaume said.
"The unexpected is the unexpected, so you have to deal with adversity as it comes," Guillaume said.

What are The Priorities?

"There are currently 2,500 people working at Qatar Airways Cargo.
"My job is to make sure that each and every one of our people has the environment and position that allows for over-performance.
"I don't price load airplanes, nor do I take phone reservations or even fly the airplanes. I don't do any of that work.
"I just make sure each and every day to never forget how important our 2,500 people are, so that they can outperform anybody else," Guillaume smiled.

From The Bottom of My Heart

"We are in the people industry and should never forget that.
"If you take the top ten carriers in the world and step back a bit, what is apparent right away is that we all fly similar routes, utilizing mostly the same aircraft and even schedules.
"So the difference really is the people, and when you call Qatar Airways you discover that the person who serves you is motivated to do good from the bottom of their heart.
"Of course, things happen, but therein also lies a difference—we are dedicated to delivering."

The Renaissance Man

Guillaume offers nice bits of wisdom and common sense in a big complicated world.
He exudes calm and a solid sense of stability coupled with a true love and understanding for the human condition.
Where does all of this come from, we wonder?
It turns out Guillaume attends meetings up and down the cargo line where other top executives might take a pass.
Call it zeal or activism, but Guillaume keeps coming back to a theme of caring about absolutely everything, even when it comes to replying to every single email.
"It's only polite," he says softly.
Here is someone with concern for any step he takes.
How does he keep people at Qatar Airways Cargo?
What does he do to keep the mission alive with everybody?
"One word, Geoffrey," Guillaume smiles:
"Passion!"
"Honest passion for what you are doing is contagious.
"I brought someone in that knows zip about cargo but who is quite passionate about another dimension of our trade..
"I know that we can teach him about cargo, but he can teach us by example what dedication and passion is as he advances through Qatar Airways Cargo in his own field of expertise.
"In a previous company, we brought in a flight attendant to our claims department.
"She knew nothing about cargo, but she had a Masters degree equivalent in handling stress."


Finding The Right People

"I do not think cargo is difficult. It is an art that can be taught like anything else, with patience and understanding.
"I'll come back to the essential for anybody who wants to work at Qatar Airways Cargo.
"It is passion for the job we are doing, a feeling that starts at the top at our company and is felt by everyone up and down the line and most importantly finally by the customer."

Supersonic Up Through The Ranks

Guillaume reveals that when he began his airline career as a 20-something-year-old at London Heathrow working in maintenance for the Concorde SST at Air France, his office was in the same building as cargo.
"The lady that handled cargo was really into it. As she explained what air cargo was and how business was done, I started to like it more and more.
"I guess the rest is history," Guillaume smiles, "except I'll never forget that someone shared a passion for this business with me and that feeling has only grown over the years."

Talking It All Over

Finally, when asked what his present self would advise to his twenty-something self, he said without hesitation:
"I would say, 'forget about everybody else, just do what you think is good for you!
"'Look to your heart, because your heart will never betray you.'
"I never went for money. I probably could have ended up in finance, the stock market, or somewhere else, but that's not me.
"Today I am in an industry and feel turned on and excited about what I'm doing every day of my life."

The Bees Knees

As we readied for our departure, Guillaume recalled that when he was young and living in France, he was a beekeeper.
"I'm a beekeeper," he says proudly.
"I learnt that trade when I was 13 in the town where I grew up in France," Guillaume said.
As we listened to his gentle voice and experienced his bright determination, his history as a beekeeper kept coming back and we thought about what it takes to be a beekeeper. Being interested in the welfare of others is surely a requisite.
Guillaume has a soft but deft touch and knows how to separate the wheat from the chaff.
He is bright and interesting and lights up the room.
Sometimes you just meet someone and know that they will make a difference.
Geoffrey