22 carriers at Newark Airport's main air cargo handling Buildings 339-340 are about to be displaced and right now are scrambling for space as walking papers are sure to follow a deal the Port Authority of New York & New Jersey made allowing Amazon complete control of those buildings.
At this time it might be useful to look at some numbers to see how goes the cargo business EWR & JFK. In 2000, JFK was the #6 cargo airport in the world and #3 in the U.S. EWR was also in the world's top 20 at #18 and was #9 in the U.S. Since then, JFK finished 2020 as the #9 airport in the U.S. and EWR has fallen to #12 in the U.S. EWR last appeared in the world top 20 in 2004, while JFK last made the world top 20 a decade later in 2014. Total annual cargo at JFK has decreased by 40% between 2000 and 2020 and by 38% at EWR during the same period. Compared with other international gateways in the U.S., total cargo grew by 10% at LAX, by 30% at MIA and by 36% at ORD for the same period.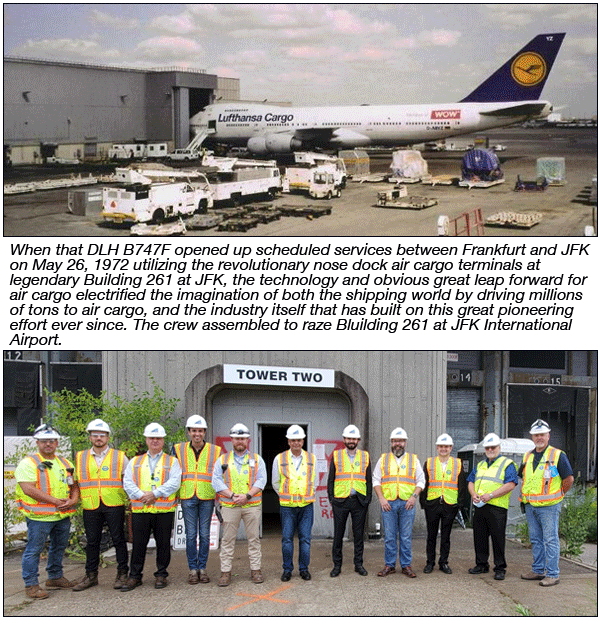 In related news, Building 261 at JFK International is being razed to make way for a new cargo center operated by Aeroterm, the company that had the 20-year lease on Buildings 339 and 340 which ended July 31. Here the VRH team gets ready to roll and tear the old place down amidst comments of "good bye and good riddance" amongst some feather brained wags in the cargo business.
Well, here is another take. Lufthansa Building 261 changed air cargo forever when a Lufthansa B747 nose-loading aircraft landed there in 1972 and was plugged into the distinctive landside tower and was unloaded by automation into the terminal as part of the most advanced aircraft cargo handling equipment in the world. Sure, Building 261 was also the place of the Lufthansa Heist in 1978 that Martin Scorsese made a movie about titled "Goodfellas". Maybe a decade ago Building 261 got old and Lufthansa B747 freighters were gone as the cargo airline departed for another building elsewhere at JFK Cargo. But history was made here, both groundbreaking and notorious that should not be forgot.
There is a Bob's furniture store on nearby Woodhaven Boulevard near JFK International that used to be the bowling alley that popularized that sport nationwide 50 years ago across America. Today there is a plaque on that furniture store entrance recalling the building's history. The same kind of respect should be shown where we can trace important events in the history of air cargo. Building 261 and the people of Lufthansa Cargo should be afforded a small amount of space somewhere in the "new" Building 261 to remember the monumental change that occurred here just few months shy of 50 years ago . . .
Virgin Cargo said to be delighted to be flying back to Shanghai and cabin loading under a brand new STC (Supplemental Type Certificate). "Through the amazing collaboration and teamwork and with the support of the Civil Aviation Authority and SWS Certification Services, we can now transport cargo in the cabin anywhere on the Virgin Atlantic network" . . .
Forget simply a tiny home. Is this the small town of the future? Well no, it's actually a Boxbay set up that completed testing recently at DP World at Jebel Ali Port in Dubai. Boxbay is a joint venture between DP World and German industrial engineering specialist SMS group. The system can hold 792 containers. More than 63,000 container moves have been completed since the facility was commissioned beginning this year. According to DP World's statement, the test exceeded expectations, with Boxbay faster and more energy efficient than anticipated. What's next? Boxbay with a view? Your move . . .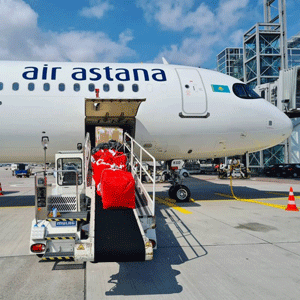 Volker Dunkake, Group Manager Charter and Solutions at ATC Aviation Services AG of ATC Frankfurt reports, "We supported the loading of our new business forAir Astana service from FRA to NQZ on a A321 LR with a dedicated set up."
Volker assures, "how sweet it is!" . . .
Tap rap on Qatar Nepal award. From left Tap Shrestha, Senior Cargo Sales Executive Nepal, Qatar Airways Cargo accepts Highest Uplift from Nepal award for 2020 from Prakash Karki, Immediate Past President NEFFA; Manoj Adhikari, President NEFFA. Nepal is a key market for the airline and it has been operating flights to its capital city, Kathmandu since 1997. The airline's export market share in 2020 was 45% of the total exports from Nepal while imports constituted 44%.
Qatar Airways Cargo currently operates double daily flights to and from Kathmandu for the month of August, offering more than 150 tonnes of cargo capacity each week, each way. Through its hub in Doha, the airline connects Nepal with important export destinations in the USA, Europe, Australia and Asia . . .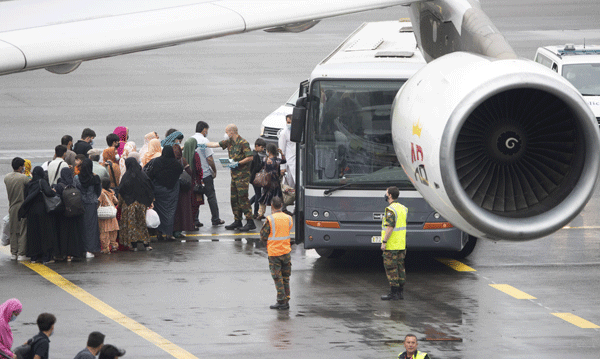 Operation Red Kite Saves Belgians & Afghan Allies—people disembark off a chartered Air Belgium airplane carrying evacuated people from Afghanistan at the military airport in Melsbroek, Monday August 23, 2021. To connect with the Air Belgium passenger aircraft, the Belgians have mounted a military evacuation mission dubbed 'Operation Red Kite' that features utilizing smaller air cargo aircraft shuttling back and forth between Kabul and Islamabad, Pakistan to get Belgians and their families, and the Afghani interpreters, fixers and employees of human rights organizations to safety. Nice going, we say. Keep 'em Flying! . . .
Someone once said "Less is More" But Amar More proves More is More! Right now Kale Logistics Solutions (pronounced Kahley) By Golly! is setting the pace in its mission to deliver unsurpassed IT solutions focused on the logistics and airport industry. Just ask Elliott Paige, M.Econ, IAP at Hartsfield-Jackson International Airport or contact Kale CEO Amar More or Donna Mullins or Sheereedah Copening in the U.S. Good time to take a deep breath and get ready for 2022 when the real action of industry trade shows begins anew in earnest . . .