On the road again like hundreds or maybe thousands of others in logistics right now, Amar More, the Kale Logistics co-founder and Chief Executive Officer carries a business card that states in no uncertain terms: "Committed to transformation of global logistics industry". Let us discover together why this is indeed a true statement, as many in our industry already know.
We wonder about some of the drivers that moved and are still moving this company into a greater digital future in transport and logistics. Here you can get a sense of what Kale is all about to create a lead: https://www.kalelogistics.com/ and here are the questions to profile Amar More, who replied to us with his usual soft and effective eloquence; far from being a supercilious person, he even agreed on showing his email address in our feature. If you prefer to contact Kale directly with your additional questions, you'll have no trouble reaching Amar by email: Amar.More@kalelogistics.com
Amar More is the person who prepares, and takes very seriously his time and expense, in order to be at a trade show. I often think, if others followed his example we might all end up a lot smarter. This does not mean Amar has a diminutive approach in his presentation, the point is Amar is so smart that he avoids showing this feature in a stunning manner: he prefers to be given the floor to deliver the message, and this is what the FlyingTypers is doing for him.

FT: Today there are any number of software programs that seem to promise the moon. Why pick Kale? Why does the company matter?
AM: Great question. We believe that our time is now. The pandemic has exposed the chinks in the armory of our supply chains, i.e. the main problems that we have been solving globally. A few examples: allowing airports/handlers to process more cargo through space constrained facilities, providing shipment visibility to beneficiary cargo owners to reduce inventory, reducing congestion at ports and airports, making the supply chain more sustainable by reducing paper . . . I could continue, but Kale matters in particular when ports and airports are reeling under space/staff shortages, supply chains disruptions and employees' health issues impacting on the whole value chain. We don't promise the moon, we promise and deliver results, all documented at government as well as neutral level (e.g. United Nations). We need the supply chain or at least part of it to support our work, as results do not come in isolation and our customers direct the transformation that our systems have created.
Whether it is a freight forwarder in Spain; our trucking customers in Atlanta; the Chamber of Commerce in Delhi; a leading global handler in Turkey or Germany or the U.S.; an airport in North America, they are all echoing the same sentiment. 4,500 customers across 30+ countries have picked Kale probably because of our truly multi-modal, problem-solving approach, with the technology and domain expertise enshrined in our "Can Do" attitude. In any transformation, there are challenges and we have the gumption and faith to hold on and cross the line without giving up.

FT: Why is Kale so special?
AM: To my knowledge Kale is the only company that has set its vision on integrating and digitally empowering the supply chain "end to end". This is reflected in the fact that Kale has created digital cargo communities around ports, airports, rail operators and also provides enterprise solutions for other stakeholders for digitizing their business processes. We have the widest coverage of stakeholders connected to our community platforms starting with the exporters/importers (beneficiary cargo owners), followed by truckers, freight forwarders, Customs brokers, container freight station and dry port operators, cargo handling agents, airlines, chambers of commerce, Customs authorities, banks, port authorities, shipping lines, terminal operators, container train operators et al. Finding another company that has the experience of working with such a gamut of logistics stakeholders is the challenge. We have solved serious problems at some of the world's most constrained airports and ports using our technology; we are also beacons of logistics digitization in leading B-Schools' case studies.
We have created several firsts in logistics, but most special about Kale are our people and our customers. Our team has firmly believed in our vision and persevered through thick and thin until our customers believed in us, creating partnerships that have lasted for decades.

FT: Please brief the audience on the evolution of Kale and supply chain logistics.
AM: We started Kale Logistics Solutions with a clear vision of connecting the air cargo supply chain and then going to multi-modal integration. Against the initial skepticism, we partnered with industry associations like Air Cargo Agents Association of India, Thailand International Freight Forwarders association etc. and understood the problems of freight architects, who deal with the wider range of the supply chain. We developed technology that was ahead of its time and we had to be patient until the industry recognized the need and utility of our technology. We also realized that partnering with Airports and Ports helped us understand the bigger picture. That's how we started developing digital communities around ports and airports solving their congestion issues.
These airports/customs authorities took leadership and ownership, created tremendous success stories and I am so happy to see that so many airports and ports globally are picking up the gauntlet and changing the status quo. We continue our expansion by servicing companies the likes of Siemens, assisting chambers of commerce and other regulators in all continents.

FT: What does Kale offer that is unique to smart future and also established small to medium and big air cargo airport operators?
AM: Air Cargo creates jobs and grows the community. We have created an Airport Cargo Community Platform that provides digital infrastructure to the airport operators to not only complement but actually enhance the capacity of its physical infrastructure. This platform, which facilitates the movement of cargo, makes the airports more sustainable by reducing emissions and paper, provides complete transparency of operations to the end customer, which in turn attracts more cargo to the airport. For example, we helped a large Asian airport save 8 million copies of paper documents annually.

FT: Who can afford to embrace the Kale solution? Please outline a simple way an airport can "get into Kale" and grow. Outline smaller into bigger . . . What are the building blocks?
AM: Technology cannot do it on its own. It requires people to lead the change. We can lend our expertise from different geographies and most importantly we have a business model, wherein the airport need not invest millions of dollars in purchasing and implementing the platform, but allows expansion in time. This is crucial at this junction, when the declining numbers restrict the airport's ability to make investments. Our scheme is a pure pay-as-you-go (or rather earn-as-you-go) model. The airport can contact us and we prepare a proof of concept, then with the airport, the dominant handlers and the community stakeholders like truckers/forwarders, we work out a commercial model for deploying the platform.

FT: Why in fact can any airport hoping to make its mark in air cargo not afford to embrace the Kale total service package?
AM: If the airport and the cargo community want to make a mark and have the will or courage to solve the problem, then the Kale platform is not an offer they can afford to refuse: we have taken the thousands / millions of dollars of upfront "investment" out of the equation, thanks to our innovative business model.

FT: Was your trip to SFO worth the journey? I am looking for details...
AM: Yes, the trip to SFO was certainly worth it. A lot of Industry colleagues from across the world were there. Air Cargo Americas was big, but the TIACA Executive Summit was more global: it was interesting to discuss digitization issues. The industry finally seems to be moving towards digitization after all the lip service we have seen in past years. I did speak about airports leading the digitization to create a mass-impact and I also spoke about sustainability using technology. There were lots of other interesting sessions available on Artificial Intelligence, sustainability, overcoming capacity challenges etc., but because they were running at the same time in tracks, it was not possible to attend all of them.

FT: Any updates on some success stories?
AM: The closest to my heart and the ones that have received global recognitions are Mumbai airport and Tuticorin port. Both are well documented by independent validators. Using our technology, today Mumbai, one of the world's most constrained airports, handles cargo at double the efficiency in terms of Tons/Sq Mt. It has become a major pharma hub and the hub for large players like Siemens, Apple etc. and meets their complex requirements. Same story with Tuticorin port, where we have reduced the dwell times by over 70% and managed to reduce importers' GST from over 90-180 days to around 3 days by cutting data inconsistencies and making millions of dollars of cash available 90-180 days earlier. Our recent implementation, where we provide prime time solutions is Asia's fastest growing cargo airport, Bangalore, which is a vibrant cargo community.

FT: How has the Kale service package expanded and pivoted during the COVID years and how did it make a difference?
AM: I always say COVID meant 4-5 years of digitization packed into one. The pandemic forced us to work remotely, manage more cargo with less staff, reduce paper, which was a medium of spreading viruses, and reduce congestion, all this as a requisite for social distancing. In some locations, the adoption of our platforms grew eight-fold in a couple of months as our platform provided a way to address these challenges. Our customers thanked us for enabling them to work from their homes, to keep the cargo flowing, whilst reducing the virus spread through paperless processes.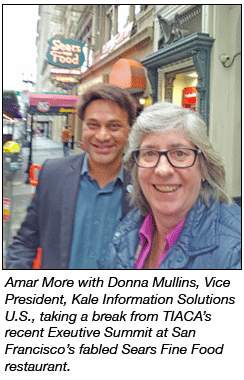 FT: What is in store moving forward? What is next?
AM: We are now working very closely with the North American community. After developing cargo communities across several continents we are now linking these airport communities through digital corridors. We did a pilot between India and Europe, but now we will be expanding the same between the Americas, Asia, Africa, Middle East as well. We are also working on creating intermodal corridors i.e. Sea-Air corridors, by taking advantage of our unique presence both as airport and port community system providers. Finally, our community platforms will provide logistics e-marketplaces for the community to buy and sell their services. So the future is here and it is quite bright and busy.

FT: If you had it your way what would global supply chain logistics look like in five years?
AM: There will be democratization of technology. The smallest of the stakeholder can connect to the rest of the supply chain digitally without having to invest millions, the airport and port community platforms being the facilitators. These platforms will link directly to the BCOs systems giving them complete transparency of the status and condition of their cargo. Air cargo will need minimum (next to zero) documents as digital twins will be as good as papers. Airports will be less congested as trucks will arrive at the airports with specific appointments with handlers also having complete visibility of the scheduling. This will allow all the stakeholders to collaborate better to create a healthy value chain.

FT: Do you think that COVID has changed trade shows forever? What do you see as examples of business potential? Aside from people with something to sell each other, where is the new business?
AM: These (Air Cargo Americas and TIACA Executive Forum) are the first trade shows I am attending after Air Cargo India in Feb 2020. So honestly, I am quite excited to meet people who have been just images or videos on my screen. COVID has certainly changed the trade shows as these new technologies have a wider reach now. I do think that we will continue to have hybrid shows—online and face to face and that will be the new paradigm.
We are all more IT savvy than we were two years ago. While all agree that in person networking is great, it is also true that face-time networking from home and the non-necessity of in-office occupancy may have changed the events and meetings model forever. Perhaps targeted events on various continents will reduce the over the top number of vest-pocket trade events and full-blown trade shows now scheduled? Any topic, as example, is /has/will be repeated at every event for the next two years. How does that benefit anybody? What is the takeaway? People, it seems to me, will not stand for much more of that.

FT: Who are your heroes? Who do you admire?
AM: I admire people who show the courage to change the status quo. There are many heroes, but I have never seen anyone change an airport cargo business like my friend Manoj Singh, who heads Cargo at Mumbai Airport.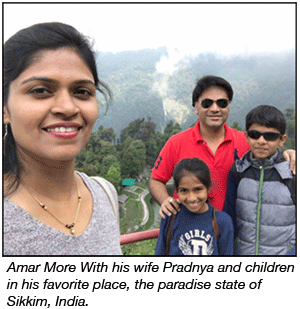 FT: What do you do to relax? A favorite city?
AM: I am an athlete. I love playing sports (like cricket, tennis) to relax. Needless to say I found a new life in yoga and meditation when it comes to relaxation. I love Mumbai and Amsterdam as cities, but for a place to love, I loved staying close to Himalayas in a state called Sikkim, difficult to get higher, both in altitude and attitude, I daresay.

FT: If given the choice would you choose the same career again?
AM: Absolutely: same career, same mentors, same company, same team and same industry.

FT: What is the last book you read . . . most favored quote/something that guides you?
AM: I am more of a writing person than a reading one. The last book I read was "How to lead" by David Rubenstein. I love several quotes, but if I have to choose one—"You don't lose until you quit".
So, Geoffrey, I would be tempted to stay, but perhaps the time to quit has come, without losing touch at least. I wish you and your readers a wonderful time ahead.