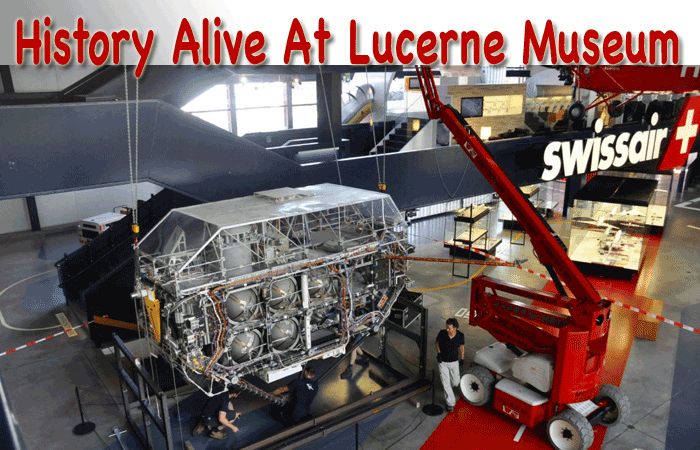 One of the great aviation museums in the world (if you can get to it) is Verkehrshaus, a truly wonderful experience for the whole family located in Lucerne, Switzerland.
There are all kinds of thoughtful and well-executed exhibits in all modes of transportation, including a very rare Convair CV-990A Coronado, full-sized Swissair transport aircraft that you can board and look around.
Right now Verkehrshaus Aviation Hall is readying "Switzerland In The Air" an exhibit opening later this week on March 28, with new aircraft, models, simulators and display areas.

Eureca Travel Underway Again

Also of interest is Eureca (European Retrievable Carrier), a research satellite previously launched into outer space that travelled in 1992 as air cargo aboard NASA's "Atlantis" Space Shuttle.
Eureca was designed with the idea to learn more about the influences of very low gravity, or so-called microgravity.
But to cut down on junk and debris floating around in space, European Space Agency (ESA) created Eureca a quarter of a century ago, to be returned to Earth.

Night At The Museum?

So now a quarter century later in addition to the benefits already described, Eureca is on a short trip from Lucerne so that scientists at the Swiss Federal Laboratories for Materials Science and Technology) in Dübendorf, can X-Ray and further study what happened to a satellite that has travelled into space.
Eureca to us is like a movie where a museum piece comes to life 25 years later, but in this case a benefit might be reached by thinking ahead to not further polluting the skies.
Eureca with a lesson for all of us, will return to its teaching position as a major exhibit at Verkehrshaus in November 2018.
Very cool, we think.
More: https://verkehrshaus.ch/en
Geoffrey