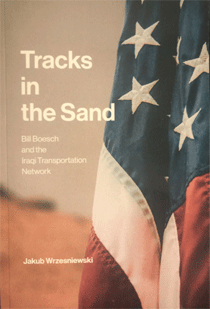 Editor's note: We asked former President of American Airlines Cargo Bill Boesch to handicap the future of our business and what must we do now and post pandemic to come back stronger than ever?
Bill is the subject of an exciting must-read new book titled "Tracks in the Sand – Bill Boesch and the Iraqi Transportation Network" by Jakub Wrzesniewski. Available on Amazon and on Kindle.
Here is the story of how Bill, after departing his post as President of American Airlines Cargo nearly a decade ago, volunteered to go outside the wire in war-torn Iraq to flip insurgent sheikhs into American partners, delivering essential supplies to U.S. troops all over Iraq.
This partnership – the Iraqi Transportation Network – put Iraqis back to work, made the roads safe to travel, and saved countless American and Iraqi lives. For his service Bill was awarded the coveted U.S. Medal of Freedom in a ceremony in the shadow of The Statue of Liberty on Ellis Island.

Setting The Stage

"Prior to U.S. deregulation of the airline industry in 1978, operating a U.S. flag carrier was as close as it gets to having a permit to print your own money."

When V Is Not For Victory

"After 1978," Bill declared, "when the ground rules changed and deregulation opened the market for everybody, profitability of the high cost, mostly unionized modern U.S. airline industry has experienced recurring ten-year, V-shape cycles.
"This, in my view is a result of most airline's strategy to gain the biggest and highest market share."

Graphic Evidence

"That action oft repeated has resulted in over expansion in strong economic times and painful attempts to reduce costs when the economy contracts (see graph).

"Most carriers follow the principle that to deliver as much revenue and store cash in the strong economic times will somehow be able allow them to weather weaker economic periods."

Enter Calamitous COVID-19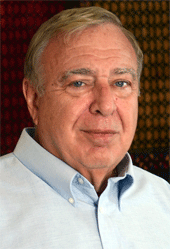 "In the run-up to the current COVID-19 crises, most airlines, both passenger and cargo, rapidly increased capacity in order to capitalize on growth opportunities by capturing as much market share as possible.
"Of course, the indicator in all of this was market overcapacity driven by highly perishable investments.
"Airlines boast about being the biggest and show charts that they have the most aircraft and are leading in market share, hoping to boost their stock price.
"But this huge growth starts to dramatically drive down profits as a percentage of revenue when the economy starts to deteriorate, intensifying price competition and driving these overcapacity carriers to quickly cut costs by reducing wages and renegotiating union contracts.
"That action leads to other challenges including, most notably, employee unrest."


Going To Ground

"As all of this instant contraction effort is not usually enough, now carriers start to ground expensive aircraft, trying to reduce infrastructure costs.
"In some cases carriers buy back stock to maintain executive income.
"Eventually these moves drive some airlines out of business, which decreases capacity and competition, thus improving the revenue prospects for the airlines that survived and new entries, priming a new growth phase."

Biggest is Always Best?

"But the past lessons of this apparently never-ending ambition to be the biggest airline, seem never to be learned and the cycle continues."

Enter The Newbies

"After the aforementioned deregulation in 1978, new low costs carriers had an easier time as they attempted to get into the airline business.
"These new entrants enjoyed the advantage of smaller fleets and non-union labor, improving their comparative profitability.
"Some established carriers strapped with limited cost saving options actually went into bankruptcy or were bought out and merged into stronger financial carriers.
"That action which has continued in one form or another right up into this new century, has created a new airline ecosystem dominated by a small number of mega carriers supplemented by a few more flexible, lower-cost budget or charter airlines operating a limited number of routes."


New Rules Have Moderated Change

"The industry has responded creatively stiffening entry rules in an attempt to try to shape the cycle, most notably by limiting the ability of new carriers to enter the market.
"In order to operate, new entrant carriers must secure FAA certificates, which take between 2 to 4 years to be fully operational.
"Previously, potential entrants were able to avoid that lag time by purchasing existing certificates from struggling or defunct carriers, but that secondary market has dried up as incumbent carriers snap up certificates as an anti-competitive strategy to deter new airline starts."

Penthouse To The Outhouse

"So far what we have here here covers the business context in which the global COVID-19 shock is taking place and impacting American flag carriers as well as others around the world.
"The sudden collapse of passenger demand caused by the pandemic has upended the cycle, immediately taking passenger carriers from a high-profit, expansion-heavy peak to the bankruptcy-and-consolidation trough overnight.
"Further, the shock has cratered the passenger market completely.
"Even the financially healthiest firms have been hit, meaning that the entire industry would collapse without government aid, while the lag time for FAA certificates, because of the new rules just mentioned, make business revival through new entrants a lengthy process."

Cargo Good Times May Not Last

"The cargo side on the other hand, I believe, is enjoying a nova period of unprecedented huge yields and profitability, but at the same time must be aware of the possibilities of submerging into a blackhole as the economies rebound and the international passenger carriers return.

No All Cargo Bailouts?

"Up to 70% of the cargo market was carried in the passenger bellies in order to supplement income and the carriers kept the yields low to attract that cargo.
"But this cargo carrier blackhole will result from a lag in manufacturing and orders.
"I believe there is a good chance that the cargo carriers versus the integrators will not get government bailout money because of the profitability they made during the pandemic, and moving ahead without that aid, some will face bankruptcy."

Recovery For U

"These unprecedented unforeseen dynamics will disrupt the conventional self-correcting typical V-shaped recovery cycle creating an industry-predicted longer bottom U-shaped recovery.
"We are going to experience a prolonged period of contraction, low profits and business failure.

Economics of Cargo In Cabin (CIC)

"The passenger carriers are carrying cargo internationally in the main cabin now because it is better to carry some revenue on flights to maintain your slots and gates, rather than flying empty aircraft or flights with almost no passengers.
"Because of the absence of the large number of international widebody passenger flights carrying cargo in their lower decks, the cargo yield has greatly increased.
"I believe the large U.S. legacy carriers will avoid operating freighters because carrying cargo in their widebody passenger aircraft lower decks is much more profitable."

How Cargo Works

"A cargo department in a passenger carrier that would have freighters will undoubtedly cause that department to focus on filling up its few freighters first at the expense of putting that cargo into the passenger flights lower deck.
"When I was at AA, its lower deck cargo capacity, after bags, equaled about 50 747 freighters every day.
"As that revenue is highly profitable (17 lbs of cargo equaled the profit of 1 passenger) it would, in my opinion, be counterproductive for our passenger carriers to operate freighters."
Geoffrey