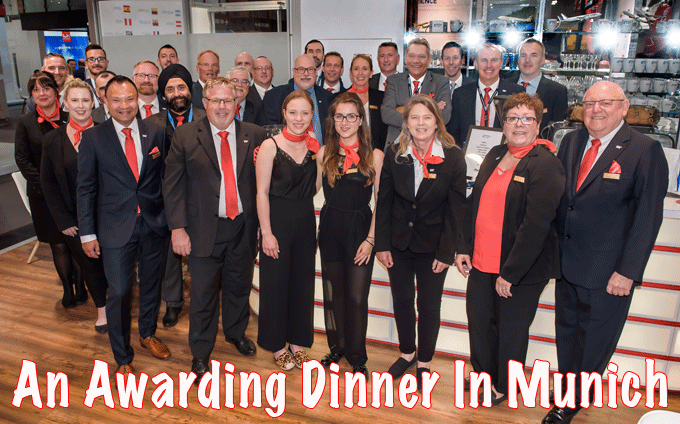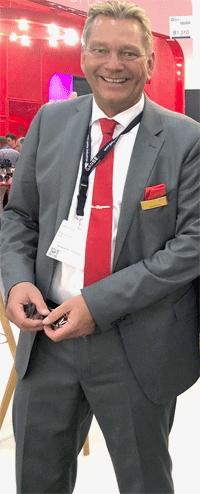 Ingo Zimmer, CEO of fast growing ATC, a big winner in the global GSSA game serving 75 airlines, passed up attending the "gala" Air Cargo Europe awards dinner Wednesday June 5 in Munich.
Ingo, as dynamic as he is tall at 6 foot 5, had a better idea, delivering a simple thank you to his customers in an extraordinary once in a lifetime setting.
The top executive of ATC and fervent supporter of all things air cargo, including attendance at industry trade shows the world over, apparently had enough of the push and pull, overly expensive, paper thin experience of air cargo award dinners.
So, Ingo said thanks to many of his ATC partners at an intimate dinner party at arguably the best restaurant in Germany, a place called Tantris.
Tantris means 'the search for perfection' and our dinner was not far off it.
The interior design is full-bodied '70s – all postbox reds, truffle blacks and illuminated yellows.
Tantris is stunningly beautiful and the food is great.
The fact that this restaurant is located about seven kilometers from Messe München and you can ride a bus to get there makes a visit almost a no-brainer.
Describing Tantris, Guide Michelin awarding the restaurant two stars raved:
"Tantris is simply an institution!
"Of course, this is mainly due to the product-oriented kitchen of Hans Haas, but also a little bit of the legendary 70s flair! You cook classic French, use only the best ingredients and do without unnecessary Chichi."


The Feeling Flows At ATC

A feeling of sublime relaxation and pleasure descended upon the gathering as a couple dozen people sipped champagne and spoke quietly to each other in the elegant garden setting.
No high-powered voices or musical crescendo; no suspense, no uncertainty, only winners last week on Wednesday evening with ATC at Tantris, as an evening unfolded of gloriously sumptuous surroundings, perfectly prepared food and impeccable service.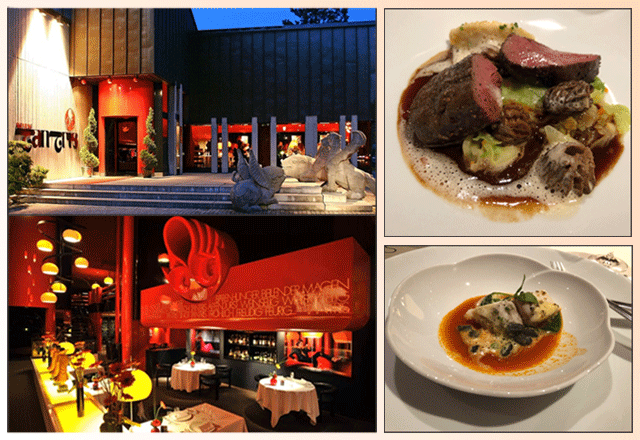 Perhaps an event of a lifetime for some, but without question exceptional to everyone in attendance by any measure.
"I just thought that we should say thank you to our partners in a way that expressed in real terms who we are and what these companies represent to us," Ingo said.
"Tantris is among the best restaurants in the world and practically at our fingertips here in Munich," Ingo smiled.
"The opportunity to have such an experience is both beyond the norm but also says thank you without qualification," Ingo said.
"ATC thinks that as a GSSA, our partners award us every day and in growing numbers by trusting us with their business.
"They are the ultimate judges of who we are and what we mean to the air cargo industry.
"Also, by bringing together leaders of the industry in a celebration of time and place with no speeches or agenda other than a half dozen immaculately prepared and served courses for dinner, we shared a unique uplifting life experience.
"Here we supped and enjoyed a rare opportunity to know each other better.
"The conversation was bright and lively," Ingo declared.
"We have been thinking quite a bit about what is the ultimate reward, or award if you wish, that ATC might receive in air cargo.
"Looking into the faces of our service partners as friends last Wednesday evening is a moveable feast that energizes us, as we move ahead with our constant goal of delivering a job well done," Ingo Zimmer said.
Geoffrey