Although he was action central in American, German and International air cargo for more than 50 years, and is now retired, a belated special Happy 80th Birthday salute to the great Guenter Rohrmann, who was born on April 15,1939.
The essential thing you need to know about GR is that he was an industry builder.
He put his time and money into creating a better air cargo business.
He worked tirelessly for Cargo Network Services (CNS) and was one of the two or three people most responsible for bringing TIACA back and to Luxembourg for that first Air Cargo Forum (ACF) in 1992.
In addition to all of that, previously, after he joined AEI Wings & Wheels in America in 1982, he built a powerful giant company practically from the ground up.
His career began in Frankfurt, Germany as an apprentice with a local freight forwarding company.
He joined AEI in Germany in 1961 as Country Manager, Germany and VP, Europe/Middle East.
In USA, in 1982 as mentioned, Mr. Rohrmann at AEI served as VP and General Manager for the company's North American Operations. In December 1984, he became executive VP International. Within a year, he was AEI's president and chief operating officer and in 1989, President and CEO.
Later as the succession game heated up and takeovers were the order of the day, AEI moved into Danzas and Deutsche Post and finally into DHL.
Through it all, GR was a steady hand at the helm but always with an eye out for the good of the air cargo industry, at both CNS and TIACA.
We can talk all day and heap on the praise but I experienced GR first hand many times, up close and personal.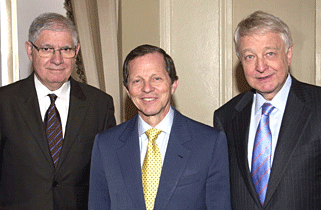 During our early years, GR was always a tell it like it is, no fooling around, while on the job dedicated individual who was incidentally smart as a whip.
Looking at GR here with CNS President and founder Tony Calabrese and IATA's Director General Giovanni Bisignani at a Wings Club luncheon, I recall an encounter with GR after having written some fairly blistering stories about CNS at the time.
Of course, GR would have none of that.
He looked at me after I took this picture, and brought us in close to the organization from that point forward with no room for misunderstanding.
GR was very persuasive, insistent and downright irresistible.
Later when Dick Malkin turned 100 years of age Guenter called me and insisted I record the story of Richard Malkin, so I did.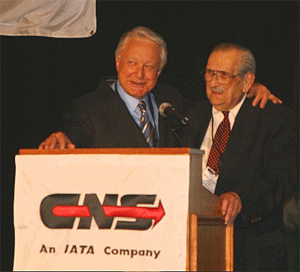 From that time on until Dick passed at 105, because of GR, I had the opportunity twice in a lifetime (we had worked with Dick in 1989-90 before he joined CNS Focus as that publication's editor) to be closely allied with Richard Malkin, the man that invented air cargo journalism.
The picture here of GR and Dick is typical of the care and affection GR would show an old friend.
Every birthday until Richard left us, GR would show up for lunch and escort Mr. Malkin to his favorite neighborhood diner for a celebratory meal.
That was a long slog to Queens, New York near JFK International Airport for someone who lived, and still does, in central Connecticut.
But caring for others and putting the welfare of friends and colleagues and the air cargo industry first, last and always, is how Guenter Rohrmann has rolled.
So understanding that all good things must pass, we still wish that we could do it all over again with you, dear Guenter.
We wish you well and earnestly hope for your long and happy life.
Unlikely we will ever see your kind again, so thanks for the ride.
Geoffrey