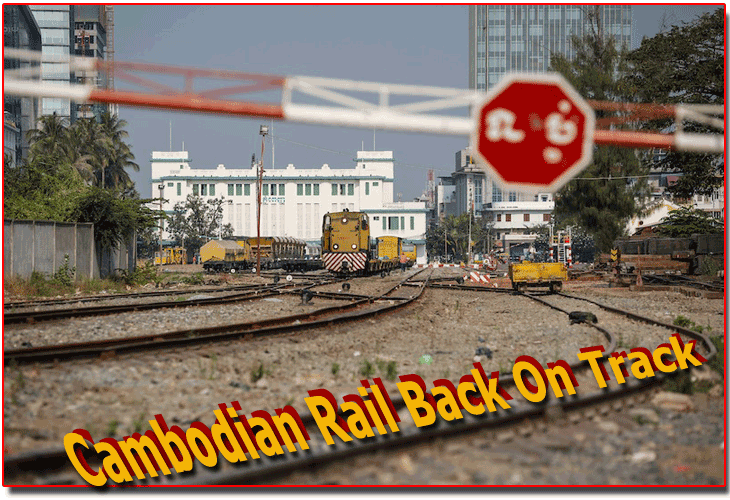 Cambodia may not be the fastest developing Asian state, but it sure is the fastest changing one.
Frequent visitors to the Kingdom of Wonders will note—even when returning after a few weeks of absence—new high rises, new brand stores, and an abundance of change at least in those parts of the country frequently visited by "barang," as western foreigners are dubbed in Khmer.
Do not confuse the Khmer "barang" with the Thai word "farang," which essentially means the same thing; however, in Khmer the term "barang" also has a slightly negative connotation (in the sense of "rich and ignorant") and Khmer people do not take kindly to being confused or even compared with Thais.
Cambodian development is still hampered by the oozing wounds afflicted by the Khmer Rouge regime in power from 1975 to 1979.
In fact, after the Khmer Rouge Cambodia could be compared to postwar Germany, just that there was no Marshall plan to help the Cambodian people back on their feet. All the more impressive is what the Cambodian people and the Cambodian state—political judgments left aside here—have achieved. Much of it has been trial and error, and the average Cambodian still has to make do with incomes of U.S.$80 or less a month with social security or medical care largely uncovered. Nevertheless, or probably even because of those adversary factors, Cambodia has opened up with garment production, spices (such as the world famous Kampot pepper), and the tourism industry accounting for as much as 43 percent of the national income.
While the boom in Cambodia's air transport sector is well known—as recently reported by FT—the changes taking place at Cambodia's Royal Railways have been largely overlooked by most people not living in Cambodia.
Cambodia's present 380 miles (612 km) of 3 ft., 3 3⁄8 in. (1 meter)-gauge rail network goes back to the colonial times, when it was a part of French Indochina and consisted of two lines.
Lack of maintenance, funds, and damage during the Vietnam War and the Khmer Rouge regime forced a total suspension of all services in 2009.
That has changed, as Cambodia's booming development necessitated reliable transport capabilities both in the passenger and freight sector.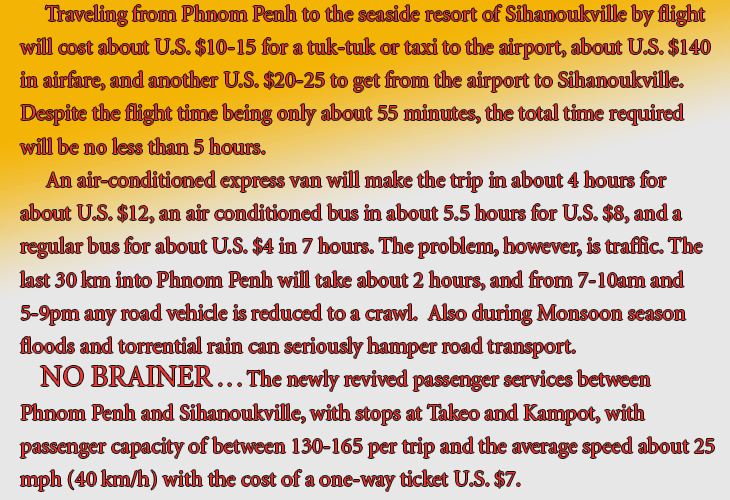 As for passenger services, air transport is too expensive for the average Cambodian, especially considering the time required to travel to the departure airport and from the arrival airport to your destination takes longer than taking a bus or express van.
Traveling from Phnom Penh to the seaside resort of Sihanoukville by flight will cost about U.S. $10-15 for a tuk-tuk or taxi to the airport, about U.S. $140 in airfare, and another U.S. $20-25 to get from the airport to Sihanoukville. Despite the flight time being only about 55 minutes, the total time required will be no less than 5 hours. An air-conditioned express van will make the trip in about 4 hours for about U.S. $12, an air conditioned bus in about 5.5 hours for U.S. $8, and a regular bus for about U.S. $4 in 7 hours.
The problem, however, is traffic. The last 30 km into Phnom Penh will take about 2 hours, and from 7-10am and 5-9pm any road vehicle is reduced to a crawl.
Also, floods during the monsoon season and torrential rain can seriously hamper road transport.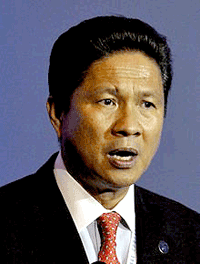 Cambodia's Ministry for Public Works and Transport (MPWT) under the leadership of H.E. Samdech Sun Chanthol (left) has revived the rail transport sector with assistance provided by the Asian Development Bank, AusAID, and the Australian company Toll Holdings, which from 2009 until 2014 held a 55 percent stake in Cambodia's Royal Railways.
A new 73 mi. (115 km) missing link between Phnom Penh and Touk Meas was completed in October 2010 and the southern line (unusable since late 2008 after the worsening condition of the tracks caused frequent derailments) reopened for freight traffic—mainly coal and fuel trains as well as container traffic from Cambodia's only deep-water port, Sihanoukville, to Phnom Penh in January 2013 and for passenger traffic just in time for the Khmer New Year on April 9th, 2016, after a 14-year downtime.
Also, the Western line connecting to the Thai railway network is under reconstruction with a 4 mi. (6.5 km) gap between the border point in Poipet and Sisophon to be closed by the end of July 2016, and there are plans for a rail connection between Phnom Penh and Saigon (Ho Chi Minh City) that would provide a seamless rail link between Singapore and Kunming in China.
Additionally the Cambodian MPWT has partnered with China Railway Group to build a third line of 252 mi. (405 km) in the north-southern direction across Cambodia to support transport of steel, sea containers, coal, and fuel and ease road congestion and damage.
The newly revived passenger services between Phnom Penh and Sihanoukville, with stops at Takeo and Kampot, were very well received according to a press statement Royal Railways CEO John Guiry made to the Phnom Penh Post.
Passenger capacity is between 130-165 per trip and the average speed about 25 mph (40 km/h) with the cost of a one-way ticket U.S. $7.
Royal Railways plans to rent out carriages for events and conferences because of plentifold tourist demand.
During recent Thai-Cambodian consultations that took place at the end of 2015, it was agreed to open two new international checkpoints in the Cambodian border province of Banteay Meanchey as well as developing jointly operated Special Economic Zones along the Banteay Meanchey-Sa Keo (KH) and Koh Kong-Trat (TH) borders. These SEC's will provide further jobs, tax revenue, and investment by international companies in both Thailand and Cambodia.
Probably the only downside of this development is that sooner rather than later the so-called "bamboo trains" or "Norries" in Battambang province will perish with the revival of the track system. "Norries" are platforms made from bamboo fitted on leftover rail wheels and powered by small gas engines, chugging along the old tracks with whatever merchandise or passenger is to be transported for stretches up to 25 mi. (40 km) on an on-demand basis.
In addition to the more reliable, economic, faster, and scheduled cargo links the newly revived Cambodian rail system is going to provide, the ease on the road system should account for considerable savings as overloaded trucks, fatigued drivers, and hardly roadworthy trucks account for considerable damages including collapse of bridges, a gruesome death toll in road accidents, and considerable pilferage.
Peter Harcourt