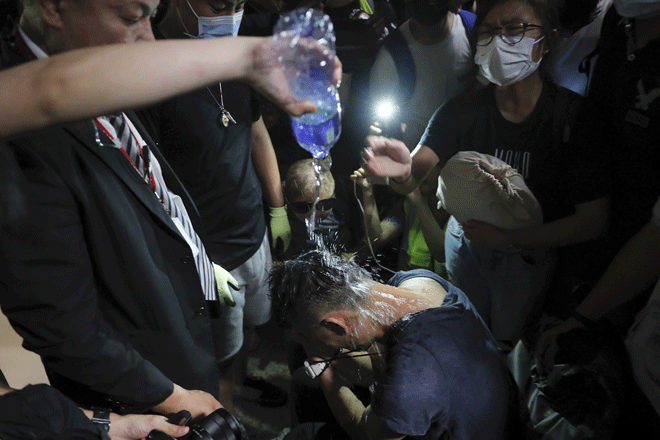 Hold Your Water . . . During a demonstration at HKIA, a protester pours water on a detained man, who protesters claimed was a police officer from Mainland China. Demonstarters continued to impact operations at HKIA this past weekend.
When writing of the Hong Kong conflict going on right now in the former Crown Colony, now a special district, we cannot help but wonder what's next for air cargo?
So, we figure why not go to someone who carries the credentials of experience, knowledge, passion and air cargo building, Stan Wraight, CEO of Strategic Aviation Solutions (SASI). www.sasi.com.hk
Stan 'The Man' is busy these days working for airports, and for IATA and TIACA, training the next generation of logisticians.
Geoffrey and Stan go all the way back to the 1980s in Amsterdam, when Stan was a key executive of what was arguably the most brilliant and at least most avant-garde airline air cargo team, headed up by the great Jacques Ancher as top executive at KLM Cargo.
FT: What impact has Hong Kong unrest having on cargo to and from China & Intra Asia Pacific?
SW: We have spoken to our HKG office and they say it's a difficult scene to understand, how much traffic is being influenced by the trade disputes, general economic downturn and the unrest. They are sure the transshipment cargo is being diverted as the uncertainty re HKG Airport being affected makes any alternative attractive.
Forwarders who have "hard block" space, which is limited anyway now, are faced with the dilemma of unsold capacity unless things clarify themselves.

FT: Looking ahead, what will be the impact on the traditional Christmas rush?
SW: Most people expect not to be affected, due to e-commerce, pushing the rush later and later in the year.

FT: What other impacts?
SW: We are concerned that people will lose confidence in HKG, truly one of the great hubs not only in Asia, but globally as well, as a matter of fact.

FT: What should shippers do; What are you advising your shipping partners?
SW: Our clients are mostly airports in SE Asia and the Gulf region, and they see this as another example of why manufacturing will continue to shift away from China to places like Vietnam.
Shippers, especially of lower value goods have done so already. Airports such as Zhengzhou Airport (CGO) will become even more attractive now, for those who stay.

FT: Any other thoughts about this year, such as the tariff situation.
SW: I believe this will resolve itself well before the Christmas rush, and as traffic is so depressed at the moment, I doubt this will influence it one way or the other.

FT: Do you expect an easing of tariffs? Our take is that Trump has loosened up a bit as markets took a big hit last week.
SW: Tariffs have become weaponized by this administration, but if anyone in the U.S. Government has a bit of an education in Asian perspectives and mindset, it is foolish to do what is being done. There are a hundred alternatives that could have been more effective to change behavior.
That said, what I learned from my many years living in Asia, is that the Asian mentality is to look way down the road, 10/20/30 years, and react accordingly.
One despot who shall remain nameless summed it up perfectly, "dealing with the USA on policy is a four-year window," matching the election cycle.

FT: Stocks are, at times, flat during summer, but 800 points in one day last week was an eye opener about possible recession. Any thoughts?
SW: If one steps back, it goes way beyond the U.S. domestic consumer-driven economy, whether we have a recession or not.
Brexit; the German economy affected by car industry woes; the Gulf hit by oil prices; the India and Pakistan Kashmir conflict, Korea and Japan trade fights, it's all too much.
Whether the U.S. economy suffers a recession will depend on how well it is insulated against global occurences. I don't think this administration is looking beyond November 2020 (re-election).