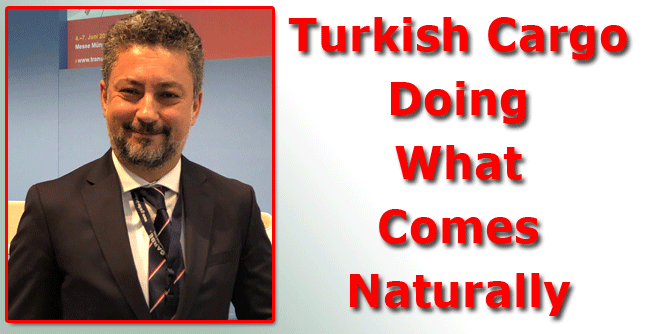 We asked Turhan Ozen, top cargo officer at Turkish Cargo, how goes business and how was that big move from Ataturk Airport, and his reaction is a broad smile, not a weary one.
The idea that an airline cargo division could pack up and move half of its operations from one airport to another, now accomplished on time and apparently without a hitch, Turhan eases back in his chair and smiles.

Smooth Moves

As August 2019 gets underway, no doubt some big challenges are clearly in Turhan's rear view mirror.
Right now, it is all about revenue optimization, systems introduction and expansion as Turkish Cargo moves inexorably toward positioning itself as the once and future center of the trading world.
Today Istanbul, with head and heart in Europe and Asia, finds itself in 2019 with the newest and greatest aerial gateway on both continents.
Moreover, Turkish Airlines is an airline that is indeed the 21st Century cargo resource from Turkey to the rest of the world.

Cargo Transfer Facility of The Future

Until late 2020, and the completion and debut on the world stage of its 'cargo transfer facility of the future' at Istanbul Airport, the challenge during the interim is moving some cargo via the expansive number of belly freight destinations delivered via the new airport (IST) of Istanbul and the all-cargo operations that are still at work from the old Ataturk.

Growth Despite Downed Market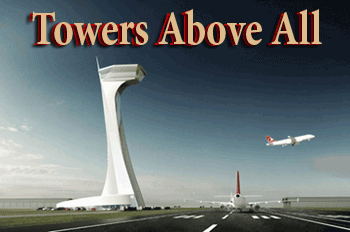 But it's all good to hear Turhan tell it, in his usual upbeat manner.
"IST will have it all," Turhan explains.
"Our program to maintain sustainable growth is still working, although the markets are quite weak," Mr. Ozen said.
Turhan said he is looking forward to expanding the Turkish Air Cargo footprint worldwide as the tri-fecta of a new airport, new aircraft and additional destinations, drive action at Turkish Cargo, unseen before in many decades.
Here is one, if not the fastest growing air cargo air force in the world.
"We are fresh and everybody else is tired," Turhan seems to say as he recites chapter and verse of the plan.
"All the bells and whistles, and some things you may not expect are part of our world-class new cargo facility at IST that is scheduled to open late 2020.
"On the ground and in the air, this cargo facility is a game changer with every enhancement.

Building Gateway Istanbul

"Initially our cargo terminal will feature two million tons operational capacity per year, and by completion of all phases, the terminal capacity will be doubled up to four million tons per year.
"While the Mega Hub is being constructed, our belly cargo operations are being handled from a 40.000m2 satellite facility which offers total capability.
"All of our cargo services will continue to be operated from both airports, with main deck freighters from Ataturk and belly cargo operations, as mentioned, from the new airport until late 2020 when the 'Mega Hub' debuts here.
"Happy to report," Turhan assures, "no lack of investment in systems and attitude either at the 'temporary' cargo operation at the new airport.

First Reaction For IST

"In fact, our feedback is quite positive all around," Turhan proclaimed, noting shippers' comments included:
"Your 'satellite cargo operation' service at Istanbul Airport is excellent and not at all temporary with a full menu of capabilities and services."
"Nothing will come between this pledge to our global customers to always deliver the goods," Turhan Ozen declared.
"As example, during building of the 'Mega Hub', we are operating a dedicated cargo corridor between the two airports to move cargo in both directions with over 30 trucks covering the distance around the clock, between Ataturk and new Istanbul Airport located on the Black Sea.

Turkish Cargo Omits Word Terminal

"We have thought about our cargo business in detailed terms, up and down the line.
"As we move ahead, Turkish Cargo will of course talk about our capabilities as we extend our brand worldwide.
"When it comes to handling air cargo our brand will no longer use the word 'terminal' to describe the place where we transfer everything from high value to pharmaceuticals and other perishables, pets and animal and machinery shipments, clothing, auto parts you name it.
"The world of Turkish Cargo is poetry in motion; a ballet of highly trained people operating advanced cargo transfer facilities that are developed to move forward the art of air cargo.
"The words 'cargo terminal' no longer exist, at Turkish Cargo," Turhan Ozen beamed.

Where We Want To Be

"Some years ago we developed and charted a strategy with the objective to rise in terms of schedules, volumes, meeting customer expectations, and other goals, all with the aim of delivering ourselves in to the future.
"Although the market in 2019 is challenged, for Turkish Cargo we are where we wanted to be at this point, in terms of volumes and meeting or exceeding customer expectations and satisfaction with our offering.
"Most importantly has been the rise for Turkish Cargo in how the customer views our offering.
"But having come to the realization last August, that 2019 perhaps into 2020 would not match 2017 and 18, we redoubled our effort where we can control outcomes in customer service, in going the extra mile for our customer by letting them know in word and deed that we never forget how important they are.

About The Pessimists

"Our numbers are where we expected, and continue to increase," Turhan said, "but no doubt air cargo is into some kind of a period of readjustment.
"It is a bit of a paradox right now in air cargo.
"Last year this time air cargo people were over the moon with the good numbers.
"Now that things have slowed a bit, I hear some people in this business talking in pessimistic voices.
"We saw this coming, as mentioned, last year, and have rethought, rescheduled, refined and adjusted our offering to keep pace and stay ahead of the times.
"As example, you do what you can of course, so very high on our list is making sure that the promise is kept and we open our new Mega Hub at IST in 2020," Turhan Ozen said.
"Everyone knows that there are ups and downs.
"We are aiming for Turkish Airlines at the top of world cargo rankings by doing what comes naturally.
"There is no slow down in our dedication to be the very best," Turhan Ozen said.
Geoffrey Arend