A Balanced Life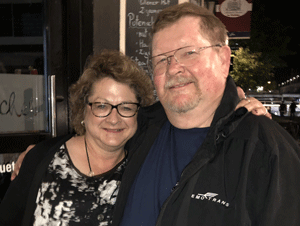 "It's important to strike a balance in life, declares Uwe Kaeding, Vice President EMO Trans U.S. West Coast & Air Freight Procurement, (pictured here with his wife, Janet).
"On one hand, you work to satisfy your customers by never taking their business for granted and always making sure their needs and expectations are surpassed with your care and attention.
"On the other hand you should be attentive to making sure that your personal life is also fulfilling.
"For me, my world revolves around these two forces: the aforementioned work ethic and EMO where I continue my 40 years in logistics, and my desire to live in the beautiful natural setting of Wisconsin in the U.S.
"The natural life is my passion.
"As long as there is a reachable airstrip, the instant connection of IT services and plenty of nature all around, I am one happy individual.
"Only lately I have been thinking that maybe the far northern climes of Wisconsin might fit better into my future," Uwe said.
At the suggestion that he might need a dog sled in winter, Uwe just smiled.
"Everything in balance," Uwe Kaeding said.

Tracing Tracy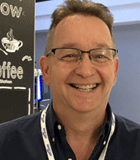 Tracy J. Thoburn, President of EMO Trans Canada noted that EMO Trans Canada is one of the original EMO network partners, having launched the partnership in 1982.
"We are enjoying another solid year of growth in Canada, and frankly quite thrilled that the entire EMO family is also reporting similar results.
"The Global Meeting here in Cologne this week is an integral part of our ongoing relationship with the EMO Trans family and our international partners.
"We always depart these encounters energized, moving forward to meet the future challenges of providing customized global logistics solutions to our customers and partners worldwide."

Chile Hot!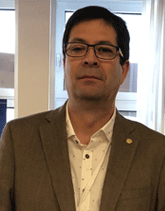 Rodrigo Navarro Carrasco, Sales Director for EMO Trans in Santiago, Chile notes that EMO Chile has been in business for the past 15 years and has grown to the point that today the company is fielding five offices throughout the country.
"Our major export customers for wine, perishable foodstuffs, and copper products are USA, Germany & China.
"I have been at EMO for the past four years having joined EMO after spending 11 years at Geodis and 13 at Kuehne & Nagel before coming to EMO.
"I can tell you that having worked for all those years with the big companies, the great experience at EMO is the feeling of being part of a family, and a very supportive one at that.
"Everyone works together building business, Rodrigo enthused, and that makes the going great!"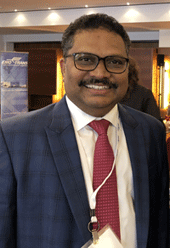 Prem Primed For Building Uniworld

"Given the opportunity today, I would not like to be involved in a start up company in air cargo," said Prem Kumar, Managing Director of Uniworld Logistics, EMO Trans partner in India.
"Times have changed at light speed during the past five years.
"I keep moving things incrementally to keep our company on top of its game in everything, but am doubtful that starting all over again would be a wise path to follow.
"I think that there so much we can do to better ourselves, and can use our imagination to work within the framework of an existing company rather than starting all over again," Prem Kumar said.

Prosperous On Bosphorus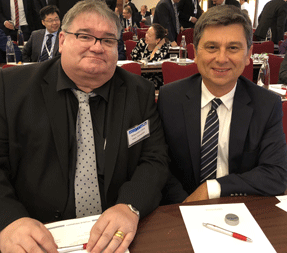 Turgut Erkeskin profiled in these pages recently is the go-to vortex of freight forwarding's future in amazing Istanbul, Turkey.
As top executive at Genel Transport, a EMO Trans partner, and top organizer of the industry group UTIKAD, Turgut is the first forwarder ever to be elected to the Istanbul Chamber of Commerce Transport Committee in 2005.
Turgut currently serves as FIATA's Senior Vice President and his bright face and instant smile suggest he still has plenty of energy to spend, as we caught up with him in Cologne this week.
"Emo Trans is a great group to work with and build transportation.
"This is a right-sized, connected worldwide family that is growing and developing, even as we speak.
"Our company Genel Transport which offers the complete logistics menu is proud to be part of the EMO Trans family," Turgut said. Turgut (right) is pictured with Bernhard Stock, Director Airfreight & Global Network, EMO Trans Germany.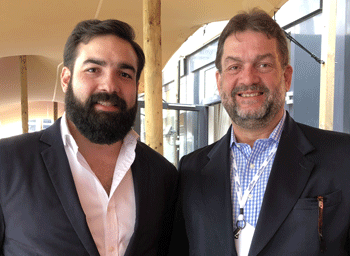 Like father Like Son And Son

Meet Harry V. Heinsen (right) and Harry Heinsen (left) of Harry Heinsen. The company has been in the EMO Trans fold for the past 20 years, and is the well-renowned and multi-faceted go to resource for 3pls in the Dominican republic
"We are a family business," said Harry V. "My son, Henry (not here) handles operations and is holding down the fort in the Dominican Republic.
When asked why the partnership with EMO, his answer is immediate and emphatic, "Jo Frigger, and the expanding EMO network. The standard of service provided never varies, it is always trusted and reliable."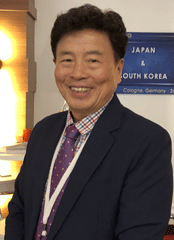 Professor by The Book

Established In 2004, EMO Trans Korea may seem like a new kid on the block. However, President K.T. Kwon's experience in all aspects of the freight forwarding and global logistics industries spans well over 40 years. In that respect he is fondly referred to as Professor Kwon in the Korean market.
"We pride ourselves on providing customers and overseas partners with reliable international freight forwarding and logistics, which is made possible by the dedication of our employees, who are the best in the business. Our service philosophy is that every customer should be treated as if they are the most important customer."
Geoffrey