It was the moment of truth as EMO Trans Annual Global Meeting opened for business in Cologne, Germany.
Faced with several challenges as outlined by company Chairman Jo Frigger, who reported solid results for his independent company that is growing exponentially worldwide against some uncertainty as global trade restrictions deepen.
From every indication, EMO Trans is a company on the rise as it rapidly expands its offering with new partners coming on board as the constant.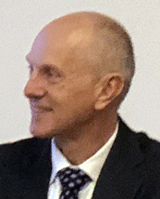 Under the aggressive plan of company President Marco Rohrer, (right) EMO has grown continuously during the past years across Asia.
Marco opened the session underscoring the company outlook.
"It is our aim to continue to build a strong international network with special attention to supporting local activities in every case," Marco said.
Chairman Jo Frigger reported, "After 60 years this work in logistics remains exciting and challenging to me.
"There is a risk being in this business too long. It can be avoided by not getting stuck in the past. Rapid development and changes in technology have taken place but always remember, we are a service industry, what we do is move goods.
"Satisfying our customers with good service is our ultimate mission and that will never change.
"We will continue to grow organically by self-financing our expansion.
"Our newest offices in Taiwan and Vietnam are examples of EMO Trans' measured and carefully considered plan for future growth.
"The offices are small with inspired leadership and potential for expansion and, today as part of the EMO offering bring great possibilities and promise."

A Life Well Lived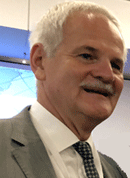 Stefan Ritter, Managing Director EMO Trans Germany noted that EMO Trans began its life more than 50 years ago in Germany.
Stefan was upbeat, welcoming the room, declaring among other things that Germany leads the world in logistics.
"But there are signs that German logistics is reaching capacity with some restraints due to infrastructure.
"Logistical demands, especially highway travel no longer offer the high speed opportunities that we have enjoyed historically.
"Rail service is not much better, also reaching close to capacity.
"The belief that improvements, already underway or planned, will meet future demand is an open question.
"The pressure is relentless.
"We have always had the means to deal with challenges. No doubt, solutions will have to be found.
"The pressure to fill positions up and down the line in logistics, especially in middle management with qualified, trained people is a primary need right now.
"Warehouse recruiting is also underway but as business expands internationally, the skill set required to manage shipments needs constant upgrading with much more emphasis placed on educating our next generation of logisticians.
"Recruiting and educating logistics staff is our primary challenge moving ahead.
"We operate in a difficult environment but our team at EMO Trans continues to advance.
"Our goal is to take business from our competitors and build our business and do it better," Stefan Ritter declared.

New Markets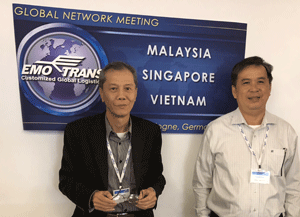 Mr. Tran Nguyen Hung, Director of EMO Trans Vietnam, a 40-year logistics industry veteran, pictured here with Managing Director Mr. Pham Quoc Dung (in light shirt), delivered some comments with the ease and grace of a true professional declaring that the EMO head office in Ho Chi Minh City is now in operation with locations near customs at the airport and in downtown.
Elsewhere EMO offices are located in Hanoi, and Da Nang.
"Vietnam today is a country of more than 96 million people with 11 million alone living and working in Ho Chi Minh City.
"It will report GDP of 6.6% when final numbers are reported for 2018," Mr. Hung said.
"The country imports mostly from China with exports in major movement volumes to USA and Europe.
"Vietnam will need major infrastructure investment moving forward.
"We are a spirited dedicated nation with a clear vision and great confidence in the future."

Taiwan On Ong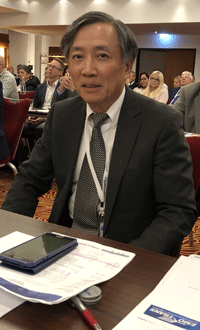 "Today is a very special day in the Chinese culture," said Vincent Y.S. Ong, Managing Director EMO Trans Taiwan in his opening remarks, as a second new member of the EMO Trans global family went up front and personal at EMO Trans Global Meeting
"The Double Ninth Festival," Mr. Ong said," observed on the ninth day of the ninth month in the Chinese calendar, is a traditional holiday, mentioned in writing since before the East Han period. I wish all of your greetings on this special day and am honored to be here as part of the EMO Trans family."
"My company National Express has been in business for over 30 years," declared Mr. Ong.
"Our joint venture EMO Taiwan just began August 3rd this year, an auspicious day as it is the birthdate of the Fortune God.
"We are bringing our offering forward in air and sea with a varied menu of specialty services including cold chain service products and more."

EMO Peru Profile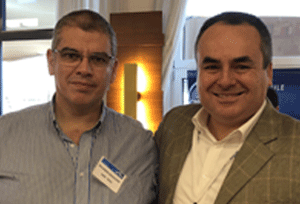 "We offer ocean, air and 3PL services," declared Roberto Consigliere, business development manager, EMO Trans Peru, as yet another member to the global EMO Trans offering presented a country view in Cologne. (pictured here with Managing Director Benjamin Granadino (left in photo).
Mr. Consigliere pointed to his country having completed a huge list of free trade agreements worldwide directed at "Opening Peru to the World."
"We are approaching our customers and partners with individual development plans to accelerate business.
"We have hired new staff deepening our customer sales and service offering.

Report from the Boiler Room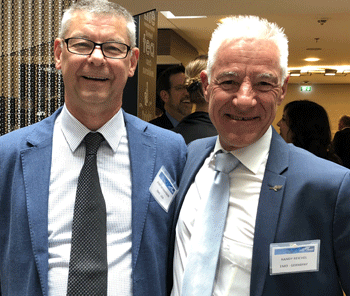 Andy Richardson, (left) Executive IT Director EMO Trans and Randy Reichel, (right) Managing Director IT, EMO Trans Germany went front and center offering a techno glimpse of a work in progress as EMO Trans is hard on the trail of developing information technologies to meet and eventually exceed the challenge.
"Sure we have track and trace but with Oracle we are advancing development of an industry standard IT system for the future.
"We have staff worldwide offering 24/7 support to our partners while continually updating our offering with our abilities and technologies improving daily, was the message here.
"As example, our EMO Quick Track, modeled after existing software is offering visibility and global access to the tracking of shipments.
"We are already working on the next modules which add the ability to include information on shipments, vessels and details of various shipping bills.
"In development are pre-shipment, during shipment, customer references and complete shipment documents features that will automatically load into our digital information base by shipment."
Geoffrey/Sabiha