Delta Cargo had just named Rob Walpole as Vice President – Cargo Operations and Logistics.
Mr. Walpole lands at DL Cargo with heavy credentials including a stint at DP World Dubai where he served as Chief Operating Officer and prior to that as Chief Executive Officer at Schenker.
Rob Walpole gets it about change and judging by his recent move and his answers here he is turning an important page moving ahead affecting the future of a great international airline.

On Change

"A couple of things from my background - having lived and worked globally, and my most recent background in the Logistics and Supply Chain industry I think will be tremendously helpful in my new role at Delta.
"Delta Cargo is a part of a global business – understanding some of the landscape, challenges and cultural nuances of our markets can be helpful in working with customers and our people.
"From a Logistics and Supply Chain perspective – the industry is solution-focused and one that will likely change in the next few years, with Delta well placed with some very innovative solutions, and I hope I can help the company on that journey.

Surprising Delta

"I chose to join Delta because of its reputation as a great place to work, with a great leadership and organizational culture.
"The surprises to me are firstly, just how much the company is 'customer-led', with the strategy of the business truly led from a 'voice of the customer' perspective.
"Lots of companies say that, but Delta truly lives that.
"The other surprise (and maybe it shouldn't be) is the way that Delta efficiently manages a tremendously complex operational network.
"This comment is not just about the Cargo business, but the whole company – it takes a lot of talented leaders and a committed organization to execute effectively at the top of the industry, in such a complex environment.

The Book On Leadership

"Many things are important to be a great leader, and leadership is an area where I try to read widely and broaden my perspective. "One key leadership trait I read about a few years ago, and strongly believe in is 'the pursuit of clarity'.
"It doesn't mean clearly telling people what to do – in fact it is the opposite.
"The act of 'pursuing clarity' from a leadership perspective means you need to always be talking with all stakeholders to solicit feedback, discuss alternatives, understand customers, in order to craft - and lead an organization towards - clearly established goals in a clear manner.
"And when conditions change (which they will), you need to recycle the practice. Done thoroughly and properly, it drives a tremendous amount of good leadership behavior."

Uppermost In Cargo Matters

"Collaborations are critical.
"For lots of reasons, but there are two primary ones for me. Firstly, in line with the earlier comment on industry solutions and future disruption – successful execution of future supply chains (and also today) requires complex collaboration between a number of participants.
"Having a foundation to do this effectively is key, and this is equally applicable for Delta.
"Separately, the battle for talent and supporting future organizational development is also a collaboration-based venture.
"Ability to collaborate in order to build effective networks, talent pools, communication channels etc. is critical in order to build organizations to support future growth," Rob Walpole concluded.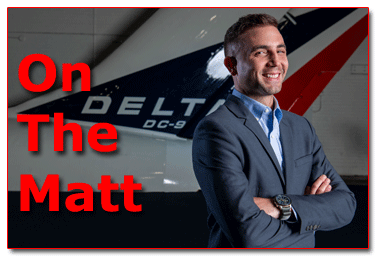 Delta Cargo named Matt Weisenburg Director – Cargo Strategy and Alliances, and Mark DeFrancesco as Managing Director – Revenue Management, Capacity and Forecasting.
Matt, moving up fast, has been at Delta Cargo over the past three years serving atop cargo alliances, strategy and development, pricing and revenue management .
Matt, an 18 year DL veteran includes serving as Director of JV Transatlantic Pricing for the Delta, AirFrance, KLM and Alitalia Joint Venture.
More: www.deltacargo.com