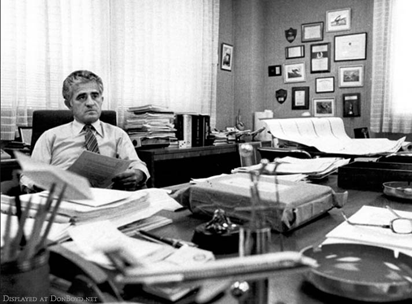 The late Richard (Dick) Judy (pictured in his office) served as top executive at Miami International Airport for many years and is generally credited with putting that gateway on a firm path to greatness.
Once I asked Dick, who was the go-to ground handler in Miami air cargo, and he said without hesitation "Claude Bijaoui".
"Claude Bijaoui arrived in Miami from France with investment and innovation and with not a small amount of heart, and he pioneered cargo ground handling here that almost single-handedly put Miami air cargo on the map," Dick Judy told me in 1988.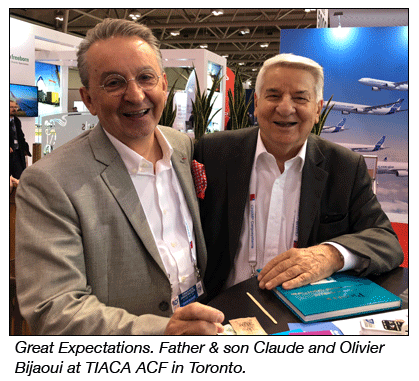 Walking Legend

Imagine my surprise at TIACA ACF, whilst strolling down one of those wide aisles, bumping into the man himself, Claude Bijaoui.
Claude at 84, is still sharp as they come with a quick wit, and positive outlook that is by any measure refreshingly bright, welcome and needed in air cargo today.
Our brief encounter led to longer conversation for these pages upcoming.
But one thing he said gets some air here.
While taking nothing for granted, Claude recalled his friend Dick Judy saying:
"He was a businessman top to bottom.
"Tough and driven, Dick Judy created an environment that allowed everyone to be successful," Claude said.

Enter Transborder Aviation

Meeting Claude was even more poignant, as the top news at TIACA ACF 2018 was that Claude's son Olivier, having served as Chairman of WFS for over 30 years, has launched a new handling company in USA called Transborder Aviation.
Olivier, an apple that did not fall very far from the Bijaoui family tree, rocketed WFS to the top of the heap in world air cargo handling,
Simon Caviezel, founder of Cargo Airport Services (CAS) is partner in the new venture that also includes an "A-List" of legendary ground handling dreamers and doers including John Gemmell, John Keery, Claudine Bonthoux and some others.
Transborder, based in Sunrise, Florida (Ft. Lauderdale) has an ambitious plan to become a household word in air cargo by this time next year.

It's the Joust

Wondered why these men who set records and are now sitting good whilst up in years, would want to come back to cargo, but then looked at Claude who is not part of this venture, but I imagine is nodding approval from the sidelines, and later myself in the mirror this morning and thought:
"Are you kidding? It's the joust!"

Ground Handling Equipment Boom

In the case of Messer's Bijaoui and Caviezel, a recent report that the global airport logistics systems market is expected to grow at a clip of 10.3% from 2018 to reach USD 14.1 billion by 2025 might have played into the comeback plan.
But face to face with determination and the right stuff to be sure, both men and their start up team are embracing a new beginning that will specialize amongst other things, in developing techniques and capabilities to keep abreast and even ahead in the expected continued avalanche of e-cargo.
"The mid-size market is asking for quality with network service at a time when new challenges and opportunities are emerging," Olivier Bijaoui said.
Today in air cargo handling what's old is news.
No doubt in USA and elsewhere air cargo is in for a great ride.
Geoffrey