In Miami, a place historically known for all types of aircraft repurposed for air cargo, lives Florida Air Cargo with a fleet of ancient DC3s flying consignments out of nearby Opa-Locka Executive Airport.
The vintage Doug's have found new life carrying relief supplies like water and other emergency supplies to hurricane-wracked islands of the Caribbean.
But they are also in use for some regular duties as well.
Considering that the youngest aircraft in the Florida Air Cargo fleet was built in 1945 or 75 years ago, the fact that these ancient birds can still take wing, and can also be efficient in 2019 can be looked at as nothing less than a modern marvel of brilliance. These aircraft are from once upon a time, that is still alive and well in our world of tomorrow.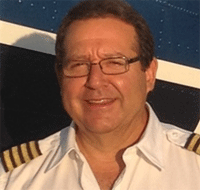 The fact that Florida Air Cargo has experienced growth and success can be directly related to the high quality of leadership that starts with Sergio R Alen (right).
Sergio has lived and breathed aviation from the time he was a child and started working professionally as a certified Airframe and Power plant mechanic at Miami Aviation Corporation in 1978.
He started with annual Inspections, 100-hour Inspections, repairs and alterations of mostly general aviation aircraft.
Since then he has done everything in aviation from modifications on Boeing 707's, performing A, B and C checks, to Quality control, General management, Progressive Inspection Programs and acting as Director of Maintenance for several companies for more than 12 years.
"Right now, for Christmas," Sergio confides, "we're making the magic happen, as Florida Air Cargo is flying toys to Nassau.
"That's right," he smiles, "toys"!
"We loaded one DC-3 so full of toys the flight crew could barely reach the cockpit.
It was one of those cases where cargo volume, not cargo weight, cubed out the airplane.
"Likewise, our Cessna Caravan was pressed into service with similar results," Sergio said.
"December brings a rush of freight to The Bahamas.
"The Christmas season wouldn't be Christmas without recognizing the dreams and wishes of youngsters waiting, with fingers crossed."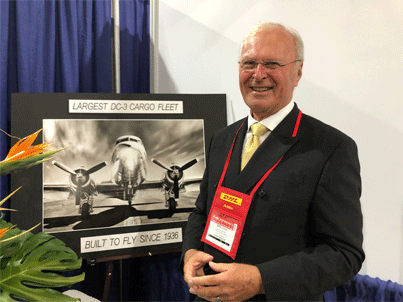 At Air Cargo Americas this past October we came upon Roland Little, pictured in the Florida Air Cargo Booth.
Roland and I go way back, to his days at Pan Am Clipper Cargo.
Roland also reminded me of a bout we had at the Oyster Bar, a favorite watering hole below the Pan Am Building, inside Grand Central Station in Manhattan.
That was a lot of fun.
But as you think about it, so still are the DC3s that continue in daily use at both extremes of North America—all the way up in Canada, operating from Yellow Knife and Hay River where Buffalo Airways Cargo DC3s and even a couple of C46 piston pounders move everything from toilet paper to televisions, (under contract with the Canadian Government) to remote, small native Canadian viliages up in the Arctic Circle.
Meantime, down in Miami, where the next stop south is Cuba, these Florida Air Cargo DC3s in all-cargo form are niche lifters where a bird that can move up to ten thousand pounds, and is also able to land on anything from a whisp of a grass strip to a rudimentary paved runway, is needed.
Apparently, as we learned earlier this summer when more than 40 DC3s flew across the pond to recall the Berlin Airlift in Germany, there are hundreds of operating DC3s left in the world and enough parts to 'keep 'em flying'.
Something about this airplane stirs the heart of anyone that loves aviation.
It feels good to fly in one, if you can hitch a ride.
Looking out the window of your DC3 as example on a Sunday, no one has to tell you what day it is as you fly along at 150 mph.
Down below, from a mile high, the cars that you will see parked around churches that dot the landscape in towns across USA say it's Sunday.
Florida Air Cargo says that it is up for charters.
Give them a call: 4360 NW 145 St. Bay 4, Opa Locka, FL. 33054 (305) 687-5880.
www.floridaaircargo.com
Geoffrey