Just came across an announcement that American Airlines Hangar 3 and 5, the old ones from 1939 have been cleaned up at LaGuardia Airport.
That only caught my eye as the notice casually mentioned that Hangar 1 that sat astride Hangar 3 and 5, and was the original AA domestic passenger facility and one of the most historically significant buildings on any airport anywhere was demolished last October.
Hangars 3 and 5 look nice with new windows and the brick cleaned, maybe for the first time in decades, in the style of the late 1930s and for sure have a lot of history. But to compare them in value historically with Hangar 1 is like trying to match up some pseudo paste with the Hope Diamond.
But now Hangar 1 is gone with the wind, just like a leaf that has blown away.
Wonder where all the steel and other demolition debris from Hangar 1 ended up?
In its past LaGuardia expanded itself on top of landfill and junk. Before Rikers Island was a city prison, it was a city dump. Across the bridge to LaGuardia Airport abuilding in 1937 came garbage that created much of the original airport except the ground on which The Marine Air Terminal still sits today.
"Actually" an old time hauler told me, "the original airport made more money for the people that fixed the balloon tires on those 1930s trucks.
"Tires were always springing leaks as the land fill included bed springs and lots of glass," he said.
At one point, legend has it that LaGuardia Airport welcomed arrival of some parts of the demolished Penn Station in Manhattan as landfill under its terminals.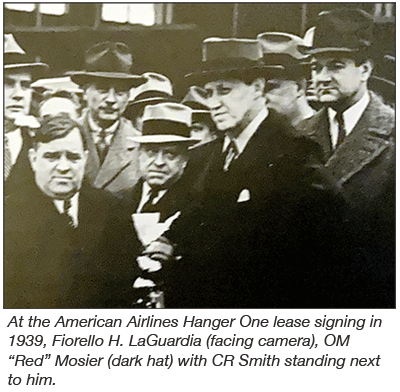 That there would be a LaGuardia, with airplanes in New York City when the airport at North Beach readied in 1939, was guaranteed by Hangar One.
That happened when Mayor Fiorello H. LaGuardia convincing American Airlines founder CR Smith and OM "Red" Mosier, (the brilliant negotiator CR had just coaxed away from Braniff) to move AA's corporate headquarters people, airplanes, maintenance, reservations, the entire kit and kaboodle from Chicago to the new, and at that point in 1938, still empty North Beach Airport Hangar 1 in Flushing, Queens.
Like some cliff-hangar drama in a Broadway play, the deal was struck, the big debut took place and LaGuardia opened to raves.
And just like that "Fiorello's Futurama" with its name changed to LaGuardia honoring "The Little Flower" was the busiest in the world for many, many years.
But fast forward to 2022 and now American Airlines Hangar 1 has no place in the vision of that frenetic multi-billion dollar reno-binge going on at the airport and has been torn down.
A cornerstone to modern aviation development in New York City was taken down for more gates or something, with all the class and ceremony of an ad-hoc, one-way rum running charter in the middle of the night.
And forgive American for not screaming bloody murder but in this COVID-19 world maybe they were busy trying to save their airline?
What is disgraced former New York Governor Andrew Cuomo's excuse?
AA Hangar 1 was the pole position honor at the airport, deservedly awarded to AA in 1939 for making LaGuardia Airport a reality in the first place.After AA signed up, everybody got on board.
AA, in making that move, brought the most advanced airline organization in every facet of the domestic airline business to New York City.
Hangar 1 is where "The Tiffany Airline" gained its silver wings and set all the first cargo flight records, coast-to-coast, and even more significantly as the place that housed AA Corporate and Passenger handling space as well as the Systems Reservation Center.
"On a stormy night 13 DC3s fit snugly inside the giant Hangar 1," Ansel 'Ed' Talbert waxed poetic. Ed was the top aviation journalist at The New York Herald Tribune and founder of the Wings Club.
Ed did not need look too hard for adjectives at this airport.
With American Airlines as anchor tenant, LaGuardia Airport was the wonder of the age with the 1939 New York World's Fair sitting just down the road topping it all off with an elegant aviation pavilion!
Eventually American corporate went downtown to Manhattan and stayed there on Third Avenue (just a block away from TWA HQ) until the carrier moved to some property in Texas that CR Smith had secured.
But as the last domestic passenger terminal that launched the original LaGuardia Airport and domestic service in 1939, and somehow survived into the 21st Century, the loss of Hangar 1 is tough to take.
Here are some other flights of fancy for early January . . . American, just after World War II acquired American Export Airlines (AEA) and changed the name to American Overseas Airways (AOA) and went into international schedules.
AEA had operated to Europe from The Marine Air Terminal, just across the field, utilizing Sikorsky S-44As.
Although WW II paved the world and land planes replaced flying boats, American, successor as AOA to AEA, from its pole position at Hangar 1 gains some significance here with very brief (AOA sold to Pan Am) but direct connection to the last big scheduled passenger flying boat to fly in and out from LaGuardia.
The aircraft still exists and was saved by Charlie Blair, former Pan Am Chief Pilot and later saved again after Charlie died, by his movie star wife Maureen O'Hara.
Maureen donating the aircraft to the Bradley Air Museum at Windsor Locks, Connecticut where it is currently on display. Veterans at Sikorsky Aircraft lovingly restored the S-44A, although it is not flight worthy.
Speaking of great museums, recently The Pan Am Historical Group announced the creation of an exhibit and archive at The Long Island Cradle of Aviation Museum at Mitchell Field.
Our hope is that an inclusive history and attention is drawn by this group to events, people, artifacts and locations from the beginnings of flight until the 1970s when more than half of all international USA travel transited New York.
Pan Am inspired millions and is remembered for the early years of commercial flight up to the B747 era.
Who better to share, and once again lead the way to be the advocate to include the entire story of aviation in New York . . . making it possible for people to come, see and hear the incredible story of all the airlines of New York and the people involved; the art and architecture of places like the MAT, Hangar 1, Floyd Bennett Field, the TWA Terminal at JFK and more.
Everybody knows that Charles Lindbergh flew from Long Island to Paris non-stop in 1927. Did you know up to and even beyond the middle of the last century most aviation manufacturing, first flights, air shows, including scores of airports of every size and variety in the United States of America were booming between Manhattan and the tip of Long Island?
It is still within our grasp with some effort and imagination and inclusiveness to keep history alive and interesting for future generations..
Geoffrey