Eleanor Roosevelt saved the day and Harold Ickes U.S. Secretary of the Interior introduced Marian Anderson who delivered the most powerful visual and vocal message by live radio and newsreel to the nation on Easter Sunday 1939. The famed Contralto stood larger than life outside on The National Mall in front of the columnated majesty of The Lincoln Memorial in Washington D.C., and performed, America: "My Country 'tis of thee, sweet land of liberty, of thee I sing" in front of 75,000 people.
The incredible view of Abraham Lincoln sitting just behind her in his chair and the power of her performance, after being banned from singing at Constitution Hall by The Daughters of the American Revolution (DAR) has not lost a bit of impact 84 years later.
That scene was oft repeated and later was joined and even eclipsed at The Lincoln Memorial by Rev. Martin Luther King in his immortal "I've Got A Dream" speech.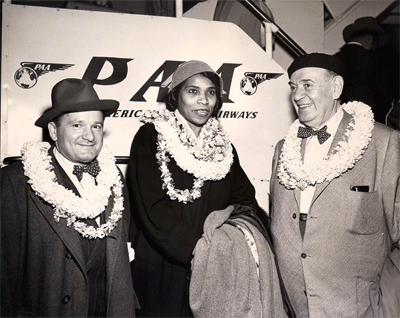 After arriving in Honolulu aboard a Pan Am Clipper, Marian Anderson smiles back at us through time on the way to her tour of Japan in 1953 with accompanists Franz Rupp (l) and Isaac A. Jofe.
Marian sang and the message of freedom and equality inched forward.
Once upon a time, every international airport of note included a press corps comprised of photographers and reporters who moved over from the shipside press rooms, where they had covered the ocean liners that once were the only way to travel internationally.
From the mid 1920s until the 1970s every airline had a vibrant press department; every stairway up to the aircraft door had a branding logo and the public shared the experience.
Today storage rooms at the airlines and libraries, college photo collections and museums have those pictures that tell much of the history of air travel and cargo in their photo collections.
As example, The University of Miami Libraries Special Collections is home to Pan American World Airways, Inc. photos and records from Pan Am's founding in 1927 through its closing in 1991.
History alive on Martin Luther King Day —this picture taken by an airline photographer and the short news clip on YouTube reminds us of Marian Anderson's April 9, 1939 performance on the Mall, and Dr. King's most famous and treasured words at the same venue August 23, 1963.
Geoffrey