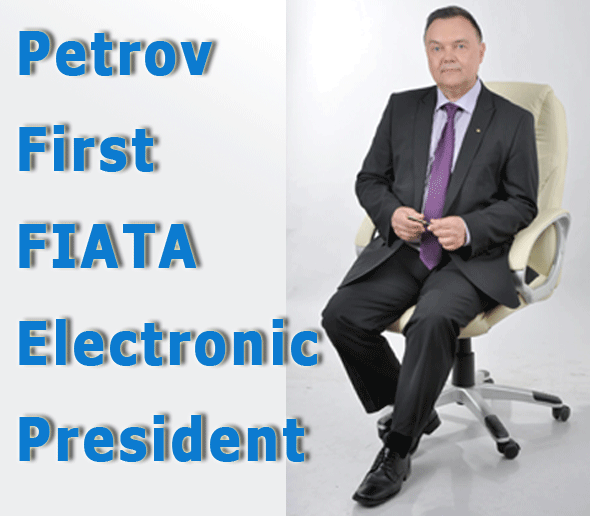 World Exclusive: Marco Sorgetti in a candid first-person interview with the President of the largest freight forwarder organization in the world.

Ivan Petrov has become the 32nd FIATA President in November 2021 and is the first one to have been elected by electronic vote. In 2019 FlyingTypers had already published an article about President Petrov, then Senior Vice President of FIATA. His personality and career had been amply described in the article and the reader who wishes to get more information on the steps taken by this successful entrepreneur is more than welcome to read the article again here.
One of the meanings of the ancient Greek term "sofia (

)" is wisdom and it is not by chance that Sofia is the city where Ivan was born in 1958. In my view this trait most appropriately describes the impression one gets from Ivan. He surely knows what to do and how to get where he wants, but he also has remarkable understanding for the others and never makes the mistake to impede their expression. This instinctive wisdom is the quintessential gift of the Chairman, I daresay. A long time ago I told Ivan he was on the right track to get to the helm of FIATA: he dismissed it with a smile, but we both knew what was going to happen . . .
Ivan and I first met in Vienna at the FIATA World Congress 1997 and our common ground has taken many different shapes in the years: at first we were just an Italian and a Bulgarian entrepreneur, then I went to CLECAT in Brussels, at the time when Bulgaria joined the EU, and Ivan still remembers our meeting about EU projects. Afterwards, in FIATA, our paths continued in parallel until I retired. Ivan has a remarkable curriculum: he holds a PhD in logistics with studies in Bulgaria, then in Moscow, Vienna and additionally in the U.S., where he gained confidence with a new way of doing business, considering his origins are to be found in the Bulgaria of the former Soviet bloc. He was then in charge of international relations in Despred, the-state owned Bulgarian forwarding conglomerate.
Where FIATA Moves Next

FT: Ivan, we are talking in December 2021, i.e. exactly thirty years after President Gorbachev made his famous farewell speech to the USSR. Born in Sofia, you lived your life for a long period in Bulgaria, which was a key ally of the Soviet Union. Starting from those circumstances in those years must have been quite a change to embrace the new condition, right? Were you already active internationally, or was it mainly domestic business then? Do you have any special memory of that time?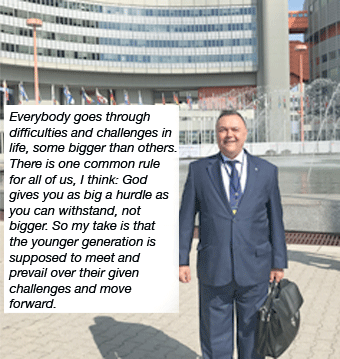 IP: I studied logistics in Sofia and then took a job in Despred, the state-owned logistics enterprise of Bulgaria. I had to first learn my job within a state monopoly and only later got involved in the competitive business we have today. My work was international: there was no domestic traffic in Despred, as this was, for instance in road transport, Transped's domain instead. The budget in Despred allowed us to make transactions in all currencies to work internationally, including convertible roubles, and that was a resource unheard of in other businesses. My job was to make economic analyses and I was shocked at the discrepancy of the conditions between our company and other competitors. By law the goods were bought and sold according to a certain Incoterm, without exception, so the prices were gauged accordingly. There still remained a question on whether that kind of bubble could last indefinitely.
Working for such a big conglomerate was incredible, even excessively big by western standards. Obviously I was in contact with FIATA due to the nature of my work, and at FIATA in Dresden I met the Klestadt family, who were to become so important later on in my life. They told me they saw me as a big leader in my country. I actually laughed at that and told them they were trying to pull my leg. Nevertheless, they were shocked by my lack of ambition, which was due to the civilization difference. In a communist country you could not dream about any such thing, nobody could harbor the hope to become a leader. Everything had to be programmed in advance. When 1990 came, they told me that I should become an entrepreneur and that is when I decided to take my chances in this direction. That is the embryo of my company Trans Express, which is now 30 years old!

FT: So your calling had been international trade all the time. From some points of view, you describe a difficult situation, but one where we could see some light in the end. In fact, you opened your own business in 1991, am I right?
IP: Some of our older members can figure out which uncertainty and difficulty came with the transition from Despred, to a new approach with a new company, a new role in FIATA, where I had to start all over again, after I had been in charge of organizing the 1989 FIATA Congress in Sofia. The Berlin wall came down in the same year and two years later the Soviet Union was no longer in existence. Half of the world that I had known since my childhood was coming to an end. This was also an opportunity, but the question mark before my eyes was gigantic. Nonetheless there was hope for a new, exciting business development. Bulgaria was contemplating an unfamiliar and different picture; in a short while many countries that had been sheltered behind the iron curtain were getting more and more business with the EU. Bulgaria was starting its path to join the Union and this eventually happened on 1.1.2007. Another chapter of our lives had begun.

FT: This move came as a big challenge indeed, but you were able to turn it into an opportunity, for your own business and for a personal development that led you to the helm of FIATA. Any suggestion for your younger colleagues? Have you a personal vade mecum that you can disclose to the younger generation?
IP: Everybody goes through difficulties and challenges in life, some bigger than others. There is one common rule for all of us, I think: God gives you as big a hurdle as you can withstand, not bigger. So my take is that the younger generation is supposed to meet and prevail over their given challenges and move forward. This is the essence of the life cycle of each and every individual. I can see the challenges of the young are quite phenomenal today, but they also have instruments to deal with them. There is an affluent society that can support them and endless technical instruments to use. Especially in Eastern Europe our challenges were not smaller and sincerely we did not have much at hand to deal with them, we only had our incessant hope to succeed. And success came indeed in my work: today Trans Express www.transexpress.bg is a company for dedicated boutique logistics services, designed to the expectations of its customers, with a multimodal approach, looking after niche products with an added value in supply chain networks. The growth was safe and constant since 1991, so I count myself lucky for this visible success.
FT: You and I met the first time in Vienna in 1997. You were trying new avenues in that period, I imagine, correct? So your interest in FIATA was merely focused on commercial meetings at that time, or did you already have the ambition to climb the FIATA ladder in those days?
IP: Despred was both a commercial company and the Bulgarian representative association, so to speak, in that period. Whilst I was rather concentrated in commercial meetings and busy with networking, attending the FIATA working bodies was also a sort of enhanced way of networking, meeting with more and more people. I was attending these meetings because it was part of the game, whilst I was thinking of contributing with my skills for what I could. My way of thinking is that it becomes a natural development at a certain point, not really climbing up the ladder, as you say. However, this development came much later, compared to the fact I have been in FIATA meetings' attendance since 1985. There has been a long way up the ranks, but we all know that in FIATA it takes a decade to become President, and you must be able to spend time trying and to work hard to get there. You need to get the basics first, before you can harbor ambitions. Today there are sudden expectations among Members, but it is not possible to gain the experience and the approval of your peers overnight, it takes several years. There is even a certain degree of competition in running up: FIATA is a unique organization in the world and invites much appetite.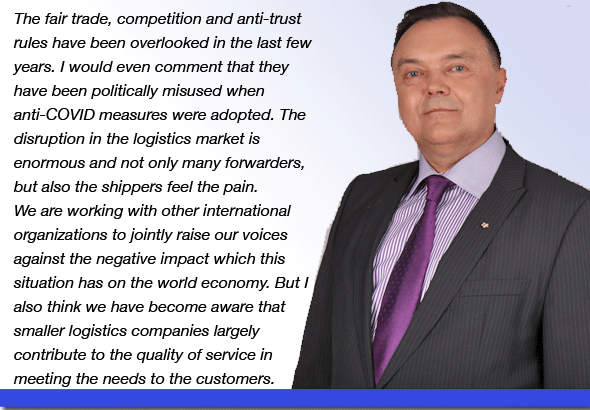 FT: Now we come to the present day and the successful businessman who came to the helm of FIATA; your challenges in 2022 – 2023 will be probably exploding. Have you thought of adopting any particular strategy to relieve your pressure?
IP: The challenges in the next couple of years might be bigger than anticipated. First of all, you should rely on the right people in the right positions. My hope is to have such resources in place or that we are in the process to do so within the FIATA family. It is always necessary to keep a balance between strong resources in the secretariat and strong contribution from the volunteers who work in the representative bodies of FIATA. Both aspects are essential and we need to work on increasing mutual trust to obtain well-functioning teams in such a large organization as the FIATA construction is. In addition, I need to stand up to the challenge of being a competent leader, not only well informed, but also open to all Members, recognizing their problems and understanding their way of thinking. My long walks in the forest near my house and the contact with nature help me to respond to the challenges of the new position. Physical activity clears my mind and improves my intuition in trying to take the right decisions. It is my personal way of understanding the Roman proverb mens sana in corpore sano.

FT: Ivan, we were all anticipating on a Spring Meeting in person in 2022, following FIATA's move to Geneva, but the pandemic is far from over. Have you decided for another online session like last year?
IP: At this point in time we are still in favor of a face-to-face spring meeting, but a bit later than usual, in May 2022 instead of March. Much depends on how successful our strategy with the pandemic is. Surely a decision will be taken before the spring kicks in.
FT: Participating in the General Meeting, I heard some of the traditional issues are still on the table, e.g. digitization of the FIATA Bill of Lading is taking a bigger and bigger share of the front line, together with others, e.g. issues with the maritime: in about two years we have seen all chickens coming home to roost . . . Fortunately you have precious help in your Presidency at this point in time, am I right?
IP: Yes, we do have a new Presidency, a team of professionals with excellent expertise in logistics. I highly appreciate their potential and I am confident that the cooperation will be excellent. All my colleagues are leaders in their fields and have been solid authorities for years: they are a great asset for all the FIATA bodies and for all Members. As you say there are different issues, but some of the traditional ones are still present and become even more imperative. A good team is essential in addressing these challenges and I am fortunate to be surrounded by these excellent colleagues.

FT: The cooperation with IATA is a hot topic with FlyingTypers' readers. Do you see any light at the end of the tunnel this time? There have been many changes both in IATA and in FIATA since these negotiations came to an end last year: is there anything new in sight?
IP: Yes, Marco, there is progress in the IATA/FIATA cooperation, which was moved to the top level of the organizations in recent times. We have had a dedicated meeting with Mr. Willie Walsh, IATA DG and Mr. Brendan Sullivan, IATA Global Head of Cargo. We are looking forward to a new road map and a fresh agenda for our cooperation, and this appears to be the intention of both global organizations.

FT: Ivan, there is a question that I have heard so many times by now, it has almost become a cliché, but I think I cannot avoid it. How do you see the future of freight forwarders in a market that is more and more occupied by large behemoths that vertically integrate their business into the area so far occupied by forwarders? I am talking of issues such as Maersk aiming directly at the shipper and shippers, which handle such volumes that they can easily charter their own ships and airplanes, and even organize their own distribution networks. Many forwarders feel the pain, what is your view both as a forwarder and as President of FIATA?
IP: The fair trade, competition and anti-trust rules have been overlooked in the last few years. I would even comment that they have been politically misused when anti-COVID measures were adopted. The disruption in the logistics market is enormous and not only many forwarders, but also the shippers feel the pain.
We are working with other international organizations to jointly raise our voices against the negative impact which this situation has on the world economy. But I also think we have become aware that smaller logistics companies largely contribute to the quality of service in meeting the needs to the customers. This is precisely what I am trying to do with Trans Express. My concrete advice to these forwarders is to keep developing niche products and value-added services for the shippers, as their response to the new globalization process. A process, which in my view has been misinterpreted by some governmental and international organizations, as certified by FIATA in this document.
FT: We talked about gender balance so many times, do you think your successor in FIATA could be a woman? It is probably high time that FIATA looked at this issue in a more proactive manner. Has any action already been taken to ensure better gender balance in the Board of FIATA? What is your view on this?
IP: As you can see in the December FIATA Review, the 2021 Extended Board elections saw a woman share of 21% (up from 12.5% in 2019). A better gender balance takes time, because of the steps implied in the process: we need the association members to nominate women to participate as delegates in accordance with the statutes before they can become official FIATA representatives. We have always welcomed female representation when proposed by association members, but we cannot impose it. I hope in the next decade we can see the first woman to become President, there are so many talented colleagues, who happen to be women, I cannot see why this should not be the case.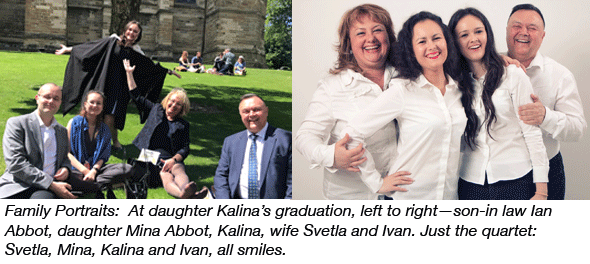 FT: Ivan, let me close this interview with a question on your family, whom I had the privilege to get acquainted with when I visited your house in Sofia and during our excursion to Rila. I heard they are now mostly living in the UK. Have you ever thought of taking advantage of their presence there to set up shop, or is it just about grandchildren at this point in time?
IP: It is more emotional than professional, Marco, but I could simply say I have so many things to do that thinking of expanding the business to the UK is not in the pipeline right now. In addition, the younger Petrovas have their own career. This being said, my daughters are well connected to supply chain and logistics in their professional career: why not engaging them in a different way, who knows?

FT: Thank you for your time, Ivan. Your answers are really enlightening. I wish you all the best in your term as President of FIATA. I am sure there will be time and reasons to celebrate this election.
Marco Sorgetti