Moving road freight at the speed of zeroemission truck adoption is feasible, but requires coordinated action to overcome tough challenges.
Holding the line and lowering the temperature 1.5 C by 2050 in Europe, is one goal that could be helped eliminating that rumble out there right under your window as streams of trucks jammed up and jelly tight, roll on powered by fossil fuel.
When it comes to going green from the waste basket to the warehouse to the highway, to the airplane, everybody it seems has some kind of plan. if not much more than a stated one as that 2050 1.5 degree drop deadline approaches.
Of course we all know if we are not delivered to the promised land in 50 years the goal posts will most probably be moved unless they are under water somewhere.
Well just in time for that part of the year known in baseball as "the hot stove league," this late January might be some good and informative reading.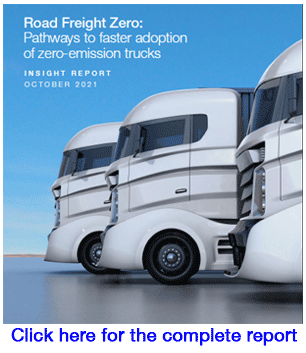 A new report, Road Freight Zero: Pathways to faster adoption of zero-emission trucks, is a joint publication by World Ecomonic Forum and McKinsey that describes how the RFZ initiative can help countries reach their emissions goals. This report draws on a large body of modeling, research, and direct RFZ-partner engagement, including multiple workshops with more than 40 companies, a dedicated survey to assess barriers and solution pathways, numerous deep-structured interviews with RFZ partners to analyze specific archetypes of ZE truck adoption, and quantitative use-case modeling.
For the record, McKinsey & Company is a management consulting firm, founded in 1926 by University of Chicago professor James O. McKinsey, that advises on strategic management to corporations, governments, and other organizations. It has consistently been recognized by Vault as the most prestigious consulting firm in the world.
Meantime acknowledging major truck-driven air pollution reductions will be needed across all forms of transport, and right now the industry is awaiting more cost-effective and higher-performing batteries and improved fuel-cell technology.
No doubt, zeroemission (ZE) trucks from people like Elon Musk, and other advancements including improved infrastructure are coming closer into view, signaling that indeed a low-carbon truck future is well within reach.
But don't hold your breath.
In isolation without help, it is generally believed these hoped for technological improvements will not be broad enough to scale deployment in line with global climate goals by 2050, and despite all the best hopes of mankind, will not meet as example EU Green Deal objectives any time in the immediate future.
In addition to several better mouse traps that will need to be funded, developed, coordinated and built, the entire value chain will need to be synchronized with large-scaled fleets with infrastructure and transport demand, truck deployment and infrastructure build-out.
The Road Freight Zero (RFZ) community is addressing challenges related to infrastructure, capital financing and more.
Looking at the numerous pilots underway, the decarbonization goals set by transport buyers, the product pipelines of truck makers and recent policy announcements, indicate that the industry appears to be on the cusp of significant progress.
The engagement, energy and dedication of the RFZ community has been inspiring.
The 36-page report captures some key findings about what it will take to accelerate ZE truck transport.
Road freight currently generates 15% of European CO2 emissions.
About 70% of those emissions come from medium- and heavy-duty trucking (MDT/HDT) – the hardest-to-abate segments.
The report suggests that there is a growing consensus that the (ZE) truck industry is on course to deliver competitive business cases for the decarbonization of these fleets – through battery electric vehicles (BEVs) and hydrogen fuel cell electric vehicles (FCEVs) that could eventually be powered by renewable energy.
Some modelling suggests that by 2030, 37% of new MDT and HDT sales could be zero-emission in Europe, corresponding to around 150,000 vehicles.
But, at current pace, the industry would need another 120,000 ZE trucks on the road annually by 2030 to achieve the 1.5°C target—equivalent to two thirds of total trucks sold.
GDA