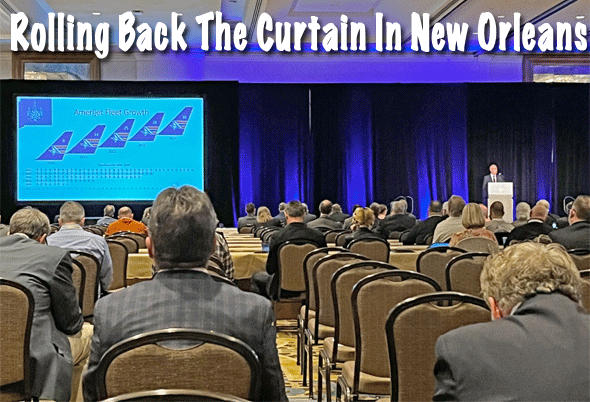 The old, fashioned curtains and rails (C&R) set up for the trade show booths at AirCargo 2022 in New Orleans were simple and attractive with fresh and eager faces shining out in front of them last week.
The deep blue luminescent purple sheen that glowed from the AC 2022 sessions stage felt good and reassuring after two years of lights out and little to no contact with others.
You almost expected someone would stand up and announce jubilantly reminding everybody that AC2022 was:
"Live and in living color!"
But AFA and their partners including The Air & Expedited Motor Carriers Association, and Airport Council International have always marched to their own drummer and as compared to all others are, "the trade group for everybody else."
Freight forwarders, especially this group is a hard working basic down on the ground force of heart and soul people.
So here in New Orleans down on the show floor are less walls and more friendly curtain fences and clinches and encounters in plenty going on whilst advancing the agenda throughout the conference.
Looking ahead if the creek don't rise, AfA et-al Air Cargo will appear again in Nashville, USA February 12, 2023 live and in living color!
So who is also happy about trade show returns?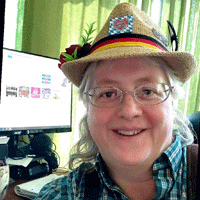 Interestingly someone with good air freight forwarder background that also builds trade show displays.
She is also a force of nature all by herself, who cheers for the industry and noted her boss attended Air Cargo 2022.
Her name is Heidi Maschmann and she is the Manager of Information Systems at ELITeXPO, a trade show products and services company in Aurora, Illinois that builds virtual and physical solutions.
ELITeXPO creates smart looking booths, and with imagination pulls out all the bells and whistles in creating best foot forward trade show displays.
Stands to reason, if sense & sensibility matches up forces as one expects about the other, creating a new presentation to take on the road should be a natural for Heidi who once upon a time served in domestic and international freight forwarding.
She eventually moved over to ELITeXPO, full time where she handles all aspects of their technology systems and corporate training.
She also oversees their marketing department and proudly heads up their CSR program.
Heidi has been involved with IACAC, the pioneer air cargo organization of airport cargo people in Chicagoland for many years and was named the Member of the Year at one point, when Heidi ran the association's website and social media.
Today Heidi's skills range from network and computer systems setup and maintenance to data analysis, sales, and web design.
But now Heidi talks the top subject at last week's Air Cargo 2022 Sustainability and the general condition right now.
That's the other thing.
Freight forwarders can always be counted upon to speak up.
So to Curtains & Rails, High tech "Gee Whiz" trade show displays, or the current mood in the industry.

FT: Best definition of Sustainability you might share?
HM: I use the UN definition. Meeting the needs of the present without compromising the ability of future generations to meet their own needs.

FT: Moving ahead Emotional decisions in business versus process mining or is there room for both and if so in what measure?
HM: We have to find a way to incorporate both.
Even the smallest steps taken can have an environmental impact. It's fantastic when businesses can invest fully in sustainability initiatives. Smaller businesses and businesses affected financially by the pandemic can still make a difference with low-cost and subsidized initiatives such as reporting carbon footprint information, making energy-efficient fleet and facility changes, and training staff and informing vendors and clients about sustainability.
Every company can improve their social responsibility. Whether it's through corporate charitable contributions or hosting fundraisers and promoting volunteerism.

FT: What do you want to improve in 2022?
HM: A goal for 2022 is to move to using as many vendors as possible that are also working toward improving their corporate social responsibility practices. I believe supporting these businesses not only rewards them but also helps to drive participation from other vendors.

FT: What if you kept things the same and didn't do anything?
HM: We all have a responsibility to do what we can. If we don't, life will continue to get more difficult for everyone on our planet and the effect on future generations would be critical.

FT: What did you want air cargo, airlines, forwarders, other cargo resources and even truckers to know about Sustainability and moving ahead today?
HM: I want all industry members to know that their efforts are appreciated. It's been great seeing so many companies getting together to collaborate on these issues and work to find solutions that can make positive impacts.
"Every day is an opportunity to do better. I'm excited to see that so many in our industry are seizing that opportunity."
Geoffrey