Sometimes a picture can tell more than one story.
Here is the new Executive Board of Air Cargo Community Frankfurt (ACCF). From left Michael Hoppe, who also shines as Board Chairman and Director of Board of Airline Representatives in Germany or (BARIG), Dr. Tobias Riege (Riege Software), Susanne Klingler-Werner (UPS Supply Chain Solutions), Henning Dieter (Swissport Cargo Services Germany), Dr. Pierre-Dominique Prümm (Fraport) and Dietmar Focke (Lufthansa Cargo).
Best of luck to all!
This cargo group was photographed in July 2022 in the open-air garden at the charming InterCity Cargo City Süd Hotel just off the main runways of FRA Airport.
In an earlier time and version this place was a U.S. Army billet, in service during the Berlin Airlift hosting crews for the cargo movement that saved Berlin in 1948.
But just behind this good-looking group, is something that tugs at the heartstrings as it drifts back 86 years and more, back to the origins of the airport itself.
Note what looks to be an oval object behind the group.


Above picture (right) reveals the InterCity Hotel Garden where that oval object is actually part of a magnificent aviation sculpture of the world.
A third picture (above left) taken more than 70 years ago reveals the same Globe of the World as centerpiece to all passenger operations at Frankfurt Airport.
Passengers awaiting flights dine in an outdoor 1950s café under the sculpture that sits atop a 60-foot obelisk with a Dove of Peace holding an olive branch in its beak.
The Globe sculpture originally was installed at FRA when the terminal opened in 1936.
At that time a giant German Eagle sat atop the Globe of the World.
We told the story in pictures in our 800-page book "Great Airports Worldwide," which we created for Airports Council International (ACI) in 1998. The book detailed that early time and later Postwar era as the sculpture became The Bird of Peace.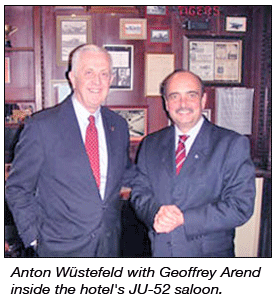 As we approach 90 years of Frankfurt Airport in 2026, steps should be taken to preserve this priceless work of aviation art that somehow has survived and has been on public display in Frankfurt since the airport opened.
Might be a good project for BARIG & ACCF.
They seem to be looking up and ahead at the future these days.
Need to mention the great hotelier Anton Wüstefeld who retired recently after spending 45 years at various InterCity hotels in Frankfurt. Anton was the master that planned the total renovations at Cargo City Süd.
Today InterCity features a lyrical vest pocket memorabilia-packed saloon called JU-52; a spirited place to get down to business and unwind.
At one time in the lobby, honey was for sale collected from a big colony of busy bees, Anton provided free room and board to on the hotel roof.
Geoffrey