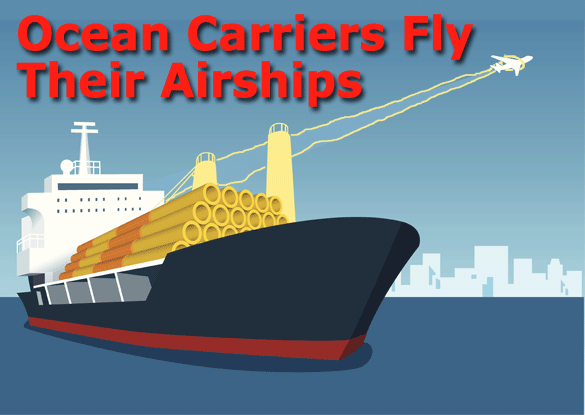 Summer has been a scorching experience in the north of Italy. This is the longest drought that I can remember and the weather records tell us that the only period in recent history that can be compared to 2022 is 1952, when I was born. That is the explanation why I cannot remember such a boiling and dry summer. Sabiha and I were pondering on these issues the other day and COVID and FIATA and what happens to global conventions.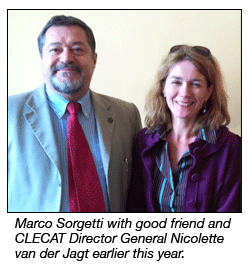 One of the issues we talked about was the recent arrival of the liner shipping industry into the air market. Whether this is a flash in the pan or a structural change is probably too early to say, but there was no damage asking some of my friends around the globe what was their opinion.
Nicolette van der Jagt, Director General of CLECAT (www.clecat.org), based in Brussels, made the following remark: "the profiteering of ocean carriers resulting from their capacity management strategy allowed them to acquire market power and a financial war chest that they are now using to vertically integrate, increase rates and drive out independent forwarders, the key organisers of service delivery across all modes of transport in door-to-door operations, will ultimately disadvantage shippers and end-consumers because of restricted choice in services at higher rates. The vertical integration is particularly unfair and discriminatory as carriers – enjoying an exemption from normal competition rules – are using windfall profits to compete against other sectors that have no such immunity."
This is what I would call a clear statement that leaves no doubt to interpretation. We shall see later other remarks from the forwarding sector, but I was also keen to understand how a real expert in aviation would comment on this issue.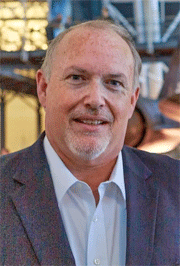 Mike White, (left) industry expert and President of Trade Network Consultants, is a person who is well known to anyone reading these pages. His remarks offered a perspective from the USA, albeit not limited to that market only: "The pandemic has opened the eyes for many that transport is truly multimodal. A lot of companies found out how important it is to own the capacity in many markets and have had to review how they want to do business in the future. The economics of doing business shows how vertical integration of ocean carriers makes a lot of sense. You can really compare them to the global integrators who have purchased and merged many diverse companies over their years to have a truly global network. Where the integrators started with express air, you now see them being more and more intermodal in the air, on the ground and using capacity in ocean transport. Ocean carriers are looking at ways to invest their record earnings into companies that are really part of their core business. There will of course be scrutiny over any type of mergers and acquisitions, as this becomes a global trend. In air transport we have seen a huge consolidation of carriers, both all-cargo and passenger combination carriers. In many cases we have seen air cargo revenues offsetting the loss of passenger traffic.
It will be interesting to see what German billionaire Klaus-Michael Kuehne does with his increased 15% stake in Lufthansa Group. It might lead to his buying out the German government's 14% stake in the Group and giving him vertical integration of Lufthansa Cargo into Kuehne-Nagel, in which he has controlling stake, and also with his large percentage ownership in Hapag-Lloyd. The Lufthansa Group brings in the networks of their other airlines as well: Austrian, Brussels Airlines, Eurowings and SWISS. it will also bring in the partnership agreements that Lufthansa Cargo has with strong air cargo revenue United Airlines.
The recent discussions between CMA CGM Cargo Airlines with Air France/KLM Cargo to operate their aircraft may be a first step of further joint interest. The same may be in the future with the recent announcement of Maersk's Star Air pacific operation being operated by fast growing U.S. carrier Amerijet. In other areas we have seen many smaller freight forwarding companies being purchased or merging to build larger companies with larger global networks. I think overall there will be a further consolidation of many parts of the supply chain. The ocean carriers are heavy in revenues as well as several major forwarders. It is inevitable that there will be more vertical integration."
In other words, Mike sees this as the natural evolution of the sector, responding to inevitable economic outcomes. This is a view that probably shares more than one line with another industry expert, from the UK this time, my good friend Bob Keen, (right) the Director General of BIFA and Secretary General of FIATA. Bob told me: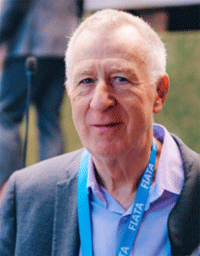 "I am so old that I have seen many initiatives that are supposed to be the end of the forwarder. Francesco Parisi has a letter in the Parisi archive where an ancestor thought the coming of the railway would be the end of his company. For me the forwarder adds that personal experience that an algorithm or automation cannot do. When I worked for Burlington in the 1980s the company strapline was 'People not Planes deliver'. It's still the same today."
Bob also authorised me to quote an excerpt from the BIFA Link, which recites as follows: "The entrance of shipping lines into the acquisition market has created a new driver of industry consolidation, not least due to the carriers' almost unlimited funds and access to 'cheap' money. But ocean freight and port congestion show few signs of improvement and will continue to push traditional ocean shippers into the air freight market. (abridged) Driven by challenging market conditions, shippers are re-assessing their freight procurement strategies and contractual relationships with LSP to adjust to the ever-changing environment."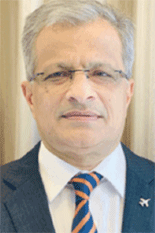 I have also received the views from another global air freight expert, Keshav Tanna, (left) from India and Past Chairperson of FIATA's AFI. This is his statement: "Shipping Lines have made some never before profits and have decided to enter into the air cargo space by investing in freighter aircraft. Immediate reaction is always one of threat, but as forwarders we have learnt to survive greater odds and always welcomed more capacity into the global market. The Integrators being one such challenge when they first came in and approached our customers directly. Our airline partners need to be vigilant to whom they extend their support, because on the flip side even some large forwarders have put in freighter capacities and are eating into core airline business. Now Shipping Lines wish to do the same and have already taken deliveries of their first aircraft as well as invested in prominent airline(s). They are also integrating with some large forwarders to offer a one stop shop – truly multimodal! Incidentally water seems to finding pre-Covid levels and both Ocean and Air rates are settling down slowly but surely. Interesting times ahead…"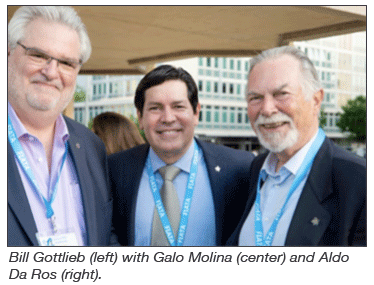 When you mention AFI it is impossible to forget Bill Gottlieb's contribution to the fortunes of the FIATA institute. Bill was also President of FIATA over ten years ago and has expertise in air cargo that can make anyone else sit in the learner's bench; his statements are clear and add another layer of paint on the canvas: "This is a fascinating subject, spurred on by the astronomical growth of marine carriers' bottom lines and the vast funds they have at their disposal for M&A activities. Certainly the MSC approach to work with LH in a bid for ITA is a reasonable one for an organization flush with money, but less so with specific industry experience. CMA-CGM has taken what appears to be a more aggressive approach, seeking to set up a stand-alone operation, but then backtracking to the safety of a partnership with AF-KL. I wish I had a crystal ball to know how successful they will be. If the market remains as it was in 2020-2021 with high demand and low capacity, being successful won't be difficult, but we see signs of recession and reduced demand, so they may need to make sure their seat belts are buckled, as the ride could get bumpy."
In other words, the prevailing opinion among practitioners has nothing to do with a "sit and watch" approach, it is rather "watch it, stand up and adapt" and I have to say that recent history seems to confirm this is a winning strategy. In any case we are looking at a changing picture that is rapidly morphing logistics into one of the most palatable hunting grounds for investors. Perhaps this will be the next chapter, for the time being, still unwritten.
When I am discussing such a complex situation as this one we have at hand, my tendency is to take account of many voices, in particular those with a well-informed institutional approach, such as UNCTAD. This is the UN body specialised in Trade and Development, one of my Geneva safe harbours, where I also had the privilege to meet many friends when I was working at FIATA in Zurich.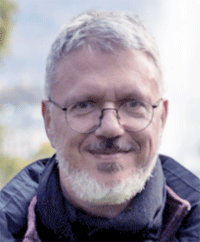 Jan Hoffman, (left) Head, Trade Logistics Branch, UNCTAD, made the following statement: "For a carrier to invest in vertical integration creates two main benefits: first, it allows better control of the supply chain, including not just equipment and cargo, but also the data. Secondly, given the volatility of demand and prices, it also helps to some extent to diversify, i.e. to depend less on one mode of transport and market. From the port authority's perspective, it may be confronted with a choice between either a strategic partnership with one vertically integrated carrier with its own terminal operator, or, alternatively, an independent port operator, which may be more attractive to a larger number of potential carriers as clients."
So Jan's analysis lands on the shore side and confirms the vertical integration approach which is a common trait in all the statements. His organisation recently published a very interesting release whose purpose is to support traders and governments to build more resilient maritime connections.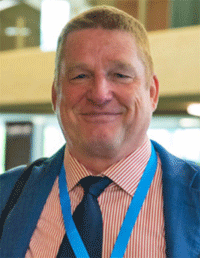 Let me conclude my repertoire with Jens Roemer, (right) Senior Vice-President of FIATA and head of the much praised Working group Sea in FIATA: "The liners' not so secret plan is controlling the maritime supply chain from door to door, to become "the integrators of container logistics", so shipping lines are inclined to "fish in the forwarder's pond" in their attempt to integrate the SC. Forwarders are more than just a filter between the shipper and the shipping line to deal with inefficiencies of shipping lines and their documentation and forwarders should not be afraid of competing with shipping lines, as long as this happens on fair terms, on the same level playing field. The market situation has changed through mergers and acquisitions, as a result only a few global shipping lines are left to choose from. On the other hand, the focus on unit cost is shifting to shipping lines trying to improve their service levels by investing their massive profits in sizable logistics companies (Maersk, CGM-CMA, etc.) even trying to integrate other segments such as air cargo."
Jens Roemer delivered a speech at the National Chamber of Commerce, Services and Tourism of Chile, CNC, on May 26th 2022 that was registered as a webinar by the tile of "Shipping crisis and its impact on the economy". In my view this is a clear, daring analysis of what happened in the global maritime market after the eruption of the pandemic. Reading the ruthless figures that come out of this analysis makes it perfectly clear that these consequences were perhaps unwittingly written in their premises, if not sought after in the first place. (More on Jens' presentation in an upcoming issue). The situation is also a flamboyant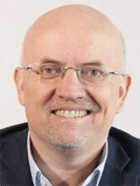 example on how western political powerhouses such as the EU and other multinational entities end up being mere paper tigers, hopelessly unable to address the problem. In the HQ debate ignited by FIATA in May this year Mr. Henrik Mørch, Director for Transport, Post and other services, Directorate-General for Competition, European Commission specified that "there is no evidence" of market distortion.
The impression I had listening to his statements was surprising for me, as though evidence was something that should be brought to the Commission's doors and then be questioned. Evidence is actually something that can be found through appropriate investigation, as we have seen in the recent actions of the U.S. Federal Maritime Commission.
In conclusion all parties seem to agree that shipping lines want to integrate the supply chain in full and consider this is an inevitable evolution in the market, where forwarders will find their adjusted place to continue their businesses. This is all good as gold from my point of view, but there is a small missing detail: making money in a governed environment where taxes are paid and profits get partly re-invested in the greater good of mankind is a wonderful recipe for happiness and prosperity. What if the environment is not fully governed and large multinationals simply flout local taxes by working in systems that are more favourable to them, while extracting resources from the markets where they operate in a tax-protected environment?
This is a reality with nearly all multinationals, shipping lines are not alone, they just happen to operate in the area of our direct interest, but the same goes for big pharma, high-tech, automotive, IT, media, etc. Examples are many. Nobody among my interlocutors mentioned the word monopoly, but my view is slightly more radical. Perhaps we are at the beginning of the creation of the Google of Logistics and I am wondering whether this creature will be good or bad for international trade and, consequently, for our lives in future. Time will tell.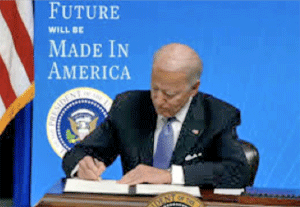 In the meantime, it is interesting to read something that comes from the USA and ponder on what comes next. The following are quotes from a White House press release dated 28/02/2022: "The President is announcing an historic agreement between the Department of Justice and the Federal Maritime Commission (FMC) to make sure that large ocean freight companies cannot take advantage of U.S. businesses and consumers. Right now, three global alliances, made up entirely of foreign companies, control almost all of ocean freight shipping, giving them power to raise prices for American businesses and consumers, while threatening our national security and economic competitiveness.
"Since the beginning of the pandemic, these ocean carrier companies have been dramatically increasing shipping costs through rate increases and fees. They increased spot rates for freight shipping between Asia and the United States by 100% since January 2020, and increased rates for freight shipping between the United States and Asia by over 1,000% over the same period. Beyond price increases, several specific business practices of many large ocean carrier companies are hurting American businesses and farmers. For example, because of their market power, these alliances are able to cancel or change bookings and impose additional fees without notice.
"These unpredictable practices undermine American business' ability to deliver orders on time. All too often, ocean carriers are effectively refusing to take American exports altogether, preferring to speed back to China with an empty ship to make a quick turnaround rather than transport American exporters' cargo or dock at American ports. This is especially difficult to our farmers, who have spent decades building relationships internationally, only to find that now they can't transport their agricultural products overseas with any reliability or predictability."
As a result, starting March 2022 Maersk and other liners have been seriously investigated by the U.S. authorities and the Shipping Reform and the Shipping Reform Act of 2022 is right in front of our eyes. Waiting to hear the results of the investigations across the Atlantic, we still have to see whether the EU authorities will follow suit or will keep waiting for evidence to miraculously appear.
Starting from this complicated situation, it is difficult to imagine how the global maritime industry will look like in the future. If those happy few on top of the maritime trade decided to take a more balanced approach, where they could be happy with dignified reasonable profits, rejoice in having the opportunity to contribute to their fellow countrymen's standard of living by paying reasonable taxes, settle for ships that can berth in most ports and carry a reasonable amount of produce without clogging every single bridge, motorway or parking in sight, well in that case I would be a happier person.
If not, I can settle for a lesser good: strong government action that without hesitation obliges the industry to behave in a more societal manner. In fact, that may actually happen, depending on where we cast our preference when the next elections come.
Marco Sorgetti