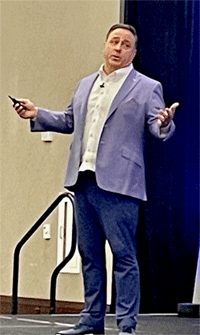 Words to think about at AirCargo Nashville as Keynote Speaker Vaughn Moore, Executive Chairman and CEO of AIT Worldwide Logistics knocked it out of the park speaking to an audience of 700 + logisticians.
"Is a recession going to happen? Less likely I think, but growth will be slower.
"In 2023 it's important to retain intellectual capital.
"A cultural change to working from home to coming back to the office needs to consider mental health.
"Future trends as reality
1-Uncertainty
2-Supply Chain Evolution: Since 2019: Just in time/Just in case/ Get out of my warehouse.!
3-Sustainability / Have to be part of it! For the future giving back is important."
"Logistics is super important to the world.
"We are the life blood to the global economy!
"Looking ahead means including four most important smart words:
"I need your help!"
---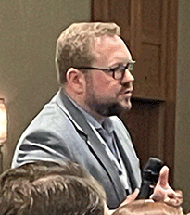 Time To Get Along—Michal Tabisz, Vice President of the Board of Rzeszow Airport (Port Lotniczy Rzeszów-Jasionka) in Southeastern Poland after Keynote Address of Vaughn Moore noted: "When the Ukraine war is over there will be a need to rebuild and we need air transport to be ready to move from military to the civilian supply chain."

---

Down On The Pharma in Stand 227 up in the air with all kinds of big things ahead for 2023 at Delta Cargo.
Here the Delta Crew of Logistics Specialists are (from left) Brittney Lovelace (perfect name for Valentine's Day), Ryan Dieckbernd, Michael Hatfield, Andy Kirschner, Brian Akers talking up the new LATAM Airlines Joint Venture partnership that will connect to the world like never before, with access to more than 300 destinations.
"Ask us, we're here to help.
"All kinds of up-front access via our improved website with operations all moving 'Thumbs Up' says General Manager Cargo Sales Strategic Accounts, Michael Hatfield (third from left).